If you're looking for an expert in dealing with the hardships of your marriage, this week's episode of "Happiness through Hardship" – The Podcast is for you. Jessica Klingbaum is a former Emmy nominated network TV producer turned wellness entrepreneur and founder of exExperts – an encouraging and resourceful online divorce resource and community. Jessica shares her story and how she found her way through divorce. She shares how she wished she had a one-stop shop for all the resources she uncovered during the process. So, together with a friend, who got divorced at the same time, they made that happen by launching exExperts.
Apple Podcasts: https://apple.co/2zidDGw
Spotify: https://spoti.fi/3imO7An
Stitcher: https://bit.ly/2WOsaTl
Google Podcasts: http://bit.ly/35cuG9O
Jessica has always been an internal optimist – when she see's a problem, she investigates a solution to find a positive outcome. She continues to help the world out this way. She started her entrepreneurial journey helping others find better health as she uncovered natural solutions that reduced stress, improved sleep and could make others feel great. Now, she's building a community of resources and support so that other women navigating any stage of divorce, know they are not alone. Jessica wants everyone to know that while there isn't a right way to divorce, the exExperts, can help them find their way.
This episode is filled with insightful information about her experiences with divorce as well as intel on taking care of yourself. Jessica and I talk about her favorite healthy living tips including her healthy hack for mask wearing. We hope you enjoy this episode and if so, please remember to rate, review and subscribe. This effort truly helps all podcasts get noticed – and allows us to inspire more people to find joy and better health in their lives.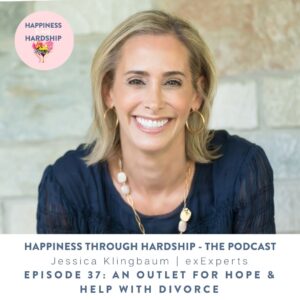 Show Notes – An Outlet for Hope and Health with Divorce
The exExperts: https://exexperts.com/
Jessica's Healthy Living Site with essential oils: www.behipandhealthyoils.com
Healthy Hack for essential oils – put a little citrus oil on your mask: amzn.to/2ZpCaCQ
Mint Smoothie with Essential Oils: https://prettywellness.com/simple-smoothies/
Smoothies and Snacks Free Cookbook: page.co/1oGzj
Connect with Jessica – An Outlet for Hope and Health with Divorce
exExperts on Instagram: www.instagram.com/exexperts/
exExperts on Facebook: www.facebook.com/exExperts/
Be Hip and Healthy on Instagram: www.instagram.com/behipandhealthy/
Connect with US
Happiness through Hardship – The Book and Journal: BUY HERE or donate a book to a cancer center: DONATE HERE
For easily accessible cancer information – HERE
For daily wellness tips go to @PrettyWellness on Instagram
For more information on Pretty Wellness and Caryn Sullivan – CarynSullivan.com
Follow @PrettyWellness on social media on Instagram, Facebook and Twitter.