As we all know, there's a ton going on in the world right now, which leaves many of us stressed when thinking about the news and our surroundings. On this episode of "Happiness through Hardship" – The Podcast, I'm excited to introduce you to Sarah Cody, a veteran journalist and TV anchor, three time Emmy winner, published writer and co-host of the "Parenting Beyond the Headlines" podcast. Sarah shares with us how she has managed to take care of herself while being immersed in many hard news stories. She talks about the value of being mindful with your media consumption and the benefit of sharing the news with your kids (or anyone) in a relatable manner.
Apple Podcasts: https://apple.co/2zidDGw
Spotify: https://spoti.fi/3imO7An
Stitcher: https://bit.ly/2WOsaTl
Google Podcasts and more…
She's a spectacular journalist and an even more amazing person. We've worked together for a few years and it feels like we've been friends forever. Behind the scenes in the newsroom, we've had many heart to hearts about our families, parenting and hardships in life. We've also laughed hysterically at matching outfits and bonded about our love for water/beaches. She's 100% authentic, hardworking and has the biggest heart of anyone I know. I go to her for parenting and career advice…and now you can learn from her, too. Whether you are seeking a job in journalism, wanting parenting advice or needing an idea on how to destress from the connected world, this episode delivers a lot!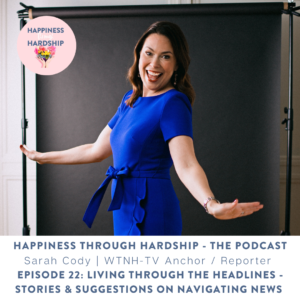 Please enjoy and if you like rate, review and subscribe. You leaving a review helps us with our podcast ranking. The higher we are ranked, the more people can discover our show….and the more inspirational content we can bring to you and others.
Sarah Cody: Living through the Headlines – Stories & Suggestions on Navigating News Show Notes
Sarah Cody and Amy Alamar – "Parenting Beyond the Headlines" Podcast – https://podcasts.apple.com/us/podcast/parenting-beyond-the-headlines/id1414600329
Talking about Politics "Parenting Beyond the Headlines" podcast episode – https://podcasts.apple.com/us/podcast/talking-about-politics/id1414600329?i=1000492632584
Storytime with Sarah and Lucy the Literary Dog – https://www.facebook.com/333388970140092/videos/562642631347422/?__so__=channel_tab&__rv__=all_videos_card
Get to know Sarah – https://www.wtnh.com/about-us/meet-the-team/sarah-cody/
HTH – The Podcast episodes discussed – Jenna Jacobs McPartland: Love, Loss & Moving Forward After 911: https://apple.co/2HlSPll
Contact Sarah Cody: Living through the Headlines – Stories & Suggestions on Navigating News
Facebook –  https://www.facebook.com/sarah.cody.10/
Twitter – https://twitter.com/SarahCodyMedia
Instagram – https://www.instagram.com/sarahcodymedia/
For more information on the podcast episodes – HERE
For easily accessible cancer information – HERE
For daily wellness tips go to @PrettyWellness on Instagram
For more information on Pretty Wellness and Caryn Sullivan – CarynSullivan.com
For more information on "The Grateful Game" – https://www.instagram.com/tv/CCdduzuht2u/
Follow @PrettyWellness on social media on Instagram, Facebook and Twitter
Happiness through Hardship – The Book and Journal: BUY HERE or donate a book to a cancer center: DONATE HERE
To get a free copy of our smoothies and snacks ebook: sign up HERE