When you can talk babies, bad days and basketball all in one breath, you know you've made a connection. This week's episode of "Happiness through Hardship" – The Podcast feels like a conversation with a childhood friend sharing intimate stories of IVF and the angst we all feel during hard times. Three-time Emmy award winning TV reporter and producer, Kristen Hewitt, is known throughout Florida as the sideline reporter for the Miami Heat. She's also an award winning writer and highly acclaimed entrepreneur running her full service communications agency misMEDIA. On this episode, Kristen shares tools that helped her deal with a decade of infertility that she still uses today when coping with anxiety and life's stressors.
Apple Podcasts: https://apple.co/2zidDGw
Spotify: https://spoti.fi/3imO7An
Stitcher: https://bit.ly/2WOsaTl
Google Podcasts: http://bit.ly/35cuG9O
IHeartRadio: https://ihr.fm/3cTrLXH
I met Kristen several years ago – shortly after I started Pretty Wellness. Both of us having a sports background – we instantly connected talking about the NBA…It was as if we had worked together for years because like a work bestie – you talk shop and then life…and that's what we did.  In our next conversations we jumped into stories of our pasts, laughing at childhood woes but also tearing up sharing our vulnerabilities. Not only has she led a high powered career, she still is always helping others – whether it's sharing career advice or giving recommendations on how to grow a social media presence, she's a mentor to many. As a public figure she provides resources and tools, as she does in this episode to "be who you want to be." Something she not only shares with women around the world, but also her two miracle babies who are now tweens.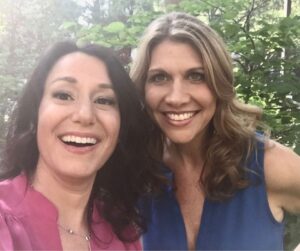 If you like this episode please rate, review and follow/subscribe. You leaving a review helps us with our podcast ranking. The higher we are ranked, the more people can discover our show. Our hope is to inspire others to find a little joy during whatever journey they are going through in life.
Ep. 52 – IVF Journey Provides Tools for an Intentional Life Show Notes
7:52 – Kristen's struggle with conception and fear of needles
9:50 – Healing the body and being present
12:16 – The IVF process and tapping into affirmations, visualization, and journaling
14:50 – The miracle birth of Kristen's two children
16:27 – Tips on navigating the chaos of social media
19:53 – The only way out is through: not putting a band-aid on hard feelings
21:42 – "Morning pages" – how journaling centers and eases anxiety
25:41 – Going from "cruise control" to discovering the preciousness of life
27:28 – Advice on finding a life that you love
29:59 – The importance of support during hardship
31:17 – Scheduling out the people that you love into your week/month
33:44 – How COVID allowed us to return to a simpler time
35:55 – The blessings and curse of social media: what to read and what not to read
37:09 – Taking small, healthy steps to feel happier and healthier
Books We Discussed
The Artist's Way by Julia Cameron: https://amzn.to/2TCaM4R
You Can Heal Your Life by Louise Hay: https://amzn.to/3gRGSlt
A New Earth by Eckhardt Tolle: https://amzn.to/35qshYQ
Essentialism by Greg McKeown: https://amzn.to/2UbvARd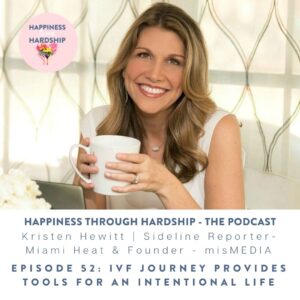 Connect with Kristen
misMEDIA: http://mismediasavvy.com/
Facebook: https://www.facebook.com/KristenHewittTV/
Instagram: https://www.instagram.com/kristenhewitttv/
Instagram misMedia: https://www.instagram.com/mismediasavvy/
---
If you liked this episode about miracle babies, check out episode 2 with Michele Tafoya and episode 13 with Lauren Mika.
---
Connect with US
Happiness through Hardship – The Book and Journal: BUY HERE or donate a book to a cancer center: DONATE HERE
For easily accessible cancer information – HERE
For daily wellness tips go to @PrettyWellness on Instagram
For more information on Pretty Wellness and Caryn Sullivan – CarynSullivan.com
Follow @PrettyWellness on social media on Instagram, Facebook and Twitter.