"The Safety Mom" is this week's guest on "Happiness through Hardship" – The Podcast. Kimberly King is a 3X time author, mother, sexual assault prevention facilitator and crisis counselor who creates simple tools for parents and kids to cope with hardship. She is all about "preparing – not scaring kids" and parents about tough situations. And she knows first hand…Kimberly is here to share her story and some kid-friendly strategies for families to use today. While the content can be heavy, our hope is that this episode today will make you feel more comfortable talking about hard topics with your kids, at any age!
**TRIGGER WARNING This episode contains information about sexual abuse, which may be triggering to survivors.**
In honor of National Child Abuse Awareness Month and honestly, everyday of the year, Kimberly is full of tips to help parents and kids deal with difficult emotional topics. On this episode she talks about her strategy of "Think, Say, Do" as well as encouraging families to talk through a variety of tough scenarios in an effort to help kids find their own voice and be safe.
Apple Podcasts: https://apple.co/2zidDGw
Spotify: https://spoti.fi/3imO7An
Stitcher: https://bit.ly/2WOsaTl
Google Podcasts: http://bit.ly/35cuG9O
IHeartRadio: https://ihr.fm/3cTrLXH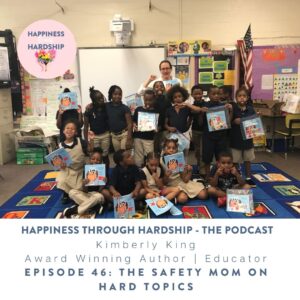 Ep. 46 – The Safety Mom on Hard Topics
Quick Tips Discussed – Strategies for Parents / Kids on Safety with Hard Emotional Topics:
Take about private parts with the correct name
Discuss what consent means
Have a "no secret" rule
Talk through scenarios
The Rowan Center – A Sexual Assault Agency: https://therowancenter.org/
Resources for Busy Parents: https://proactive-parenting.teachable.com/courses
Simply Safe Kids class: https://proactive-parenting.teachable.com/p/into
About Kimberly: https://www.kimberlykingbooks.com
Video on Surprises / Secrets: https://youtu.be/r4BnCGAIj5E
---
Kid-Friendly Recommended Books on Emotional Hard Topics
I Said No by Kimberly King: https://amzn.to/3vjhGdd
My Voice is My Super Power by Shariea Shoatz: https://amzn.to/3vlGHnO
Some Secrets Should Never Be Kept by Jayneen Sanders: https://amzn.to/3xqR7Vb
When Your Parents Divorce by Kimberly King: https://amzn.to/32ym1MY
Finding Your Fit by Kimberly King: https://amzn.to/3arkHQu
Good Pictures – Bad Pictures by Kristen A. Jenson: https://amzn.to/2RUVIP1
---
Contact Kimberly King
Facebook: https://www.facebook.com/kimberlykingbooks/
Twitter: https://twitter.com/kkingbooks
Instagram: https://www.instagram.com/kkingbooks/
Connect with US
Happiness through Hardship – The Book and Journal: BUY HERE or donate a book to a cancer center: DONATE HERE
For easily accessible cancer information – HERE
For daily wellness tips go to @PrettyWellness on Instagram
For more information on Pretty Wellness and Caryn Sullivan – CarynSullivan.com
Follow @PrettyWellness on social media on Instagram, Facebook and Twitter.
This post may contain affiliate links meaning I may receive a commission with no costs to you.