Have you ever fantasized about moving abroad and starting over in a new city? My former colleagues, Jennifer Niessen and Becky Tyler, turned this dream into a reality. I'm thrilled that they share their stories, stressors and silly adventures on moving and living overseas this week on "Happiness Through Hardship" – The Podcast. While their experiences speak to moving internationally, their messages apply to all of us going through moves, job changes or other transitions in life. 
Apple Podcasts: https://apple.co/2zidDGw
Spotify: https://spoti.fi/3imO7An
Stitcher: https://bit.ly/2WOsaTl
Google Podcasts: http://bit.ly/35cuG9O
iHeartRadio: https://ihr.fm/3cTrLXH
Amazon Music: https://amzn.to/3fKqowq
I worked with Jenn and Becky during my time at the Walt Disney Company. Their talent and dedication has allowed them to take their careers to the next level managing big projects, teams and high profile executives. Jenn and Becky both moved across the world and on this episode share key lessons learned about the importance of questions, communication and embracing discomfort. While we talk about the pros and cons of living and working overseas, so many of their wise words speak to dealing with change in any area of life. Please check it out and let us know what you think…and wait until the end where exciting news is revealed.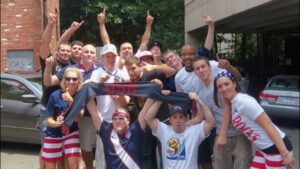 Show Notes – Ep. 87: Navigating Change and Culture with an International Move
6:08 – Jenn shares why she decided to move overseas
8:28 – Becky dives into the story of her career
11:34 – Communicating with family/friends that you're moving for work
14:34 – The importance of always looking to learn
16:31 – Guidance for those wanting to move abroad
20:15 – How to connect with people when living in a new city
23:48 – Cultural differences ending up as a funny memory
28:36 – Lessons about embracing the discomfort
30:48 – Becky explains the wonderful work/life balance in Australia
36:28 – Feeling disconnected from family and friends can be difficult
44:41 – Caryn, Becky and Jenn play the Grateful Game (with a surprise!!!)
Connect with Jenn and Becky – Ep. 87: Navigating Change and Culture with an International Move
Jenn's LinkedIn: www.linkedin.com/in/jennifer-niessen-a342b013/
Becky's LinkedIn: www.linkedin.com/in/becky-tyler-6992b54/
Connect with US
Happiness through Hardship – The Book and Journal: BUY HERE or donate a book to a cancer center: DONATE HERE or by sending a VenMo to @caryn-sullivan-3
For easily accessible cancer information – HERE
For daily wellness tips go to @PrettyWellness on Instagram
For more information on Pretty Wellness and Caryn Sullivan – CarynSullivan.com
Follow @PrettyWellness on social media on Instagram, Facebook and Twitter