No stranger to darkness, CEO and founder of Pretty Girl Makeup, Sepsis Awareness Advocate and celebrity makeup artist, Christina Flach, knows how to see beauty and light around her even through hard times. On this week's episode of "Happiness through Hardship" – The Podcast, Christina dives into the loss of her husband from sepsis as well as the grief she experienced through losing her son and mother. While she's familiar with hardship, she refuses to allow it to define her. Christina shares life lessons on grief, stress, service, wellness and gratitude that will inspire us all to seek beauty (inside and out) and help us be the best version of ourselves.
Apple Podcasts: https://apple.co/2zidDGw
Spotify: https://spoti.fi/3imO7An
Stitcher: https://bit.ly/2WOsaTl
Google Podcasts: http://bit.ly/35cuG9O
iHeartRadio: https://ihr.fm/3cTrLXH
Amazon Music: https://amzn.to/3fKqowq
Empowering people has helped Christina find purpose. She accomplishes this through Pretty Girl Makeup, serving clients and companies from big brands and big names to events and individuals. In addition, Christina has teamed up with Sepsis Alliance to create awareness campaigns that tell her husband's story and educate people on how they can save lives. Through these passions, she has figured out how to be happy in her own way and encourages us all to do the same. Listen to this week's episode to hear advice on grief, healthy living and how to feel beautiful from the inside out.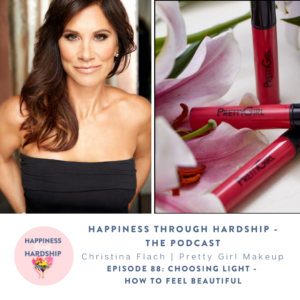 SHOW NOTES – Ep. 88 – Choosing Light – How to Feel Beautiful with Christina Flach
4:56 – Christina shares her story.
9:15 – Questions she asks to help her feel her best/better self during stress.
12:13 – Helping others during periods of grief.
15:29 – Information on sepsis.
18:22 – Christina's husband, Ken Flach's, personal sepsis story.
25:04 – Thoughts on beauty and wellness.
30:29 – Uncommon makeup and skincare advice.
34:24 – Inspiration from her mom.
39:17 – Everyone needs encouragement.
41:01 – Figuring out how to self soothe.
45:34 – Christina and Caryn play The Grateful Game.
Resources Ep. 88 – Choosing Light – How to Feel Beautiful with Christina Flach
Pretty Girl Makeup: https://www.prettygirlmakeup.com/ – clean ingredients, vegan – (PRETTYGIRL discount code)
Work with Christina: https://www.christinaflach.com/
Sepsis Alliance: https://www.sepsis.org/
The Calm App: https://www.calm.com/
"We Plan, God Laughs" by Sherre Hirsch: https://amzn.to/3vGxlpX
Connect with Christina Flach – Ep. 88 Choosing Light – How to Feel Beautiful
Instagram: https://www.instagram.com/christinaflachmakeup/?hl=en
Facebook: https://www.facebook.com/Christinaflachmakeup/
Twitter: https://twitter.com/prettygirlmkup
Connect with US
Happiness through Hardship – The Book and Journal: BUY HERE or donate a book to a cancer center: DONATE HERE or by sending a VenMo to @caryn-sullivan-3
For easily accessible cancer information – HERE
For daily wellness tips go to @PrettyWellness on Instagram
For more information on Pretty Wellness and Caryn Sullivan – CarynSullivan.com
Follow @PrettyWellness on social media on Instagram, Facebook and Twitter