When life gets tough, it's easy to crawl into a hole. Today's podcast guest knows hardship – and thinks differently than you might expect. She found that tapping into "pockets of joy" has helped her. TV personality, author and motivational speaker, Roxane Battle, shares this message with the world. Today's episode is about that – the importance of connection and finding a little bit of happiness throughout your hardship.
Roxane is no stranger to stressful situations. She raised her son as a single mom with an intense career. In this episode she talks about experiencing a deep loss with her father in the late stages of dementia. Through this all – she shares wise words on how finding connection and making memories can be incredibly helpful.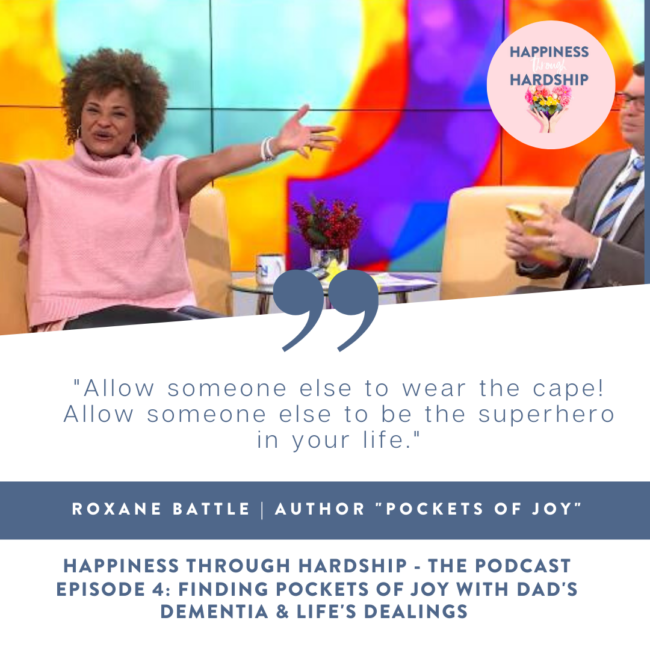 In the late 1990's at the start of my career, I met a number of people that served as role models, Roxane Battle was one of them. A well-known TV anchor for years (and now popular author of Pockets of Joy – Deciding to be Happy Choosing to be Free,) Roxane has a reputation for being a keen interviewer, who could get anyone to talk. That was true both professionally and personally.
As the PR girl, I often called upon Roxane to cover stories of events at Target Center/Timberwolves/Lynx. She covered our Globetrotters game, she brought wrestlers in-studio and highlighted our NBA and WNBA players. I remember sharing with her my job stresses and successes as well as my silly dating life. She listened, gave great advice and did this all with a smile, even with the heavy schedule juggling work and home. Even when I went back a few years ago, she made time for me – to listen, to learn and to laugh.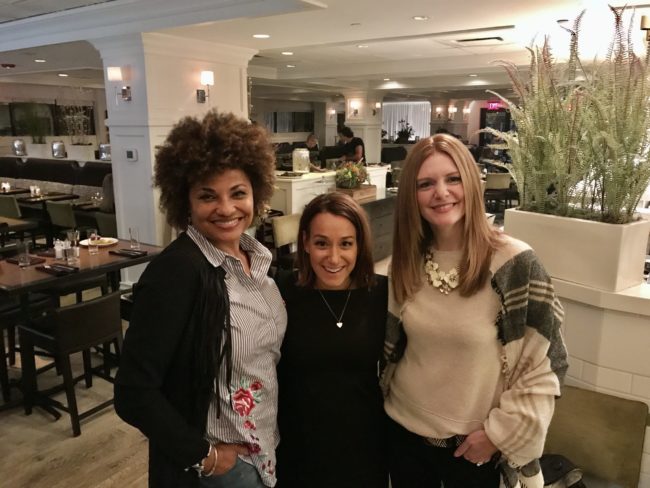 Throughout the interview you will be touched by Roxane's lessons and vivacious personality. While the topic is very serious, Roxane has a way of making people feel welcome. She has a gift beyond storytelling, she's authentic and able to connect.
She reveals tools that have helped her cope with her father's dementia including creating memories for herself and her son. She talks about what pro-active support looks like when a loved one is going through hardship. She shares how embracing gratitude and being present are the greatest gifts we can give ourselves. And whether we're hurting or want to help a friend who is going through a hard time, service and generosity can make everyone feel connected and loved.
If you stay until the end, you will enjoy us playing "The Grateful Game." See links below if you want a sneak-peak:
Podcast Episode 4: Roxane Battle – Pockets of Joy – Dad's Dementia & Life's Dealings
Please enjoy and take a minute to rate, review and subscribe. You leaving a review helps us with our podcast ranking. The higher we are ranked, the more people can discover our show. Tune in every Wednesday for new episodes.
Check out the episode on
ITunes: https://apple.co/3fA8ysM
Spotify: https://spoti.fi/3eePfVm
Stitcher: https://bit.ly/2N6cKnV
Show notes links:
Roxane Battle website: RoxaneBattle.com
Pockets of Joy – Deciding to be Happy Choosing to be Free: BUY HERE
Pockets of Joy – Journal: BUY HERE
You can follow Roxane Battle on social media at @RoxaneBattle: Instagram, Facebook or Twitter.
Kowalski's Wing Bar aka "the wing bonanza"
For the love of Kombucha – My favorite kind
Connect with us at: 
For more information on the podcast episodes – HERE
For easily accessible cancer information – HERE
For daily wellness tips go to @PrettyWellness on Instagram
For more information on Pretty Wellness and Caryn Sullivan – CarynSullivan.com
Follow @PrettyWellness on social media on Instagram, Facebook and Twitter
Happiness through Hardship – The Book: BUY HERE
Podcast Listener Bonus