Whatever life throws at her, today's guest on "Happiness through Hardship" – The Podcast, embraces love, light and lots of avocados. I'm honored to introduce you to Nikki Gallias, a mom, wife, former school teacher and inspirational entrepreneur. She's a bright spirit who was raised across the world with a challenging childhood. Yet even at a young age Nikki understood the importance of gratitude. High times or low times, she's been able to find joy and appreciation in life that has kept her going personally and professionally. Her story is at times heavy, yet radiates gratitude, which is her superpower.

Apple Podcasts: https://apple.co/2zidDGw
Spotify: https://spoti.fi/3imO7An
Stitcher: https://bit.ly/2WOsaTl
Google Podcasts: http://bit.ly/35cuG9O
IHeartRadio: https://ihr.fm/3cTrLXHno
Nikki's grateful spirit leads her life, which is full of giving. She's the first to drop off a healthy meal or even a bottle of essential oils to someone needing a smile. Active in the community, Nikki shares her big heart and connection to resources as she brings people together to help those needing shelter, food and care. She also provides guidance, education and motivation to her Every Mindful Meal clients encouraging them to lead healthier and happier lives. She's full of positivity and love for the world around her…and today she's going to share with us her story. How through her roller coaster journey in life, Nikki found a way to navigate.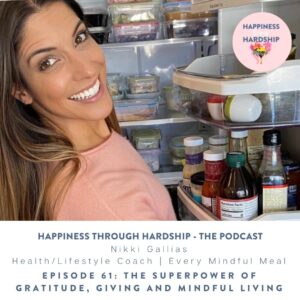 Show Notes – Ep. 61: The Superpower of Gratitude, Giving and Mindful Living – The Nikki Gallias Story
4:45 – Nikki shares her childhood story
7:10 – Nikki's moment of immense gratitude and when she knew she could one day help others
8:00 – Nikki's family re-builds their life
16:38 – The moment Nikki knew she needed to look beyond herself and find who needed her help
19:29 – Nikki and Dave's house fire and the realization that Nikki already had everything she needed
20:45 – The power of kindness and selflessness- the fireman
22:30 – How Nikki's passion for clean eating began and how her first client helped turn her passion into a business
27:15 – Nikki's mother's positive influence and how Nikki's mindful living began during the hardest part of her life
28:35 – Finding clarity during hardship through gratitude
29:15 – The beautiful moment – the power in truly forgiving
32:45 – Nikki reminds us that we are the drivers of our own lives
35:43 – People will connect with you when you open your heart and ask for help
39:20 – Community doesn't have to be huge- it's just about the love and support
41:09 – Nikki's advice for people when they feel they don't have the resources to make their dreams come true
42:59 – There is always light in the dark
47:25 – Caryn and Nikki play The Grateful Game
Connect with Nikki – Ep. 61: The Superpower of Gratitude, Giving and Mindful Living – The Nikki Gallias Story
Every Mindful Meal: https://www.everymindfulmeal.com/
Instagram: https://www.instagram.com/nikki_gallias/
Connect with US
Happiness through Hardship – The Book and Journal: BUY HERE or donate a book to a cancer center: DONATE HERE
For easily accessible cancer information – HERE
For daily wellness tips go to @PrettyWellness on Instagram
For more information on Pretty Wellness and Caryn Sullivan – CarynSullivan.com
Follow @PrettyWellness on social media on Instagram, Facebook and Twitter.