Making healthy living easy has always been the goal…for my family, friends and YOU. When I changed my lifestyle eight years ago, I had found that creating checklists helped me efficiently stock products while also not overdoing it. As it's getting colder, I'm now grabbing pantry items more readily. Ingredients for warm soups, hearty healthy whole grains and satisfying snacks fill my cabinet, so wanted to provide my resources. If you're looking on how to give your pantry a healthy upgrade, we've got you covered.
Healthy Living Made Simple – How to Upgrade Your Pantry
Look for Slight Substitutions
Swap: White/simple pasta and rices for bean/whole wheat pastas or ancient grains
Swap: White/simple flour for whole wheat, almond or bean flours
Swap: Chips for whole wheat snacks like popcorn or crackers with few ingredients and less oils
Swap: Heavy dressings for extra virgin olive-oil and vinegars
Swap: Sweets for nut/seed butters on apples or dates (medjool dates taste like caramel) or a handful of your favorite nuts
Add Beans to Everything – Buy Many and Multicolored
Stock up on a variety of beans that can be used for soups, dips and salads. Beans are a healthy pantry item filled with plant protein, fiber, B-vitamins, iron, folate, calcium, potassium, phosphorus, and zinc so can be used to substitute meat. I even make faux aka creative cookie dough out of chickpeas.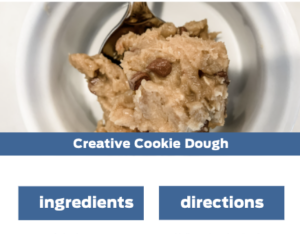 Go Nuts for Nuts and Seeds
While nuts and seeds are high in fat and calories, they are filled with protein, vitamins and minerals making them a healthy option. A handful of either can curb a sweet tooth, as well. They are perfect pantry snacks that can be grabbed on the go with no cooking necessary.
Grow Your Spice Cabinet
Rather than use seasoning packets or sugar-filled sauces – keep your pantry filled with healthy spices. Spices add robust flavoring and health properties, which may help protect against inflammation, high blood sugar to name a few. Some favorite super spices include: cinnamon, turmeric/black pepper, cumin, ginger, oregano, garlic and more…
If you're looking for the full checklist to upgrade your pantry – we've got you covered!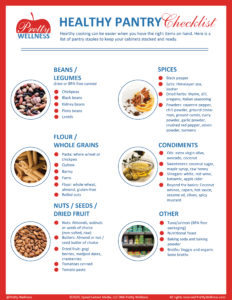 More items
Looking for some other ideas for healthy pantry staples – I share ten of my favorite pantry staple foods as well as a healthy grocery checklist.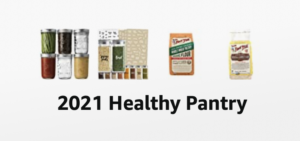 OR – if a cookbook more your thing – download some of my favorite snacks and smoothies.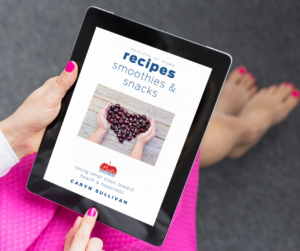 Love podcasts, I would be honored if you checked out mine, "Happiness through Hardship" – The Podcast. If you're interested in episodes about healthy living check out Dancing with the Stars former co-host and author of Your Healthiest Healthy, Samantha Harris, dietician and author of "The Gorgeous" books, Esther Blum and many more.
iTunes/Apple Podcasts: https://apple.co/2zidDGw
Spotify: https://spoti.fi/2WNFc3k
Stitcher: https://bit.ly/2WOsaTl
Google Podcasts: http://bit.ly/35cuG9O
IHeartRadio: https://ihr.fm/3cTrLXH
Amazon Music: https://amzn.to/3fKqowq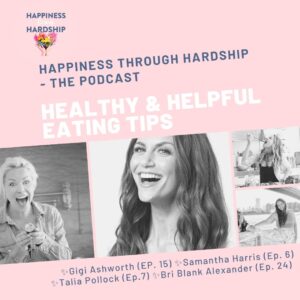 Be sure to follow us @PrettyWellness on Instagram for daily inspiration on healthy and happy living. xoxoxo