Like a scene from a romcom movie, Gorgeous Esther, found her happily ever after in what seems like a comedy. Her dress ripped rushing out of a cab to a wedding in the middle of Manhattan. This resulted in her A-HA moment, which led her to love her body and teach others to do the same no matter the shape or size. This week's guest on "Happiness through Hardship" – The Podcast is "Gorgeous" Esther Blum, an integrative dietician and high performance coach. She's helped thousands of women permanently lose weight, eliminate the need for medication and reverse chronic illness. On today's episode she shares her mercury detox story and has some fun debunking health myths with me.
Apple Podcasts: https://apple.co/2zidDGw
Spotify: https://spoti.fi/3imO7An
Stitcher: https://bit.ly/2WOsaTl
Google Podcasts: http://bit.ly/35cuG9O
IHeartRadio: https://ihr.fm/3cTrLXH
Esther is the best-selling author of Cavewomen Don't Get Fat, Eat, Drink and Be Gorgeous, and The Eat, Drink, and Be Gorgeous Project. She's widely respected as an industry expert making appearances on Dr. Oz, The Today Show and many more. She's full of wit and wisdom…and truly engaging. If you like this episode, please rate, review and subscribe. You leaving a review helps us with our podcast ranking, the higher we are ranked, the more people can be inspired by these stories.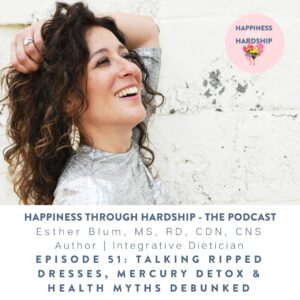 Show Notes – Ep. 51 – Talking Ripped Dresses, Mercury Detox and Health Myths Debunked
3:38 – Esther's health history, her ripped dress story, and how she got to where she is today.
7:15 – Her experience with finding out she had to mercury detox.
8:24 – Steps Esther takes with her patients.
10:55 – What she did after her ripped dress experience in regards to figuring out her own health problems.
12:50 – Mercury in the body and Esther's former lifestyle that was especially susceptible to it.
17:47 – Her personal experience with a mercury detox and tips for those going through something similar.
20:11 – Her strong suggestion – if your doctor isn't listening to you, find a new one.
21:38 – Debunking red meat, egg and fruit myths.
24:22 – The importance of fueling your body with fresh and real food, not packaged food.
27:06 – Debunking carbohydrate myths.
32:00 – "Normal" is not always optimal…AND MORE.
Eat, Drink and Be Gorgeous https://amzn.to/351jlc0
Cavewomen Don't Get Fat https://amzn.to/2SiBRdf
Eat, Drink, and Be Gorgeous Project https://amzn.to/3ctCB65
Sacred Cow by Diana Rogers: https://amzn.to/3is2mYw
Crush Your Cravings Video Series – FREE: EstherBlum.com/cravings
Connect with Esther Blum – Ep. 51: Talking Ripped Dresses, Mercury Detox and Health Myths Debunked
FREE 30-minute health consultation call for the first four (4) listeners that reach out – EstherBlum.com/call
Instagram: https://www.instagram.com/gorgeousesther/
Connect with US
Happiness through Hardship – The Book and Journal: BUY HERE or donate a book to a cancer center: DONATE HERE
For easily accessible cancer information – HERE
For daily wellness tips go to @PrettyWellness on Instagram
For more information on Pretty Wellness and Caryn Sullivan – CarynSullivan.com
Follow @PrettyWellness on social media on Instagram, Facebook and Twitter.