When Amy Daughters reconnected with an old friend on Facebook, she couldn't have imagined how it would change her life. A college football freelancer and humorist, Amy was used to writing. So when she learned her old pal, Dana, was going through hardship, Amy sent her notes weekly. Through the art of being a pen pal, both Amy and Dana's lives were enriched tremendously. On this week's episode of "Happiness through Hardship" – The Podcast, Amy shares how one pen pal relationship, led her to reconnect with all her Facebook friends. Amy tells her story about why she wrote them all a handwritten letter…and how this changed her life.
Apple Podcasts: https://apple.co/2zidDGw
Spotify: https://spoti.fi/3imO7An
Stitcher: https://bit.ly/2WOsaTl
Google Podcasts: http://bit.ly/35cuG9O
iHeartRadio: https://ihr.fm/3cTrLXH
Amazon Music: https://amzn.to/3fKqowq
With social media there's a new definition of being someone's "friend." On this episode and in Amy's new book, Dear Dana, she explores the beauty and challenges with our social connections. We can all learn from her experience as she shares her thoughts on friendship in the digital age balancing both old school and modern ways.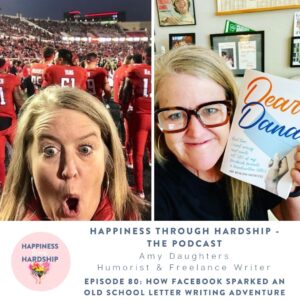 Show Notes – Ep. 80: How Facebook Sparked an Old School Letter Writing Adventure
4:41 – Amy shares why she wrote all of her Facebook friends handwritten letters and the reason behind her new book, Dear Dana
8:27 – Amy's writing routine
10:00 – Logistics in writing to all of her Facebook friends
11:54 – Connecting with people she was unfamiliar with
16:03 – Limitations behind some of the messages
17:51 – Friendship advice for the digital age
26:23 – Amy's college football writing career
27:16 – Amy's first book – You Cannot Mess This Up 
30:00 – Amy and Caryn play The Grateful Game
CONNECT with Amy
About Amy – www.amydaughters.com
Purchase – You Cannot Mess This Up – amzn.to/3vMg7b2
Preorder – Dear Dana – amzn.to/3pPQAtH – release date 5/17/22
Instagram – www.instagram.com/smokinhotamys/?hl=en
Twitter – twitter.com/daughtersamy
Connect with US
Happiness through Hardship – The Book and Journal: BUY HERE or donate a book to a cancer center: DONATE HERE or by sending a VenMo to @caryn-sullivan-3
For easily accessible cancer information – HERE
For daily wellness tips go to @PrettyWellness on Instagram
For more information on Pretty Wellness and Caryn Sullivan – CarynSullivan.com
Follow @PrettyWellness on social media on Instagram, Facebook and Twitter