Imagine your life headed down an expected path. Then one day a bike accident literally and figuratively turns it upside down. Today's guest, Dr. John Lawrence, on "Happiness through Hardship" – The Podcast shares how humor helped him navigate medical school while dealing with a traumatic head injury. John talks to us about how he became resilient, learned to embrace the simple joys of life… and how you can, too.
Apple Podcasts: https://apple.co/2zidDGw
Spotify: https://spoti.fi/3imO7An
Stitcher: https://bit.ly/2WOsaTl
Google Podcasts: http://bit.ly/35cuG9O
iHeartRadio: https://ihr.fm/3cTrLXH
Amazon Music: https://amzn.to/3fKqowq
John laughs at himself and stressful situations in his series titled Playing Doctor. His latest book showcases stories of imposter syndrome within residency. While this interview and John's words often bring tons of giggles, his nearly impossible recovery displays the power of courage, strength and hope. Subscribe now to "Happiness through Hardship" – The Podcast to hear his wise and witty words as well as many others who have tapped into happiness to provide hope during hard times.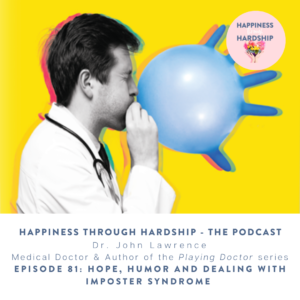 Show Notes – Ep. 81: Hope, Humor and Dealing with Imposter Syndrome
5:26 – John shares his background and the injury before starting med school.
8:55  – John talks about his physical limitations of healing from a brain injury.
14:02 – John and Caryn explain how they use humor and positivity to heal.
17:34 – The power of funny movies, sitcoms and more when dealing with day-to-day hardship.
19:15 – How and why John became an author.
27:02 – John discusses the importance of honoring your emotions.
28:10 – John describes his battle with imposter syndrome.
32:03 – Ways to combat imposter syndrome.
36:14 – The positive benefits of better self talk aka finding things we like about ourselves.
37:33 – Explaining "morning pages" and the benefits.
39:33 – Experiencing the benefits of positive mindset with sports.
40:56 – Caryn and John play The Grateful Game.
Connect with John – Ep. 81: Hope, Humor and Dealing with Imposter Syndrome
About John – https://johnlawrencewriter.com/about-the-author/
Purchase John's books titled Playing Doctor – https://amzn.to/3iclgRy and https://amzn.to/3MSCJwr
Instagram – https://instagram.com/johnlawrencewriter?utm_medium=copy_link
The Artist's Way by Julia Cameron – https://amzn.to/3MSdWJ5
Comrad Socks – socks with benefits – https://www.comradsocks.com/
Connect with US
Happiness through Hardship – The Book and Journal: BUY HERE or donate a book to a cancer center: DONATE HERE or by sending a VenMo to @caryn-sullivan-3
For easily accessible cancer information – HERE
For daily wellness tips go to @PrettyWellness on Instagram
For more information on Pretty Wellness and Caryn Sullivan – CarynSullivan.com
Follow @PrettyWellness on social media on Instagram, Facebook and Twitter