Do you believe in miracles or finding a way to be whole after a traumatic experience? I'm honored to introduce you to this week's guest on "Happiness through Hardship" – The Podcast – Anne Reeder Heck. She's an author, speaker, healer, and artist devoted to inspiring and guiding women. At 26 years old Anne was brutally raped and attacked by a stranger. On today's episode we talk about the attack and how she's lighting the way, helping herself and others healing from trauma.
Apple Podcasts: https://apple.co/2zidDGw
Spotify: https://spoti.fi/3imO7An
Stitcher: https://bit.ly/2WOsaTl
Google Podcasts: http://bit.ly/35cuG9O
In this episode and her memoir, A Fierce Belief in Miracles, Anne shares her story of healing. This journey pushed Anne beyond her comfort zone to rediscover resilience, strength and ultimately how to be whole again. It's a story that can help others dealing with any hardship in life proving that there is hope and many different paths that can ultimately lead to more peace and happiness. She's a powerful force lighting the way for others recovering from any trauma.
Please check it out..and if you like – rate, review and subscribe. You leaving a review helps us with our podcast ranking. The higher we are ranked, the more people can discover our show and the more inspirational content we can bring to you and others.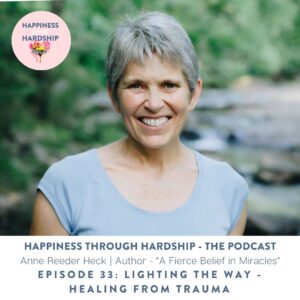 Episode 33: Lighting the Way – Healing from Trauma Show Notes
Anne Reeder Heck Website: https://www.anneheck.com/
Book: "A Fierce Belief in Miracles:" https://amzn.to/3o1cjex
EMDR: https://www.emdr.com/what-is-emdr/
Somatic Experiencing: https://traumahealing.org/
Creativity / Healing: Doll Making: https://www.anneheck.com/anne_heck/healing-dolls.html
Connect with this week's guest – Anne Reeder Heck – Lighting the Way – Healing from Trauma
Facebook: https://www.facebook.com/anne.heck
Twitter: https://twitter.com/anneheck
Instagram: https://www.instagram.com/anneheck1/
Connect with US
Happiness through Hardship – The Book and Journal: BUY HERE or donate a book to a cancer center: DONATE HERE
For easily accessible cancer information – HERE
For daily wellness tips go to @PrettyWellness on Instagram
For more information on Pretty Wellness and Caryn Sullivan – CarynSullivan.com
Follow @PrettyWellness on social media on Instagram, Facebook and Twitter