Growing up in the 80's, it wasn't hard to be active. Because social media didn't exist and phones didn't have call waiting, if I wanted to see my friends, I ran around the neighborhood to find them. If I couldn't wait to share a big girly secret, I would walk miles to tell my gal pals or show up at their camp activities.
Today, kids of all ages (and I'm speaking of myself, too) often use technology as their main tool to socialize and communicate. As a result, we don't have as many opportunities to be active as we once did. While I do enjoy the conveniences and pizzazz of our multi-media lives, I want to be sure to instill a love of activities filled with personal interaction for my son. In an effort to practice what I preach, here is a list of activities to keep a kid (and his mother) fit while having fun. We've updated this list from a few years ago, knowing that with COVID-19 restrictions, many families are still looking for interactive activities to enjoy together.
My nine-year old and I shared some of our favorites from the list below on WTNH-TV Newschannel 8.
35 Fit, Fun & Mostly Free Activities for Kids
1. Go to the local high school track and run races
2. Go to trails or a playground and ride bikes with a picnic in tow
3. Have a fitness scavenger hunt. Tape fitness activities to scavenger hunt items (Do five push ups then find the next clue.)
4. Start a garden; weed and plant together
5. Play tag through the sprinklers
6. Swim in a lake or ocean or even get a backyard plastic pool
7. Bodyboard in the small waves
8. Hike at a nature center, arboretum or small mountain
9. List favorite fitness activities on index cards and put in a box. Each family member pulls one card out of the box after each night (i.e. play catch, go for a walk, etc.)
10. Buy kites (and fly them)
11. Sign up for a virtual 5K race with a kids race prior
12. Create a mini-Olympics with age appropriate activities
13. Play basketball, baseball, soccer or other favorite sports outside
14. Play lawn bowling
15. Go to a driving range or create your own putt-putt mini-golf in the backyard
16. Go ice skating
17. Visit a zoo (if open) or find a nature walk to look for insects and wear pedometers to see how many steps taken
18. Go fishing
19. Take a family karate class
20. Create an obstacle course with hula hoops, swing sets and tunnels
21. Play Wii, Xbox or other sports driven video games
22. Play Tag, Follow the Leader, Hopscotch, Four Square, the Hokey Pokey and Simon Says
23. After a rain (or during, if we're daring), go puddle jumping
24. Create a new music playlist and have a dance party
25. Find a good family yoga or kids class on You Tube
26. Skating and scooting – rollerblade and scooter together
27. Play frisbee – young kids can use the soft ones
28. Jump rope
29. Play laser tag
30. Play ping-pong push-ups (Whomever loses has to do five pushups.)
31. Host a water balloon fight
32. See if a local fitness center has outdoor classes or offers video ones
33. Find an outdoor climbing wall
34. Clean the house race – set a timer and see who can clean their room the quickest
35. Play outdoor BBQ games like horseshoes, shuffleboard or a bean bag toss
What are your favorite summer activities to keep your kids active? 
If you like this post and want other clean living tips, please share and follow me on Twitter, Facebook, Instagram and Pinterest. 
Looking for a speaker to inspire your organization or business team via Webinar? Hire me to present or facilitate a seminar on resiliency, positivity or wellness. Check out my business website and demo reel at CarynSullivan.com. I can be reached at [email protected].
Here are a few tools to add to your summer activity arsenal: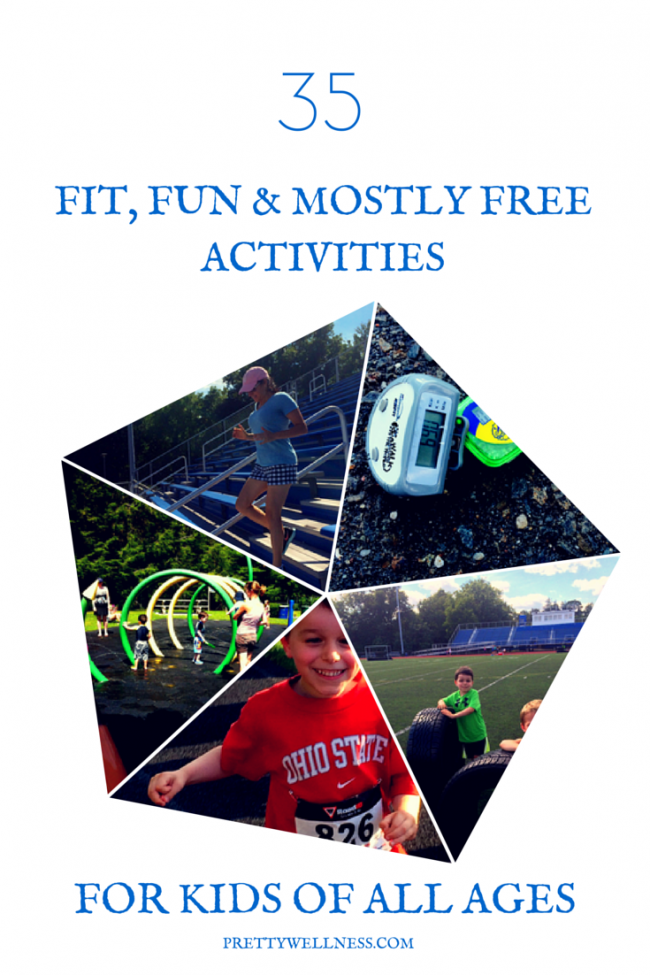 This post may contain affiliate links meaning I may receive a commission with no costs to you. I pro-actively try various products and then affiliate myself with these items that I already use and love.