TAKING A BREAK, A PAUSE, A SABBATICAL…not sure what to call it, but overall I know it's time for me to "be." While I've lived with stage IV disease for eight years now, sometimes I forget how serious it is. I love helping others and often put that over letting myself truly be present. Here's my update:
A few weeks ago I found out I needed to get a brain scan and the appointment was in 45 minutes from the call (and I live 40-minutes from the hospital.) After weeks of headaches and a year of abnormal cancer tumor markers, the fear of hearing what I was anticipating to be bad news had me shaking and balling on the drive down. Yet on the same note, I felt strong because I leaned into love. What do I mean by this…certain people, healthy tools and my intuition has helped me live a life where I feel some joy and peace within, even when hardship hits.
With a quick text and without question, a dear friend dropped my son at home after school and my husband called to give me a pep talk. I thought about my guardian angels and what they might say to me if they were sitting in the passenger seat next to me. I called my dad, who when I was a kid was the silliest and most nurturing cheerleader for me. His calming voice helped me reset and walk into the hospital, one that brings back wonderful and terrible memories.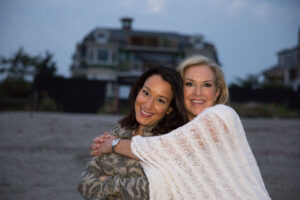 The scans themselves seemed routine. I've been doing them every three months for eight years. I'm in hospitals at least once a month and have appointments due to cancer weekly. I've somehow compartmentalized the cancer…as something I "do." It was the deck of cards I was dealt, and I just play forward. I use the power of meditation to calm me and reset, the strength of spirituality/guardian angels/the outdoors to help me be present and know when I need help that my true friends/family are only a call away.
As I was walking down the corridor of the hospital about to exit, I heard a prayer service and decided to sit in the back of the chapel. The heavy of the past few years of dealing with "Cancer Covid rules" and the anticipation of possible bad news had my heart beating fast…and again…tears were rolling down my face. 15 minutes later, 15 minutes after my scans ended, the phone rang and the caller ID said "Yale New Haven Hospital", so I jumped out of the chapel to take the call. "Caryn, your brain is beautiful," said my oncology nurse when I answered. I went back into the service and just sat there. Relieved. Exhausted. Taking in this profound moment.
While my cancer tumor markers are incredibly high, this scan showed that the cancer hasn't spread to the brain, which was an incredibly relief. Will my next scans show growth elsewhere? Maybe? And if so, I truly believe the medical community advancements will continue to grow giving us all hope. I also know that when I focus on wellness – eating clean, being active, using clean products and focusing on mindful moments – I feel great.
All this being said, I need to take a step back from work to just be. To take care of myself, my family and enjoy being present. I have LOVED sharing stories (mine and others') to inspire you to find hope, happiness and better health these past eight years. I'm incredibly grateful for the encouragement, support and love you have shown me and this community. The podcast guests have been incredible. The events – corporate speaking gigs, book events, conferences, TV appearances were amazing, too. I have loved teaching, motivating and sharing it all…and I'm grateful to you and countless others who have helped me help others.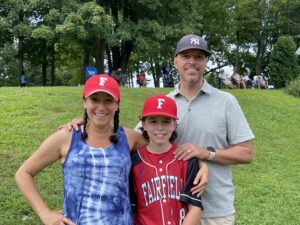 While I'm on my break and beyond, if you need a little inspiration or hope – here are resources that can help:
IF YOU ARE TOUCHED BY CANCER
Happiness through Hardship– A Guide and Journal for Cancer Survivors and Caregivers is a quick read full of resources. Go to PrettyWellness.com/book or buy online at Amazon, Barnes & Noble or Target.
"Happiness through Hardship" – The Podcast has mini-episodes that are situation specific – chemo, how to help someone with cancer, how to ask for help. I've interviewed doctors, patients and more. Check out PrettyWellness.com/podcast.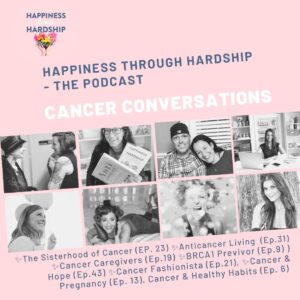 Want to donate in honor of someone – research helps find new treatments – check out The Cancer Couch Foundation or The Breast Friends Fund. If you want to help single moms dealing with MBC, please check out and donate Infinite Strength.
LOOKING FOR WELLNESS TIPS
Free resources like a pantry checklist, snack and smoothie recipes and more: PrettyWellness.com/freebies.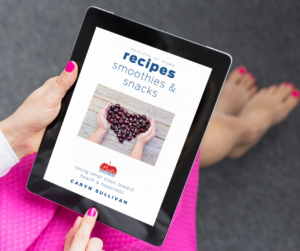 "Happiness through Hardship" – The Podcast is filled with episodes of inspiration for healthier living from parenting tips (with teens and screens), to Intermittent Fasting, Clean Eating, Mindfulness Moments and more – go to PrettyWellness.com/podcast for more.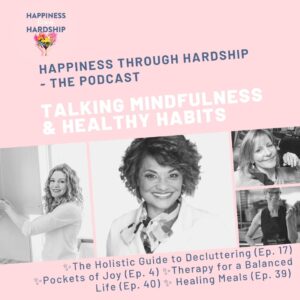 SOME OF MY ONLINE FAVORITES
@neatlittlenest – an entrepreneur and author who shares tips for organizing space, time and the mind
@drteplinsky – an oncologist who talks real about cancer and living your best life
@commanderinshe – a communications agency teaching people how to create success in their career and life.
@my-styled.life – a style coach who helps women find their confidence inside and out
I'm soooo grateful for all of you. Wishing you happiness, good health and lots of love. Xoxoxo – Caryn