I'm honored and excited to introduce you to this week's guest on "Happiness through Hardship" – The Podcast – Anne Cannon-Wilson. She's an author, philanthropist, retired business manager and mother of two amazing daughters. She had worked side by side with her late husband, Don, for 25 years to help grow the family business and retired 18 years ago to pursue her own passions. On today's episode Anne shares her love story. She talks about how through sickness and health, thoughtful and supportive caregiving for a spouse is essential. We cover life experiences including menopause and cancer as well as dive into our healthy habits and so much more.
Episode 30: A Love Story – Managing Menopause and Caregiving Cancer Together with Anne Cannon-Wilson
Apple Podcasts: https://apple.co/2zidDGw
Spotify: https://spoti.fi/3imO7An
Stitcher: https://bit.ly/2WOsaTl
Google Podcasts and more…
Anne's heart is huge – she's a leader in her church, loves taking care of her family as well as giving back to the community. Her book, "Ways to Help Your Mate through Menopause," has been recently re-released. Anne talks to us about this intense and miserable time during womanhood and how Don helped make it much easier. She also shares how caregiving for him during his cancer diagnosis and last days were heartfelt while also heartbreaking.
We laugh, we cry and we could feel the love and support of each other during this conversation. You will, too…so please listen and if you enjoy, rate, review and subscribe. These efforts truly help all podcasts get noticed and I would be grateful for your help promoting this inspirational story and so many others.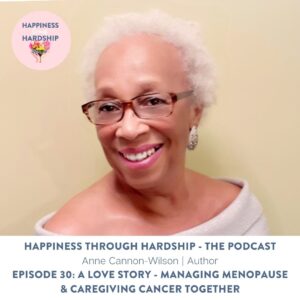 Episode 30: Anne Cannon-Wilson –  A Love Story – Managing Menopause and Caregiving Cancer Together Show Notes
"Ways to Help Your Mate through Menopause" by Anne Cannon-Wilson: https://amzn.to/3gV6vkY
The Dream a Dream Foundation (D.A.D:) https://www.thedreamadreamfoundation.org/
Podcast episode 19: A Caregiver's Perspective on Healing, Hope & Happiness (interview with my husband:) https://prettywellness.com/caregiver/
Nasti Custom Painted Shoes: https://www.instagram.com/nasticustoms/
Connect with Anne Cannon-Wilson –  A Love Story – Managing Menopause and Caregiving Cancer Together
Instagram: https://www.instagram.com/annecwilson_/
---
Mini-episode: First Few Weeks of Cancer / Early Diagnosis on HTH – The Podcast: https://apple.co/2Gd5oiu
Mini-episode: What to Do, Say or Give to a Friend with Cancer – Caregiver Tips on HTH – The Podcast: https://apple.co/349Zvuw
---
For easily accessible cancer information – HERE
For daily wellness tips go to @PrettyWellness on Instagram
For more information on Pretty Wellness and Caryn Sullivan – CarynSullivan.com
Follow @PrettyWellness on social media on Instagram, Facebook and Twitter
Happiness through Hardship – The Book and Journal: BUY HERE or donate a book to a cancer center: DONATE HERE