Today's guest on "Happiness through Hardship" – The Podcast is a FORCE in her life and for others. I'm honored to introduce you to Brandi L. Benson – a U.S. Army veteran, cancer survivor, entrepreneur and author of the book The Enemy Inside Me. Brandi encourages people to take charge of their healing journey following trauma or hardship. She shares the importance of mental health, resiliency, adaptability, and the beauty of being vulnerable. Today she shares how she beat the odds with Ewing's Sarcoma, even when doctors told her it was nearly impossible.
Apple Podcasts: https://apple.co/2zidDGw
Spotify: https://spoti.fi/3imO7An
Stitcher: https://bit.ly/2WOsaTl
Google Podcasts: http://bit.ly/35cuG9O
IHeartRadio: https://ihr.fm/3cTrLXH
Brandi has dealt with many curve balls in her life and has certainly found the happiness in her hardship. She's the CEO of "Resume-Advantage", an employment service for both civilians and transitioning military veterans as well as volunteers in the community helping those affected by violence, mental illness and the criminal justice system. To describe her as a warrior, doesn't even do her justice…she's unique and her story is very special. She been incredibly strong throughout her entire life and you will LOVE what she has to say. And if you do, please follow/subscribe, rate and review, too.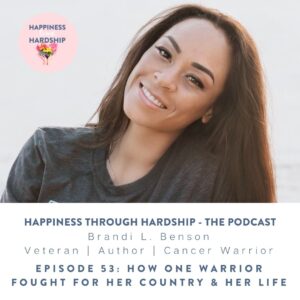 Ep. 53: How One Warrior Fought For Her Country and Her Life – Brandi L. Benson
4:02 – Brandi's story: getting deployed and discovering her cancer
5:49 – The difficulty of receiving treatment in a war zone
9:34 – Having hope and navigating the challenges of an initial diagnosis
12:48 – How Brandi changed her mindset to help her heal
17:37 – How someone else can bring the best out in us during a hardship
18:07 – The beauty and importance of being vulnerable
21:23 – How to overcome mental blocks
22:40 – Identifying our triggers and beating negative feelings
24:53 – Meditation and mindfulness: just begin!
27:25 – Brandi's book suggestions
35:42 – Overcoming Brandi's cancer and accepting her journey
39:03- Why we NEED positivity and gratitude

Books Brandi Loves
The Enemy Inside Me by Brandi L. Benson: amzn.to/3xJHU9X
The Purpose Driven Life by Rick Warren: amzn.to/2SS4X3h
Quantum Physics for Beginners by Wallace F. Speer: amzn.to/2SKLq54
Connect with Brandi
BrandiLBenson.com: brandilbenson.com/
Instagram: www.instagram.com/brandil.benson/
Connect with US
Happiness through Hardship – The Book and Journal: BUY HERE or donate a book to a cancer center: DONATE HERE
For easily accessible cancer information – HERE
For daily wellness tips go to @PrettyWellness on Instagram
For more information on Pretty Wellness and Caryn Sullivan – CarynSullivan.com
Follow @PrettyWellness on social media on Instagram, Facebook and Twitter.