Have you ever felt like your job didn't change…but you did? This week's guest on "Happiness through Hardship" – The Podcast is Tina Conrad, known as the wonder woman behind the podcast DJ Breast Cancer, whom is also a successful Merchandising Manager. Tina spent over 20+ years in the corporate world. She's an experienced buyer working for a big brand in the retail industry. Like so many of us, she's worked for amazing leaders and horrible bosses. Tina talks about how she found tools to map her career forward living with purpose even after hardship. Many people are struggling right now, whether they're unemployed, uninspired or unhappy with a boss. Tina shares her story of stress and mental anguish on the job…which led her to finding a way to reclaim her life.
Apple Podcasts: https://apple.co/2zidDGw
Spotify: https://spoti.fi/3imO7An
Stitcher: https://bit.ly/2WOsaTl
Google Podcasts: http://bit.ly/35cuG9O
IHeartRadio: https://ihr.fm/3cTrLXH
Amazon Music: https://amzn.to/3fKqowq
Tina is one of the most authentic and thoughtful people I know. Her work for the breast cancer community is amazing. She's in her sixth season of the podcast where she highlights stories and resources for those touched by cancer or adversity. She's also the founder of the Hope Journal Project. Tina is the cheerleader you want on your side…personally and professionally. She's found tools to help her navigate the job front and shares those with us on this episode.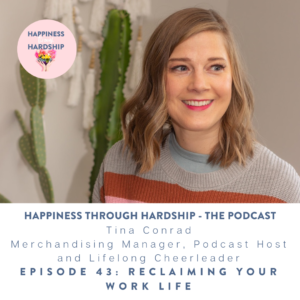 If you like this episode, I encourage you to check out others on the topic of employment or inspiration including Episode 28 with former sports producer and entrepreneur Valerie Gordon or Episode 42 with Bossed Up's Emilie Aries. And please remember to rate, review and subscribe. You leaving a review helps us with our podcast ranking. The higher we are ranked, the more people have access to our show.
---
Other relevant episodes on work / life inspiration include:
---
Ep. 43 Reclaiming Your Work Life Show Notes
DJ Breast Cancer: https://www.djbreastcancer.org/
Subscribe to DJ Breast Cancer: https://djbreastcancer.buzzsprout.com/
Enneagram Personality Tests: https://www.enneagraminstitute.com/type-descriptions
Harvard Business Review – From Purpose to Impact: https://hbr.org/2014/05/from-purpose-to-impact
The Hope Project: https://www.instagram.com/thehopeprojectvoices/
CONNECT with Tina Conrad
Instagram: https://www.instagram.com/djbreastcancer/
Facebook: https://www.facebook.com/TinaConradDJBreastCancer
Twitter: https://twitter.com/DBreastcancer
Connect with US
Happiness through Hardship – The Book and Journal: BUY HERE or donate a book to a cancer center: DONATE HERE
For easily accessible cancer information – HERE
For daily wellness tips go to @PrettyWellness on Instagram
For more information on Pretty Wellness and Caryn Sullivan – CarynSullivan.com
Follow @PrettyWellness on social media on Instagram, Facebook and Twitter.