Are you feeling uninspired professionally? Have you lost your job or have been unemployed for awhile? This week's guest on "Happiness through Hardship" – The Podcast is Valerie Gordon, a life-long storyteller, 10x Emmy award winning producer and founder of the career and communications strategy firm, Commander-in-She.
Apple Podcasts: https://apple.co/2zidDGw
Spotify: https://spoti.fi/3imO7An
Stitcher: https://bit.ly/2WOsaTl
Valerie's business and guidance is well-needed at this time whether you are unemployed, uninspired or just curious. With so many people experiencing hardship professionally right now – losing their jobs or experiencing incredible stressors from their current one, she provides tons of suggestions on how to manage a job search. She also highlights ten tips on how to plan your next chapter successfully.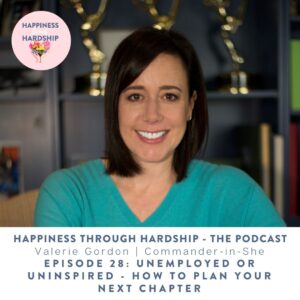 Valerie's full of information and inspiration to help you put one foot in front of the other as you take on your next chapter in life. Please listen and if you like it…rate, review and subscribe. You leaving a review helps us with our podcast ranking. The higher we are ranked, the more people can discover our show….and the more inspirational content we can bring to you and others.
Unemployed or Uninspired – How to Plan Your Next Chapter Show Notes
10 Things to Remember When You've Been Laid Off – https://commander-in-she.com/10-things-to-remember-when-youve-been-laid-off/
Commander-in-She Services – https://commander-in-she.com/services/
LinkedIn: https://www.linkedin.com/
The Tempest by William Shakespeare – "What's Past is Prologue:" https://amzn.to/37uHzMM
Relevant podcast episodes / job hardship: HTH-The Podcast Episode 3: Katie Smith: Resilience On and Off the Court: https://prettywellness.com/wnba-katie-smith/
Unemployed or Uninspired – How to Plan Your Next Chapter – Connect with Valerie Gordon
Facebook: https://www.facebook.com/CommanderInShe
Twitter: https://twitter.com/CommanderInShe
Instagram: https://www.instagram.com/commanderinshe/
For more information on the podcast episodes – HERE
For easily accessible cancer information – HERE
For daily wellness tips go to @PrettyWellness on Instagram
For more information on Pretty Wellness and Caryn Sullivan – CarynSullivan.com
For more information on "The Grateful Game" – https://www.instagram.com/tv/CCdduzuht2u/
Follow @PrettyWellness on social media on Instagram, Facebook and Twitter
Happiness through Hardship – The Book and Journal: BUY HERE or donate a book to a cancer center: DONATE HERE
To get a free copy of our smoothies and snacks ebook: sign up HERE