We're incredibly grateful to our Pretty Wellness community and love to give-back and show our appreciation. Below are some of our simple and free resources aka FREEBIES to help you make healthy living simple.
FREEBIES: Wellness Tip List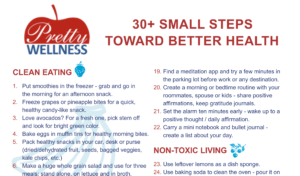 30+ Small Steps Toward Better Health: Through the years of our wellness journey – we have found simple tips and healthy hacks to help make healthy living a little easier.
Click HERE for our free downloadable Wellness Tips List.
FREEBIES: Smoothies & Snacks E-cookbook
We're so excited to share our favorite simple recipes from sweet smoothies (including our highly acclaimed kid-approved green smoothie) to our faux cookie dough, there's a healthy recipe for everyone.
Click HERE for our free downloadable Smoothies & Snacks cookbook.
FREEBIES: Healthy Checklists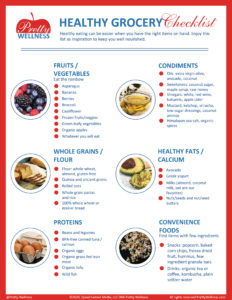 Grocery Checklist: Let us help you take small steps to make your next grocery shopping easier with this checklist. Using it is a simple way to create a healthier kitchen.
Sign up HERE.
Healthy Pantry Checklist: Need some healthy staples but don't know where to begin? Let us help you add healthy items to your pantry.
Sign up HERE.
FREEBIES: Podcast Episodes on Finding Happiness and Better Health
If you want compelling stories with insightful lessons learned about wellness and good health – check out "Happiness through Hardship" – The Podcast.