When did you first start talking about sex? Reading Cosmo magazine? Catching your first real R-rated movie? Or…when you listened awkwardly to the true, "birds and the bees" conversation. Never, in any of those chats, did they share how intimacy and sex changes as you age and especially as you go through chronic illness and cancer. This week's guest on "Happiness through Hardship" – The Podcast is a Melbourne, Australia based clinician whose expertise focuses on sex and intimacy. Tess Devèze, founder of ConnectAble Therapies and author of A Better Normal is an occupational therapist and sexologist. This episode is full of strategies and suggestions for couples wanting more and curious how to do it. Whether you're going through cancer, menopause or just too tired to prioritize intimacy, Tess has tons of ideas for you.
Apple Podcasts: https://apple.co/2zidDGw
Spotify: https://spoti.fi/3imO7An
Stitcher: https://bit.ly/2WOsaTl
Google Podcasts: http://bit.ly/35cuG9O
IHeartRadio: https://ihr.fm/3cTrLXHno
In addition for serving as an expert to clients and inspiring people around the world, Tess has been battling stage three breast cancer for the past three years and has realized the troubles it can bring when it comes to intimacy, which is why "ConnectAble Therapies" was born. Tess's online intimacy and cancer support group has grown to over thousands of people where couples can learn about their feelings of desire, partner dynamics, and communication. So, I am beyond thrilled to have Tess educate us and provide resources on how we can find more intimacy even when our body is going through tons of changes.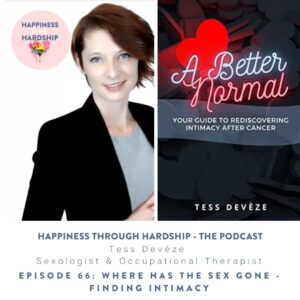 Show Notes – Ep. 66: Where Has the Sex Gone – Finding Intimacy
5:01 – How Tess started working with sexuality
7:55 – The importance of opening up about any struggles
9:00 – Three main reasons people come to Tess for support
9:25 – Explaining atrophy
11:43 – Some products Tess recommends to help with atrophy
17:03 – Knowing it is okay to ease back into intimacy
22:19 – Realizing that touch doesn't have to lead to sex
26:41 – Explaining Libido
31:52 – Tess recommends some more helpful products for intimacy
38:42 – Tess talks about A Better Normal
40:22 – Tess and Caryn play The Grateful Game
PRODUCTS/ITEMS DISCUSSED
Tess's Book – A Better Normal: https://amzn.to/3AQ1p1y
Replenz: https://amzn.to/3DZvRIH
Vagisil: https://amzn.to/3jgETJi
Olive and Bee: https://www.amazon.com/StressNoMore-Olive-Bee-Intimate-Cream/dp/B07BYKV3KN
Ohnut / Barrier Rings: https://amzn.to/2Z6v5Ks
Mona Lisa Touch: https://www.smilemonalisa.com/
Connect with Tess
Tess's company – ConnectAble Therapies: https://www.connectabletherapies.com
Facebook: https://www.facebook.com/connectabletherapies
YouTube: https://www.youtube.com/channel/UCebSdi7vbc4Jr5lwLmo08hQ?view_as=subscriber
Happiness through Hardship – The Book and Journal: BUY HERE or donate a book to a cancer center: DONATE HERE
For easily accessible cancer information – HERE
For daily wellness tips go to @PrettyWellness on Instagram
For more information on Pretty Wellness and Caryn Sullivan – CarynSullivan.com
Follow @PrettyWellness on social media on Instagram, Facebook and Twitter.