Do you believe that age is just a number? Today's guest on "Happiness through Hardship" – The Podcast, award winning author, known for A Delightful Little Book on Aging and now Creatrix Rising, believes there's beauty and celebration in every age. Stephanie Raffelock is a writer, motivational speaker and former iHeart Radio host who inspires women to embrace the strength and passion of their personal story. Stephanie enlightens women on how to embrace their age…and see it as the next great adventure.
Stephanie is inspiring, refreshing and empowering. She will lighten up your day on this episode and beyond. I hope you listen…and if you like please rate, review and subscribe. You leaving a review helps us with our podcast ranking. The higher we are ranked, the more people will be inspired by all these powerful stories and lessons learned from them.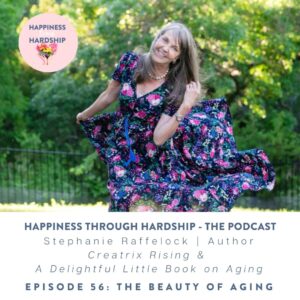 Stephanie Raffelock and The Beauty of Aging Show Notes
*AD* – Daily Harvest – use PRETTYWELLNESS code at checkout for $25 off your first order – https://www.daily-harvest.com/
3:42 – Why Stephanie loves the title "Happiness Through Hardship"
5:08 – Stephanie's story: how she found her passion for writing about aging
7:30 – The shift in women's consciousness and what "creatrix" means
10:23 – Navigating the waters of suffering with gratitude, hopefulness, and creativity
13:27 – Stephanie's advice on navigating aging
14:41 – Menopause as an initiation; a journey
16:09 – How reframing the way we look at things is a transformational tool
19:49 – Grief is a transformational force
22:23 – Why we should look towards other women for inspiration
24:14 – Don't be afraid to reinvent yourself and live a purposeful life
27:17 – What is next when you become an empty nester
28:09 – Stephanie and Caryn's role models: thriving women
34:38 – Caryn and Stephanie play The Grateful Game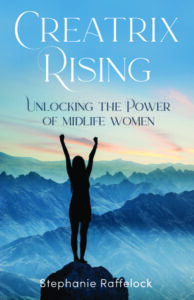 Creatrix Rising – Unlocking the Power of Midlife Women: https://amzn.to/3ef7xb6
A Delightful Little Book on Aging: https://amzn.to/3hAFjtn
Forbes "50 Women over 50:" https://www.forbes.com/50over50/
"Want to be Grateful – Be Happy" – TedTalk with David Steindl-Rast: https://youtu.be/UtBsl3j0YRQ
Man's Search for Meaning by Viktor Frankel: https://amzn.to/3kiFNpU
Journal of a Solitude by May Sarton: https://amzn.to/3yOMHak
Connect with Stephanie:
Website: https://www.byline-stephanie.com/
Instagram: https://www.instagram.com/byline.stephanie/
Facebook: https://www.facebook.com/StephanieRaffelock
Connect with US
Happiness through Hardship – The Book and Journal: BUY HERE or donate a book to a cancer center: DONATE HERE
For easily accessible cancer information – HERE
For daily wellness tips go to @PrettyWellness on Instagram
For more information on Pretty Wellness and Caryn Sullivan – CarynSullivan.com
Follow @PrettyWellness on social media on Instagram, Facebook and Twitter.