When I was first diagnosed with breast cancer at age 31, I was clueless where to begin. Should I go with the physician I felt most comfortable? Should I get a zillion opinions? What questions should I ask doctors? Should I tell everyone? Do I want them to help? I didn't know, which cancer resource to read. In fact, I had never had any cancer conversations. AND on top of all that, I was a newlywed and wanted to be happy. There's no one secret recipe on how to be happy in life during the ups and downs, however I've found some ways that have helped me find joy during my cancer journey.
For those touched by cancer, I found my happiness by following some of the strategies and ideas below. I shared some of this information on WTNH-TV about how even with a cancer diagnosis, there are ways to find hope.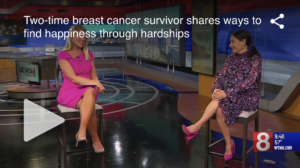 If you're looking for a more comprehensive go-to resource, I'm proud to introduce you to my first book, Happiness through Hardship: A Guide for Cancer Patients, Their Caregivers and Friends During an Initial Cancer Diagnosis. In addition to the resources provided, the book serves as a fundraiser toward research. Half the net profits will be donated to a charity near and dear to my heart, The Cancer Couch Foundation – with 100% of donations matched and going straight to research.
While my podcast is the next evolution in the "Happiness through Hardship" series, sharing stories about finding joy during any journey in life. I also have dedicated a number of episodes and mini-episodes with cancer conversations aimed to provide resources, information and inspiration to those touched by cancer.
For those diagnosed or on the journey with someone going through it, please know there is hope. Going through cancer (or other hardships) is devastating, but you don't have to be devastated.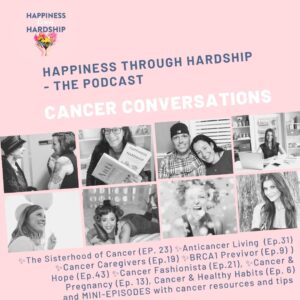 Tips for Those Diagnosed and Those Caring for Them
Get Second Opinions
Whether you like your doctor or not, getting other opinions can help you better understand all the aspects of the illness. Know that "Google is not your doctor", so look to ask find answers, explore cancer conversations and learn more about your disease by scheduling second (or even third) opinions with other doctors. While may be easy to search online for answers, there's so much misinformation, which can increase stress. Second opinions can help minimize the stress and make decision making easier leaving your more time and energy to have a little fun or calming moment during this hard time.
Cultivate a Positive Support Team
Sometimes our best friends and loved ones can't provide the emotional or physical support we need and that's ok. Think about who can foster a hopeful/positive experience around you and let those people in your inner circle. Sometimes new friendships bloom during these hard times, which can be helpful in dealing with your "new normal."
Ask for Help
Look at your day-to-day and figure out how you can delegate duties including running errands, dropping off meals, or communicating to others. This can be hard to ask, especially if you're used to managing life yourself. I was like that and realized when I outlined the help I needed, my friends delivered and made my life (and my family's life) incredibly easier. Plus, friends don't always know how they can help and when you give them ways to help you, it often makes them feel needed and loved, too.
Find Joy in the Little Things
Smiling, laughing, finding joy all around is helpful with healing. Scheduling silly time with kids or family makes happiness a priority and can help get through the hard days. Before receiving scan results I've hosted virtual dance parties with friends and family across the country. It doesn't necessarily change my disease, but it sure helps me have some fun and release some stress. Think about what brings a smile to your face and do more of it!
Looking for more advice – check out these mini-episodes aka cancer conversations on "Happiness through Hardship" – The Podcast.
The cover and cover art was created (and approved to be used for the book and book promotion) by Amy Shamblen – please check out her at https://www.amyshamblen.com/