I'm excited and a little nervous to share with you today's episode of "Happiness through Hardship" – The Podcast. Dana Donofree of AnaOno Intimates and I have come together to discuss one of the greatest assets in survivorship – the sisterhood that connects those who have been through cancer.
Apple Podcasts: https://apple.co/2zidDGw
Spotify: https://spoti.fi/3imO7An
Stitcher: https://bit.ly/2WOsaTl
Google Podcasts and more…
We share Dana's story of being diagnosed with breast cancer before her wedding and how she created AnaOno Intimates after tirelessly looking for beautiful lingerie while in recovery. We highlight two angels, dear friends and advocacy trailblazers, Champagne Joy of #Cancerland / METAvivor and Dr. Rebecca Timlin-Scalera of The Cancer Couch Foundation and the importance of their groundbreaking work to fund metastatic breast cancer research. Rather than a straight interview, this is a raw conversation about the sisterhood and support within those touched by cancer and how the bond with survivors of any hardship can be a beautiful bonus.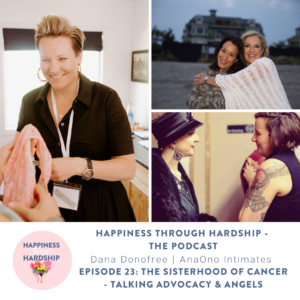 Please enjoy and if you like rate, review and subscribe. You leaving a review helps us with our podcast ranking. The higher we are ranked, the more people can discover our show….and the more inspirational content we can bring to you and others.
In addition, in honor of all those touched by breast cancer, I would be grateful if you would check out the non-profits below and consider donating. As a board member of The Cancer Couch Foundation, I can tell you that event / donations all go to metastatic breast cancer research at two state-of-the-art research labs. In addition, there is an anonymous donor…so every dollar is matched!
Dana Donofree: The Sisterhood of Cancer – Talking Advocacy and Angels Show Notes 
AnaOno Intimates – Radiation to Recovery Lingerie: https://www.anaono.com/
Caryn's favorite sexy yet sophisticated sports bra aka "The Paige Bra": https://www.anaono.com/products/paige-wrap-front-sports-bra-3?_pos=3&_sid=eed721a61&_ss=r&variant=32119409016921
Bridging the gap between early and late stage breast cancer:
https://www.everydayhealth.com/columns/my-health-story/why-fear-keeping-breast-cancer-community-from-coming-together/
How We Have Fun with/for Cancer Research:
AnaOno Intimates and Cancerland for Metavivor New York Fashion Week Show: https://www.anaono.com/blogs/dressing-room/new-york-fashion-week-runway-show-fearless-anaono-x-cancerland-benefitting-metavivor
What Lipstick and Dancing Naked Taught Me – How to Have Fun:
https://prettywellness.com/lipstick-and-dancing/
MOMBIES – Dance to Donate for Metastatic Breast Cancer Research: https://www.mombies.org
Donate to Metastatic Breast Cancer Research
METAvivor: https://www.metavivor.org/
The Cancer Couch Foundation: https://www.thecancercouch.com/
If You've Liked this Episode – You Will Enjoy:
Episode 6: Samantha Harris – Cancer Conversations and Your Healthiest Healthy: https://apple.co/2YPEinU
Episode 21: Melissa Berry – Helping Find Your Vogue with The Cancer Fashionista: https://apple.co/3e8xDeS
Episode 19: Kevin Sullivan, my husband – A Caregiver's Perspective on Healing, Hope and Happiness: https://apple.co/3nMjN6f
Mini-Episode: What to Do, Say and Give to a Friend with Cancer: https://apple.co/349Zvuw
Mini-Episode: First Few Weeks of Cancer: https://apple.co/2Gd5oiu
Connect with Dana Donofree: The Sisterhood of Cancer – Talking Advocacy and Angels Show Notes 
Twitter: https://twitter.com/anaonointimates
Facebook: https://www.facebook.com/anaonointimates
Instagram: https://www.instagram.com/anaonointimates/
YouTube: https://www.youtube.com/channel/UCVagmuzu5ulih-uuPy9aTeQ
For more information on the podcast episodes – HERE
For easily accessible cancer information – HERE
For daily wellness tips go to @PrettyWellness on Instagram
For more information on Pretty Wellness and Caryn Sullivan – CarynSullivan.com
For more information on "The Grateful Game" – https://www.instagram.com/tv/CCdduzuht2u/
Follow @PrettyWellness on social media on Instagram, Facebook and Twitter
Happiness through Hardship – The Book and Journal: BUY HERE or donate a book to a cancer center: DONATE HERE
To get a free copy of our smoothies and snacks ebook: sign up HERE