I love to be loved. I enjoy the positive attention, outpouring of notes and thoughtful acts of kindness dedicated to me especially on my birthday. In my 20's, I started a new tradition: I'd be calorie conscious most days of the year, but my birthday marked the one day to eat gluttonously without guilt. Now that I'm super focused on overall wellness, I'd rather not go that route, so I've found substitutions. Since I'm a sweet tooth, here are my five new favorite go-to-dessert-like treats. Syrups, agave, coconut sugar, honey, stevia, white flours and all the other various sugar words are still a "sometimes food," as we say in our house.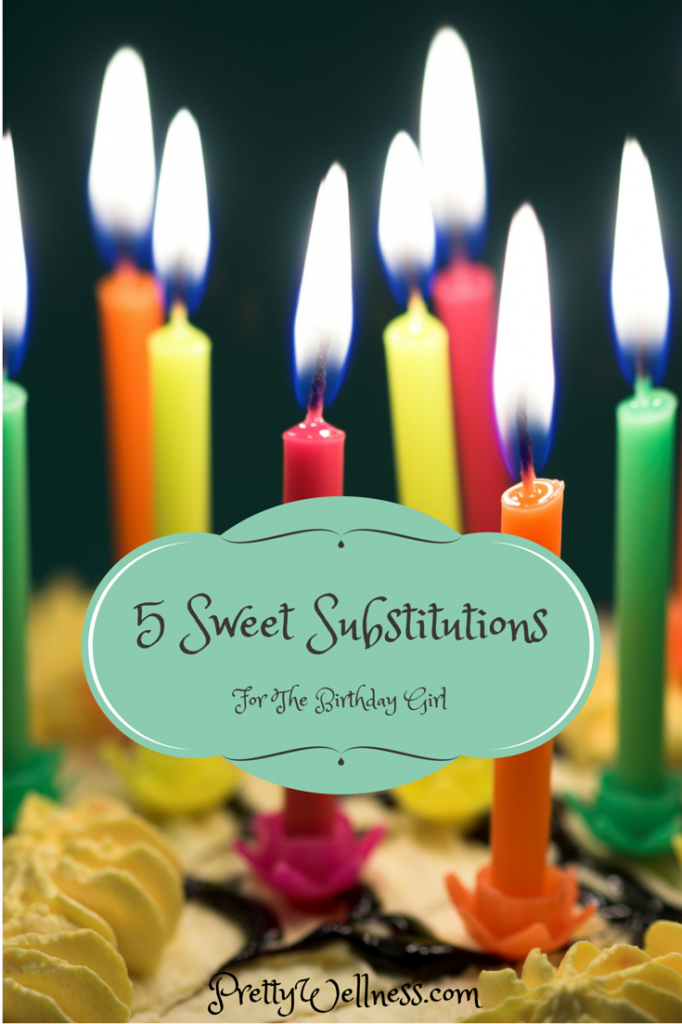 My Top Five Sweet Substitutions
1. If you crave ice cream, try Luna & Larry's Organic Coconut Bliss:
Luna & Larry's Organic Coconut Bliss boasts a creative variety of flavors ranging from Dark Chocolate and Salted Caramel to Mint Galactica and Mocha Maca Crunch. This brand is incredibly creamy, making it a wonderful alternative to old-school custard ice cream. Made with few ingredients and no sugar, just agave syrup to sweeten, this is my all time favorite treat!
2. If you love chocolate fudge, try Artisana's Cacao and Coconut Butter:
The thick texture and candy sweet taste of Artisana's Cacao and Coconut Butter, makes a bite of this a perfect substitute for a rich-chocolaty truffle. They sell individual packages so that sweet-tooths, like me, can eat responsibly. It reminds me of homemade cacao fudge, bold sweetness that melts in your mouth.
3. If you like cookies, try Emmy's Raw Macaroons:
Emmy's Raw Macaroons come in several sweet and savory flavors. My favorite is the mint chip. They are raw and contain just a few ingredients. Watch out though, their bite-size cookies are easy to devour quickly.
4. If you need cake, try Izzy B's cupcakes:
Izzy B's, known for allergen-free desserts, bakes products free of gluten, wheat, soy, dairy, eggs, all nuts, and casein. They also contain no preservatives, trans-fats, refined sugar or cholesterol. They are local to Connecticut but ship throughout the country.
5. DIY – Create your own concoctions:
I love creating my own fudge as mentioned above. I use only a few ingredients – cacao powder, coconut oil and maple syrup. Check out my adventures in clean-eating on Instagram with fun and simple ideas for you to try. I also make healthy chocolate mousse. If you love ice cream and want to make it a bit healthier, try N'ice cream – take frozen fruit, freeze and then spiralize. Try the Yonanas Original Healthy Dessert/Fruit Soft Serve Maker to make it easier.
What are your favorite desserts? Challenge me to find a substitution that is somewhat sweet and satisfying.
For wellness daily tips and inspirational ideas on healthy living, clean eating and a non-toxic lifestyle, please follow us on Twitter, Instagram and Facebook.
Looking for a speaker to inspire your organization or business team? Hire me to present or facilitate a seminar on resiliency, positivity and wellness in the workplace. Check out my business website and demo reel at CarynSullivan.com. I can be reached at Caryn@CarynSullivan.com.
Image courtesy of m_bartosch / FreeDigitalPhotos.net
This post may contain affiliate links meaning I may receive a commission with no costs to you. I pro-actively try various products and then affiliate myself with these items that I already use and love.