Figuring out a new-normal isn't easy. Like any new habit, it takes time and small steps to make progress in every area of life – even the pantry. After my stage IV cancer diagnosis, life never returned to the way it was…however, I figured out my new normal and have embraced it living a great quality of life. As a recovering junk-a-holic, my pantry used to be filled with meals like Chef-Boy-R-Dee ravioli, ramen noodles and high-sodium canned chili. The past six years I've maintained a plant-based diet focusing mainly on fresh or frozen vegetables and fruits. So, the past few weeks living in quarantine with less access to fresh foods challenged me to find new healthy pantry items that could keep me full and healthy. Here is what's in my pantry now and read below about how you can access your own free healthy pantry checklist.
I joined Laura Saltman from Well World TV to talk about healthy habits while in hibernation – whether it's chemo, post-baby weeks or living through a pandemic like we are right now. Check out the video and see my additional thoughts below including a fun sweepstakes that can help you stock a healthy pantry.
10 Healthy Pantry Foods to Keep You Full
Beans
I'm a huge friend of beans. They are a terrific source of dietary fiber, protein and many other vitamins and minerals. I add them to soups and pastas for additional crunch. I've even been known to eat chickpeas out of the (BPA-free) can or use them for dessert. If you want to learn more, sign up for our newsletter BELOW and you will receive our Smoothies & Snacks e-cookbook free when it's released in the next few weeks. My favorite recipe is the creative cookie faux dough made from chickpeas.
View this post on Instagram
Dried fruit for smoothies and snacks
We're HUGE smoothie fans here, so always have dried fruit on hand. Our kid-approved green smoothie is made from mostly veggies and a few medjool dates and is a sweet sensation. Freeze dried fruits can also serve as solid ingredients to add to oatmeal, granola or even eat by themselves. I also love freeze dried fruits, too.
Orgain Powders
I've been a fan of Orgain for years. Spending four years as a vegan, I looked to their clean, organic pea powders for extra protein. The founder is a doctor and cancer survivor, so I trust his vision for the products to be delicious and healthy especially for those with compromised immunities. I love creating my own powder smoothies with milk and frozen veggies. I also have used the powders in my homemade granola cookies. When we travel or spend hours in the car shuttling back and forth to baseball practices, my son devours their kid shakes.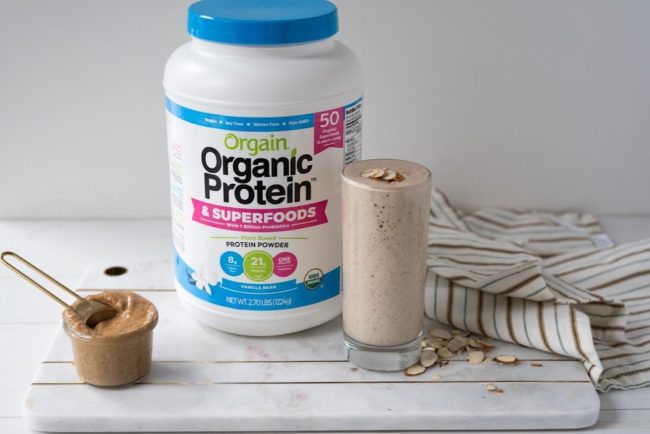 Salmon in a Pouch
I don't eat a lot of fish, but when I do, I love salmon. Now that I haven't been going to the grocery store, I'm looking for alternate ways and found salmon in a pouch. Wild Planet packages high-quality wild salmon that's caught using sustainable practices. If you like canned or pouched tuna and are looking to find a substitute with less mercury. Try this one!
Rice Cakes
I am a snacker at heart. I love my carrots and hummus but sometimes want a little bread. Brown rice or ancient grained cakes can satiate the craving for bread or chips, while providing less calories and often more crunch. I love the variety of flavors from Suzie's.
Almond butter and other healthy nuts
After my second cancer diagnosis, I eliminated all simple sugars from my diet. As a former, dessert-lover, I still wanted something sweet and found nut or seed butter to do the trick. One tablespoon of sunflower seed butter or almond butter worked to curb a craving. I now use nut butters all the time – on fruit, sandwiches, smoothies and still by the scoop for dessert.
Quinoa, Farro and other whole grains
A diet rich in whole grains has been shown to reduce the risk of some cancers as well as other diseases. Theses whole grains sub well for most pasta meals. My favorite right now is quinoa and chickpea pasta.
Miracle Noodle 
I'm a huge fan of Miracle Noodle's shirataki noodles and faux rice. Made from the Konjac plant, they are low calorie, low carb, grain-free and are made up of 97% water and 3% soluble fiber. I've been adding the rice and noodles to my soups, underneath marinara sauce and inside sandwiches. They even have their own ready-to-eat meals like the Vegan Pho, which is my favorite.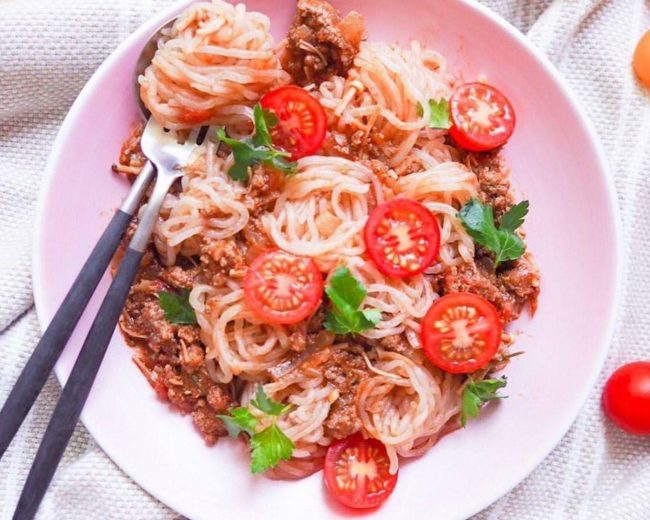 Almond or whole wheat flour
We've had some issues getting food delivered and peanut-free bread hasn't made it here. So, I've been baking more breads and found that almond flour and whole wheat flour are healthy, fiber-filled alternatives to white (simple sugar-filled) flour.
View this post on Instagram
RAOs red sauce
Yes, canned/pouch of tomato sauce and tomato paste are a tad healthier, but RAO's just takes so good and takes very little time to throw into any dish. I use it on top of our Miracle Noodles or pasta. I even substituted it for a tomato in my soup recipe and it was delicious.
---
DOWNLOAD A FREE COPY OF OUR HEALTHY PANTRY CHECKLIST 
We've created a healthy pantry checklist that you can take to the grocery store / or use to make online shopping easier. We hope you try a few new things and restock on healthy items that will keep you nourished. Click HERE to download the list.
We love that pantry items are easily accessible at Amazon for quick delivery – see below for some of our favorites.
While right now I'm focusing on pantry items to get us through the next few weeks, I do still find frozen foods helpful to add variety to our meals. My favorite delivery service for harvest bowls and smoothies is Daily Harvest. Check them out and receive $25 off your first order at checkout by using the PRETTYWELLNESS code. I also love frozen kale and spinach for smoothies with frozen pineapple and blueberries.
What are your favorite simple pantry items? We would love to hear and keep building the list. Enter our giveaway below  to help stock your healthy pantry and let us know what you would buy if you win!
---
  This post may contain affiliate links meaning I may receive a commission with no costs to you. I pro-actively try various products and then affiliate myself with these items that I already use and love.