Looking for healthy lifestyle inspiration as the season changes? Minimalism and mindfulness continue to be a theme heading into the fall and winter. Here's a look at some easy to apply 2021 fall wellness trends, in an effort to motivate you to take small steps toward better health and happiness.
Check out our recent wellness segment on WTNH-TV where we showcase these fall wellness trends.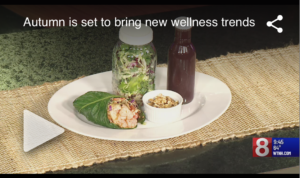 For the one who wants to improve their skin and beauty routine think…
Skinimalism aka Decluttering Your Skin Products
The era of long and tedious skin care routines are over! After trying countless trendy yet expensive products, we've started to notice that these seldom last more than a few months. On the heels of minimalistic practices and simple living trending the past few years, this is the season of minimalism in skincare and cleaner beauty practices aka "Skinimalism." People are also becoming more knowledgeable about what their skin needs and starting to stray away from the flashy products we've flocked to in the past. Instead they're buying less products that are going to have a bigger impact on their skin.
There has also been a rise in mindful skincare as well – think Face Yoga – a natural face lift. Face yoga helps promote healthy, glowing skin as well as boosts circulation.
Some of my Favorite Ways to Approach Skinimalism: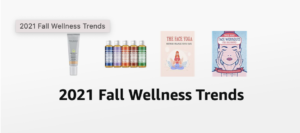 ---
For the one who wants to eat healthier for wellness or to lose weight
Intuitive Eating
For years, people have tried every diet under the sun, whether it's Keto, Paleo, Vegan, Gluten Free, Dairy Free, and the list continues. These diets, while good on the surface, can be challenging and often unrealistic to maintain. This year we're seeing more people turning away from formalized diets, and instead focus on paying attention to how they feel when they eat certain foods. If we slow down and really think about the foods we put in our body, we become more mindful of the effect these foods have on our body and mind…often resulting in making healthier choices with weigh loss outcomes.
Looking to learn more about clean-eating – check out these episodes from "Happiness through Hardship" – The Podcast:
---
For the one who is looking for mental wellness opportunities
On-demand Virtual Therapists / Services 
Mental health challenges were at an all time high and the pandemic made those challenges even bigger putting a spotlight on the need for virtual health services. The way we seek help has been evolving and that's no different for therapy. Brands such as Ginger and Better Help are virtual services that offer therapy and social work help via digital platforms. Knowing that time and availability can be hard when seeking a new therapist or on-demand help, these services provide opportunities to connect in a meaningful way.
Looking for more on wellness trends – tune into WTNH-TV Tuesday, September 21 at 9am EST – I will be showcasing these OR reach out via Instagram…I love to answer questions and talk wellness @PrettyWellness.