Can you imagine eliminating your morning "pretty coffee" filled with sugar and creamed toppings? What about cheese, desserts or fried everything? So many times people tell me they can't stop their favorite foods, so they don't even think about committing to a newish lifestyle. I get it. That was me. I obsessed over cheese plates, craved creamy frostings and longed for bulky pastas. I had been drinking tons of diet soda for almost two decades, so only remembered life being bloated. But that all changed when I started eating clean. And trust me, you can take small steps and get there, too.
Yes, my motivation was to be well and eliminate any toxins that could cause my cancer to grow. But after a few months, I noticed that I looked amazing. My skin was clear, my energy high, my hair less dirty AND I felt thinner. Yes, I lost a few pounds, but the bigger story is that not being bloated from soda, packaged foods and simple carbs made me feel toned and strong within my own body. I wish I would have understood how much better I would FEEL if I truly took care of myself.
That's why I encourage others to do the same for themselves. Eating clean, being active and living with less toxins truly helps an individual look AND feel great. It doesn't change over night. But it can be done by making a commitment slowly. Set little goals and once you progress, add a few more. It's also important to check in with your doctor or naturopath to get their guidance, making it a recipe for success.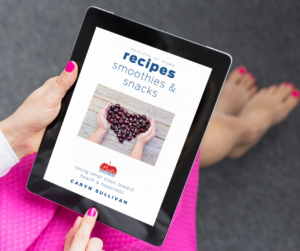 So if you are looking to take small steps toward clean eating with a focus of adding more fruits and veggies in your family's life, here are more than 50 tips* if you don't know where to begin…and please sign up for our monthly email and receive our new downloadable cookbook. Click HERE for more information.
Breakfast:
1. Add warm water and lemon every morning before you eat or drink anything.
2. Drink a homemade green juice before breakfast.
3. Buy organic cold-pressed juices from your health food store. Suja Juice is my favorite.
4. Drink a green smoothie as a breakfast.
5. Eat toast with avocado and Himalayan sea salt for breakfast. Add organic eggs.
6. Add fruits to cereals. Our kid favorites organic oatmeal, Grape Nuts or an organic oats O's cereal.
7. Eat scrambled organic eggs or an omelette with veggies (asparagus, mushroom, peppers or spinach.)
8. Grill homemade waffles or pancakes over the weekend and freeze. Toast daily and add sun butter and fruit.
Lunch:
9. Use Ezekiel or spelt bread instead of conventional bread for sandwiches.
10. Eat avocado, spinach, tomatoes, Himalayan sea salt, red pepper on toast as a sandwich.
11. Create fun salads with leafy greens, mushrooms, carrots, beets, beans, pumpkin seeds, cabbage and olives.
12. Substitute fresh fruit (smash it up) for jams and jellies. Our favorite sandwich is sunbutter and smashed blueberries.
13. Substitute leafy collard greens for a wrap. Fill with hummus, lean organic chicken/turkey and veggies.
14. Create grain salads (farro, whole wheat couscous, quinoa with raw veggies.)
Dinner:
15. Spiralize zucchini to make zucchini noodles and use as spaghetti dinner (or start with half spaghetti and half zucchini pasta.)
16. Substitute brown rice pasta instead of simple white pasta.
17. Use grain salads (farro, quinoa, barley) with veggies as a side then take it for lunch.
18. Substitute Enjoy Life sprouted tortillas for tacos.
19. Use Enjoy Life sprouted tortillas as crust for homemade pizzas.
20. Substitute cauliflower rice for rice and sides.
21. Cook spaghetti squash with homemade turkey meatballs and red sauce.
22. Grill tons of veggies, add beans or 4oz of lean organic meat or fish.
23. Add fresh vegetables to pizza.
24. Add shredded zucchini to lasagna or make lasagna out of eggplant or zucchini.
25. Add steamed carrots to meatloaf recipe.
26. Mix in pureed squash or cauliflower to macaroni and cheese.
27. Cut sweet potato into chip sizes and bake.
28. Add small salads to eat meal.
29. Serve veggies and dips (guacamole, hummus, homemade dressings) before the meal is served.
Drinks:
30. Substitute organic tea instead of traditional ice tea drinks. My favorites are Chocolate Robots Numi Tea and organic Steep by Bigelow.
31. Drink more water – add strawberries, watermelon, lemon, orange, cucumber and herbs like basil and mint for infused waters.
32. When drinking alcohol (drink in moderation – 5oz glass of wine = 1 serving for women,) choose organic wines.
Snacks:
33. Buy/make hummus and serve with carrots, celery and cucumbers.
34. Buy/make guacamole and serve with carrots, celery and cucumbers.
35. Freeze homemade smoothies and throw into a purse or backpack for afternoon consumption.
36. Freeze organic yogurt tubes and throw into backpack or lunchbox for afternoon consumption.
37. Use sun flower seed butter (or nut butters if your family and friends don't have an allergy) on carrots, apples, bananas & celery.
38. Buy raw or roasted sunflower or pumpkin seeds. (Or nuts if your family and friends don't have an allergy.)
39. Roast garbanzo beans or pumpkin flower seeds in the oven with Himalayan sea salt and spices.
40. Add cayenne pepper to oranges for a zesty snack.
41. Grill fruit like mango, pineapple, peaches and coconut.
42. Select packaged goods with the organic or NON-GMO sticker.
43. Look for snacks with the least amount of ingredients. I like Skinny Pop and Veggie Pirate's Booty.
Simple Substitutions/Healthy Additions:
44. Use beans in salads, soups and pastas for protein and fiber.
45. Add fruits and veggies at every meal.
46. Buy sauces with few ingredients.
47. Buy packaged goods (organic or NON-GMO) with few ingredients.
48. Use organic cold pressed extra virgin olive oil instead of mayo on sandwiches.
49. Sauté or roast veggies with organic, cold pressed coconut oil or garlic flavored grapeseed oil.
50. Eliminate junk food in the house.
51. Use avocado instead of fresh mozzarella in salads and sandwiches.
52. Substitute Ezekiel or spelt bread (in frozen section) for regular bread.
53. Make meals a family affair by shopping together – think Farmer's markets and let kids pick the produce.
54. Have fruits and veggies handy: store tons on the countertops where they are in sight.
55. Always grab fruits or veggies while on the go: apples, avocados, oranges and bananas travel well.
56. Add pureed vegetables to baking recipes (cauliflower and squashes don't add a strong taste.)
57. Add shredded carrots and zucchini to baking recipes.
58. Add turmeric and other medicinal spices to sauces and soups.
What other healthy / clean eating tips can you add to this list? Which ones do you think will be easiest to add to your life?
For wellness daily tips and inspirational ideas on healthy living, clean eating and a non-toxic lifestyle, please follow us on Twitter, Instagram and Facebook. We LOVE to answer your questions on Instagram so please reach out!!
Want even more tips?
Subscribe to Happiness through Hardship – The Podcast and listen to episodes 6 or 7 with wellness experts Samantha Harris of Dancing with the Stars fame or Talia Pollock of Party in Your Plants. Both share TONS of healthy lifestyle tips.
Apple Podcasts: https://apple.co/2zidDGw
Spotify: https://spoti.fi/2WNFc3k
Stitcher: https://bit.ly/2WOsaTl
Some of my Favorite Clean Eating Tools

Looking for a speaker to inspire your organization or business team?
Hire me to present or facilitate a webinar/seminar on resiliency, positivity and wellness. Check out my business website and demo reel at CarynSullivan.com. I can be reached at [email protected].
*I truly believe in including my doctors and medical team in my lifestyle choices. It's important to always contact a doctor before any change of diet, etc. It also makes you accountable.
This post may contain affiliate links meaning I may receive a commission with no costs to you. I pro-actively try various products and then affiliate myself with those I use and love.