For as long as I can remember, my mother touted the health benefits of carrots. She'd remind me how she used to eat them as a baby until her nose turned orange. Wanting to insert my own independence, I naturally stayed away from root vegetables for years. Then one fancy dinner in adulthood, I sampled a carrot cake and never looked back. I thought the creamy sweet cream cheese frosting perfectly balanced the cinnamon spiced cake. Now in my quest to eat clean, I've stayed away from frosted cakes. But while recently attending an open house at my son's school, I was introduced to baked spice muffins that reminded me of carrot cakes. So inspired by the creation, I spent a few snow days in the kitchen to find my own sweet spot muffin recipe.
It took a few trials, but we finally found a winner. My son and I used cookie cutters to make these Valentine's Day muffin bites. They are sweet and addictive, so make sure you have a handful before you sit down and get comfortable.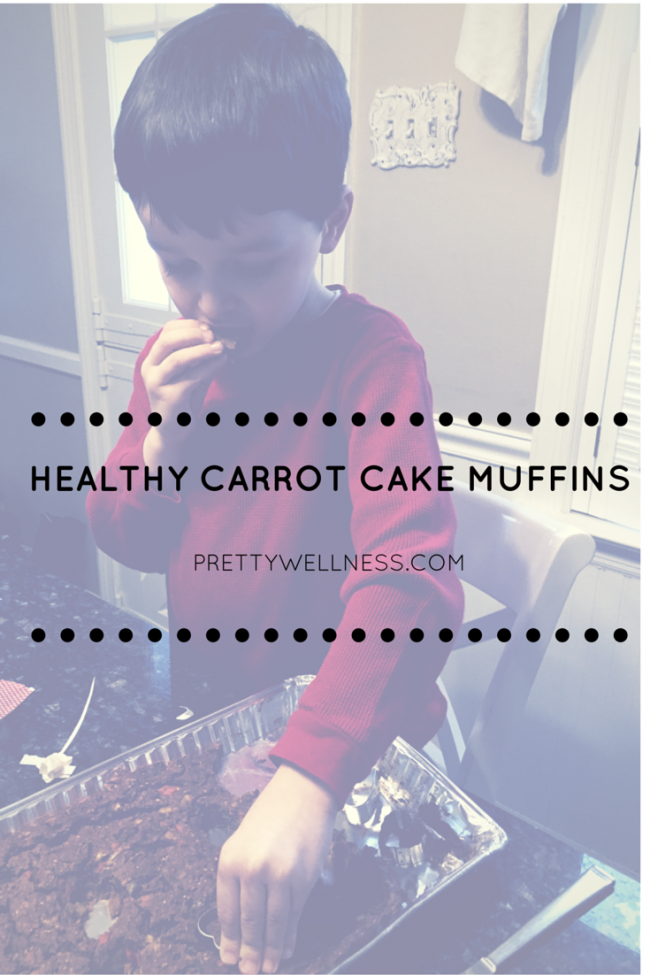 Easy Recipe: Carrot Cake Muffins
This easy recipe is for carrot spiced muffins using all natural ingredients. I call it a "cake" muffin to motivate my 6-year old to try it.
Ingredients
1½ cups

garbanzo

bean flour (or any other flour)
¾ cup oat bran
2 tsp cinnamon
8

medjool

dates
2 tsp baking soda
1 tsp baking powder
1½ cups carrots shredded
1 cup apples shredded
¾ cup oat milk
2 eggs beaten (or for vegan - 2 tbsp water mixed with 2 tbsp flaxseed meal)
1 tsp vanilla extract
Instructions
Shred carrots, apples and medal dates all separately (I use

high speed

blender)
Mix together, flour, oat bran, baking soda, baking powder and cinnamon in large bowl
Stir in carrots, apples and dates
Combine milk and egg or flaxseed egg

replacer

Pour liquid ingredients into dry ingredients
Bake at 350 for 30 minutes in cake pan / 20-25 minutes if in muffin tins
Notes
I use oat milk because it is a non-nut option that has a sweet after taste.
Are you a carrot cake fan? Tell us your favorite muffin or cake recipe, so we can try and create healthy substitutes.
For wellness daily tips and inspirational ideas on healthy living, clean eating and a non-toxic lifestyle, please follow us on Twitter, Instagram, Facebook and Pinterest. Please remember to talk with a doctor or natural practitioner when making lifestyle changes.
Looking for a speaker to inspire your organization or business team? Hire me to present or facilitate a seminar on resiliency, positivity and wellness in the workplace. Check out my business website and demo reel at CarynSullivan.com. I can be reached at [email protected].