Easiest fast-food ever = vegetable soup. Soups (and smoothies) can be nature's easiest way to consume tons of nutrient dense, plant based goodness. This simple soup recipe I eat for lunch, dinner and even breakfast. (In the morning, I think of it as a warm breakfast smoothie.) My mother adapted the recipe from a 1980's Weight Watchers cookbook and has been making it ever since. I've recently modified it to make my life easier, throwing all the ingredients (and more) in an Instant Pot. My family loves this recipe, so it's a staple for every season. Try it…you will, too.
Nature's Fast-Food: Simple Veggie Soup
Nature's Fast-Food: Simple Veggie Soup
A simple recipe filled with nutritious goodness
Ingredients
½ cup diced onion
2 cloves garlic, minced
2 c sliced zucchini
2 c carrots
2 c chopped seeded tomato
1 c RAOS Fra Diavolo sauce
¼ tsp turmeric powder
¼ tsp black pepper
¼ t basil leaves
8 cups water
Instructions
In a 1½ quart saucepan combine onion, and garlic; cook, stirring occasionally, until onion is translucent (optional) or add these ingredients to the next step and dump in Instant Pot.
Add remaining ingredients to Instant Pot and stir to combine; cover and cook on soup mode (or manual 30)
When finished, vegetables will be soft.
Use a hand blender and puree until liquified.
Serve with optional toppings - parsley, avocado, sourdough/c
If you're looking for more simple recipes or healthy living checklists, check out our
FREEBIES
section for our digital cookbook and more:
https://prettywellness.com/freebies
.
Tools for Simple Soup Making
Looking for inspiration about healthy living, follow me on @PrettyWellness on Instagram.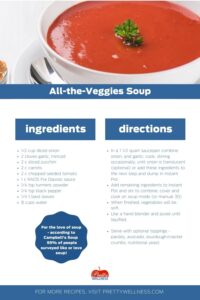 This post may contain affiliate links meaning I may receive a commission with no costs to you. I pro-actively try various products and then affiliate myself with these items that I already use and love.