I love smoothies. There are so many deliciously nutritious recipes that can fool a kid or even an adult into eating more veggies. Any mom, dad, kid or busy individual can make a smoothie filled with fruits and vegetables. It's simple and not very time consuming. The fiber from the produce often satisfies cravings and fills you up. It just takes a little trial and error to find the right ingredients . 
My latest smoothie sensation is the 3C healthy smoothie…creamy and made with cacao and cauliflower.  Yes, you heard me…cauliflower. I love adding cauliflower to smoothies because its taste is overpowered by stronger flavors like cacao or other spices. Though you can't taste the cauliflower, it still provides plenty of nutritional support including anti-inflammatory and antioxidant properties that have been known to decrease cancer risk.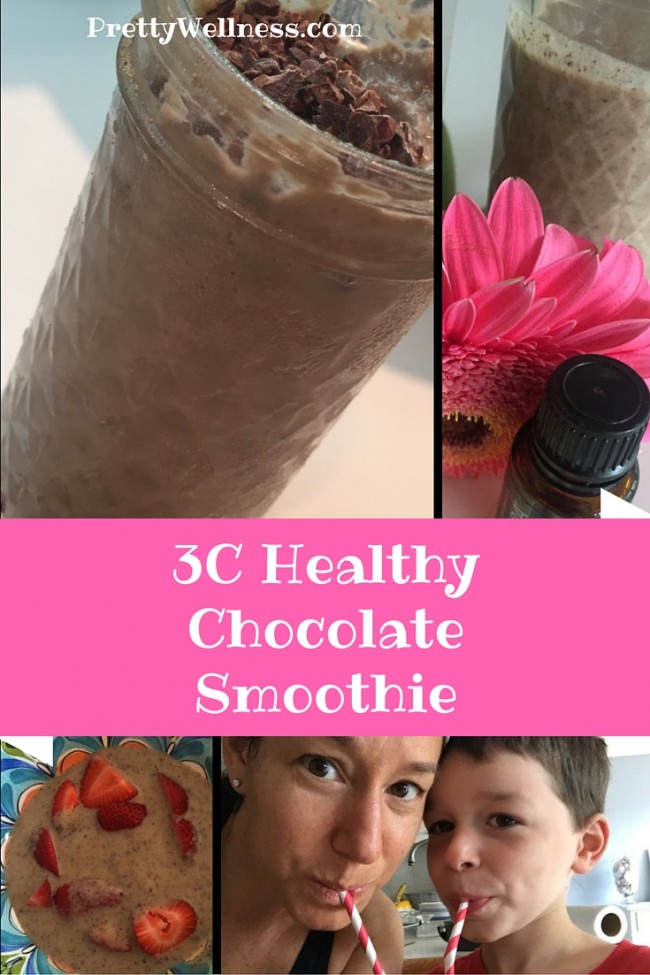 Not only do I love this 3C healthy chocolate smoothie as a power-packed drink, but I also often freeze it for a few minutes and substitute for ice cream. The combination of oat milk and medjool dates provides sweetness, while the cacao nibs texture and smokey cocoa taste are reminiscent of chocolate chips. My latest secret ingredient is to use doTERRA peppermint essential oil. It tastes like a Peppermint Patty without all the sugar and chemical laden ingredients.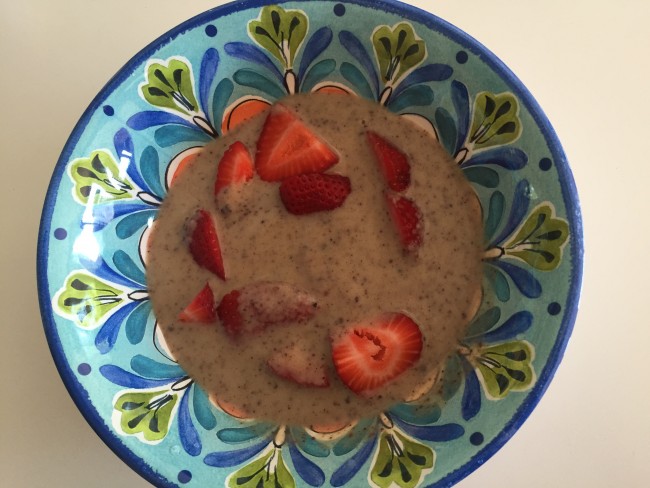 3C Healthy Chocolate Smoothie
A creamy, cacao and cauliflower smoothie that tastes as sweet as an ice cream shake with no added sugar and packed with nutrients.
Ingredients
5 cups oat milk
8 medjool dates
2 cups frozen cauliflower
3 tbsp. cacao powder (healthier version) OR your favorite vegan, organic chocolate protein powder
5 tbsp. raw cacao nibs
1 drop of doTERRA peppermint oil (or during flu season swap this for elderberry syrup)
Instructions
Add cauliflower, medjool dates and protein powder to the high speed blender
Blend until desired consistency (typically 30-45 seconds)
Add 1 drop of doTERRA peppermint oil
Blend for 10 seconds
Add cacao nibs
Blend for 3-5 seconds (just long enough to mix through but not puree the cacao nibs)
Enjoy!
Notes
It's easiest to make smoothies in a high speed blender. If you have a traditional blender, blend with less ingredients and let frozen veggies defrost first.
Some of my favorite smoothie items:
A special thanks to Caroline for inspiring me to try playing around with essential oils and cacao nibs. 3C not only stands for cacao and cauliflower but for our names…If you like smoothies and want to try a few extras, check out my son's favorite Kid Approved Green smoothie or our Healthy Creamsicle Turmeric one.
If you like this post and want other clean living tips, please share and follow me on Twitter, Facebook, Instagram and Pinterest. 
Or let's meet in person…hire me to inspire your organization or team to embrace positivity and wellness for a successful personal and professional life. Check out CarynSullivan.com for more information.
Sources include WebMd, Dr. Mercola and WHFoods.com
This post may contain affiliate links meaning I may receive a commission with no costs to you. I pro-actively try various products and then affiliate myself with these items that I already use and love.