I love going out to eat. Ever since I was a kid, I would spend a part of my allowance on dining out at the local hot spot. In the mid-1980's, it was Taco Bell and Dairy Queen. When I made some big bucks from babysitting, Davanni's Pizza was our hot spot. Years later and now that I eat clean, I've found ways to enjoy restaurant meals while not compromising my clean-eating ways. Sometimes they even have an item on the menu that is vegan and delicious. My favorite summer salad is an endive avocado salad from our neighborhood bistro, Quattro Pazzi. I order it every time and recently re-created it in my home. It's simple to make and delicious as a side salad or meal.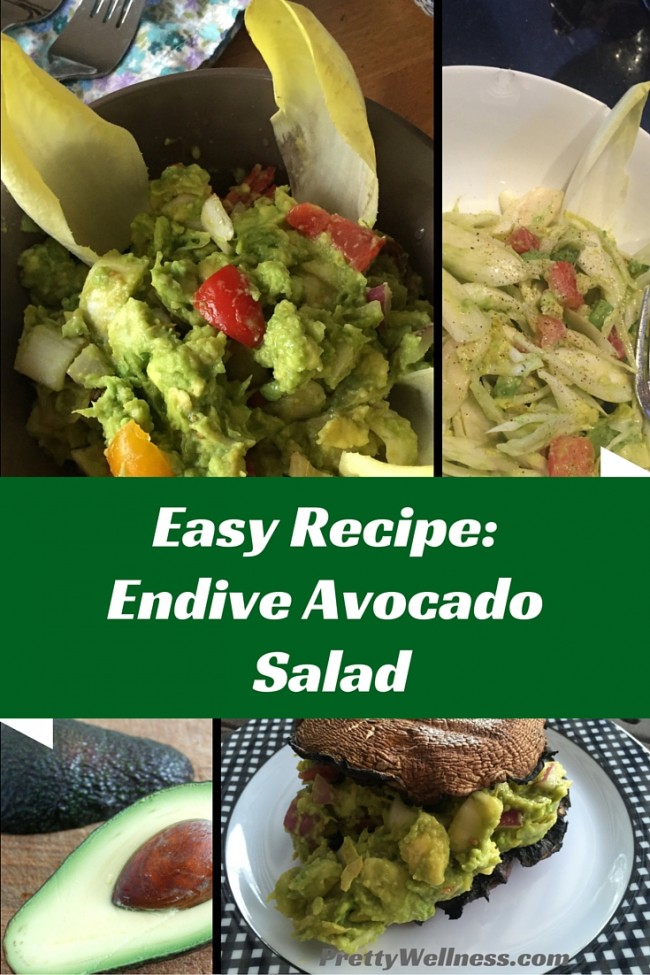 Easy Recipe: Endive Avocado Salad
This Endive Avocado Salad tastes just like the one I order at my favorite Mediterranean restaurant.
Ingredients
4 avocados
8 endives
10 baby tomatoes
½ onion
2 tbsp extra virgin olive oil
2 tbsp red wine vinegar
2 lemons (or limes)
Salt and pepper to taste
**white beans optional
Instructions
Pull off four endive leaves
Chop endive into small pieces, leave a few longer ones depending on your liking
Peel four avocados, pit and mash
Dice tomatoes into small pieces
Dice onions into small pieces
Combine ingredients and mix
Add extra virgin olive oil and red wine vinegar
Cut lemon or lime in half and squeeze juice from both fruits
Optional: add a cup of white beans
Salt and pepper to taste
Garnish with endive leaves
This not only serves as a salad, but can also be put in between portobello mushrooms for a hearty sandwich.
Please comment below and share your favorite restaurant side dishes that you have recreated successfully at home?
For daily tips and inspirational ideas on healthy living, clean eating and a non-toxic lifestyle, please follow us on Twitter, Instagram and Facebook.
Enjoy some of our favorite environmental friendly items to help prepare and serve.
This post may contain affiliate links meaning I may receive a commission with no costs to you. I pro-actively try various products and then affiliate myself with these items that I already use and love.