Open a health book, read a wellness magazine or talk to any doctor about which foods are valuable to live a long life and the answer is often a well-colored mix of vegetables. As a cancer survivor and fitness magazine lover, I adapted to a plant-based diet easily. For my family, however, this has been more of a challenge, especially for my 5-year old. So when I heard about the #ONENEWFOOD challenge, I jumped on board. I'm the mom that makes her son try everything, so this is right up my alley. Since we get stuck in a food rut often, the initiative motivated me to be creative and re-introduce foods we don't eat often. Last week, we enjoyed kale chips daily. This week, we made zucchini three different ways.
Knowing that raw vegetables contain a ton of nutrients and antioxidants, I started there. I figure if my son likes them raw, it's an easy snack. I cut the zucchini in chip sizes and added a scoop of sunbutter (sunflower seed butter is a great alternative for those with nut allergies) and ketchup as dips. I wouldn't say he devoured it, but ate enough to call it a minor success.
The following day, I tried shredding the zucchini and roasting it. He dilly-dallied, leaving the veggies for last, but did take two bites. He claimed it was "disgusting" and gave it a thumbs down while he strung it across his plate.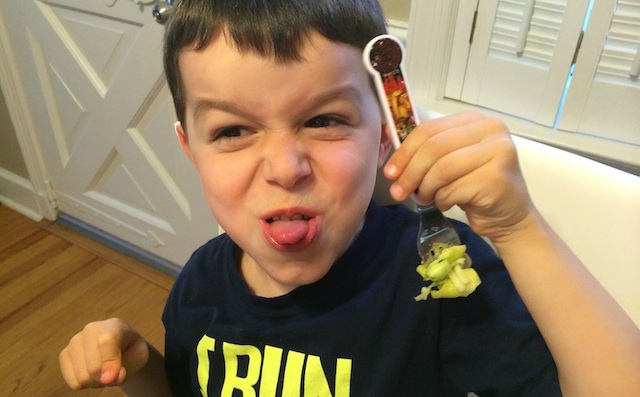 So lastly, I opened up a cookbook of old family recipes, one of which was for zucchini muffins. I tweaked my mother's original recipe, making substitutions like whole wheat flour, coconut sugar and blueberries. I knew this would be a hit because frankly, muffins are just little healthy cakes. However, knowing that a home-baked healthy cake is healthier than store-bought, packaged waffles, I figured I could sell this as a breakfast item. Of course, he loved it. My husband even thought it was sweet and tasty.
Easy Recipe: Healthy Zucchini Muffins
Easy Recipe: Healthy Zucchini Muffins
This zucchini muffin is filled with wholesome ingredients but tastes like a sweet treat for kids of all ages.
Ingredients
 3 eggs
1 cup coconut sugar
3 tsp. vanilla
3 tsp. cinnamon
¾ cup extra-virgin olive oil
2 cups zucchini (with peel)
3 cups whole wheat flour
1 tsp. baking soda
1 tsp. baking powder
1 cup frozen blueberries (or ½ cup raisins)
Instructions
Grease/spray cupcake pans
Preheat oven to 350-degrees
Whip eggs until fluffy.
Add other ingredients in order mentioned until moistened. Do not over beat.
Bake 25-minutes on 350 degrees. Cool for five minutes.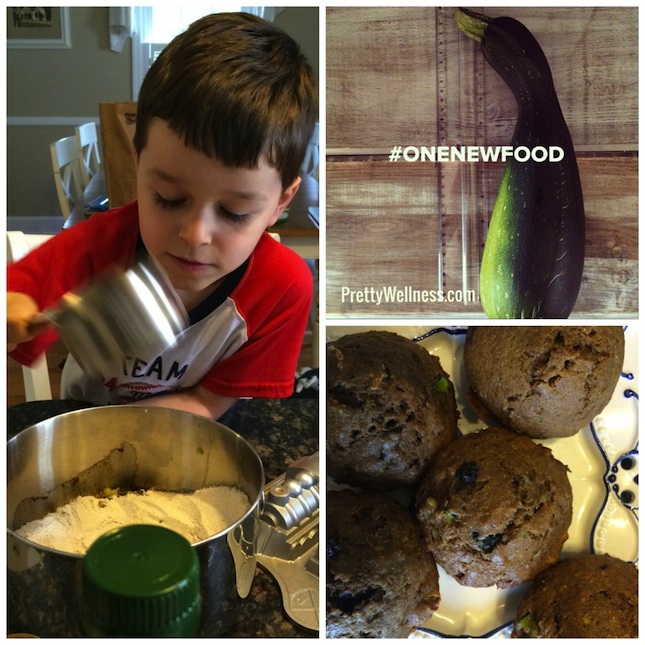 Please comment below on your favorite homemade healthy goods? 
Join the #ONENEWFOOD challenge. Check out the other trials and tribulations of mother's encouraging kids to try new foods, many recipes are included.