You've had a long day and just need to crash on the couch. The last thing you want to do is think about making dinner. And if you're like my family once was, you like the idea of reaching for the take-out menus. Some days, it's just the easiest way to feed the family. But as we found out, it's easy for the "once in a while" delivery meal to become a twice-weekly ritual. Before we knew it, our clothes became tight and we felt more sluggish. Now that I eat clean, I'm always interested in exciting my family about healthy, wholesome comfort food especially pizza. For all those who celebrate Pizza Friday, try adding this easy and healthy recipe into your rotation. It takes only a few minutes to prepare and even less time to cook. Better yet, my son loved creating his own pizza, making it a fun family activity even before he took a bite.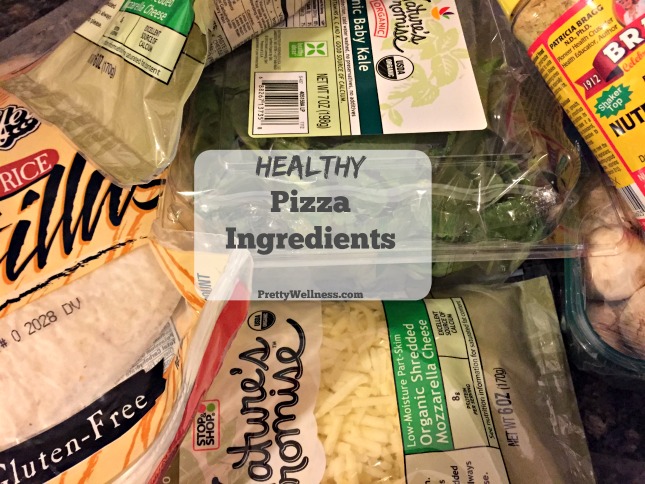 Easy Kid Recipe: Healthy Homemade Pizza
This homemade healthy pizza recipe is easy enough as a DIY project for a kid. It's also takes less time than calling for delivery.
Ingredients
1 Food for Life brown rice tortilla
¼ cup RAOs marinara sauce
¼ cup organic shredded mozzarella cheese or nutritional yeast (for vegan pizza)
Sliced mushrooms, kale (or other veggies)
Optional: nutritional yeast for vegan pizza
Instructions
Take all the ingredients and pour into small bowls
Do not defrost tortillas, take approximately ¼ cup of RAOs sauce and spread over whole tortilla
Add ¼ cup of mozzarella cheese (skip this step for vegans)
Add toppings - ¼ cup of mushrooms, kale, peppers or other
Vegan pizza: sprinkle ¼ cup of nutritional yeast after veggies have been added
Toast on medium setting in toaster oven  (approximately four minutes) or bake in oven at 350-degrees for five minutes
Notes
Kids size = 1 tortilla with ¼ cup of RAOS sauce and ¼ cup of cheese.
Adults = 2 tortillas, double the ingredients.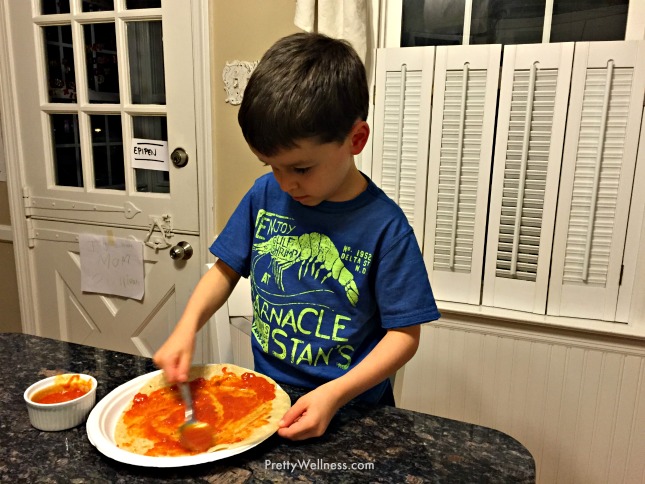 He was a proud chef and devoured the whole thing. Since he helped make my vegan pizza pie and my husband's mushroom one, he was eager to try ours even though it included vegetables. Several months ago we joined the #ONENEWFOOD initiative, which is an effort to introduce healthy foods to kids weekly. We hadn't tried mushrooms, so I figured doused in cheese, he would enjoy them. I was wrong. While he eagerly tasted it, proven by the below photo, he spit out the mushrooms. I give him credit for trying, but next time, I may disguise them more: puree veggies or cut them really small pieces.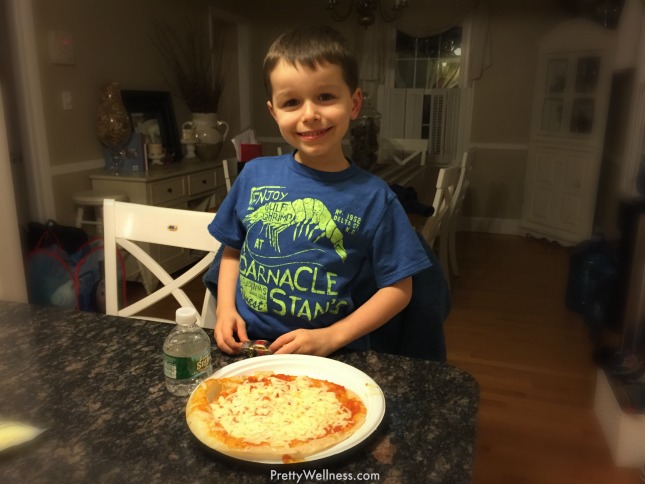 Do you have a special family meal tradition? Please share what you do or want to do?