I'm excited to introduce you to Lynn Giovannelli on this week's episode of "Happiness through Hardship" – The Podcast. I was told she's a bright light and amazing in 1,000 ways and with that introduction, I couldn't wait to connect with her. People who know her best say she's a kind, loving and passionate spirit that's filled with energy, faith and compassion. Lynn is no stranger to hardship – having been diagnosed with breast cancer in 2011 and saw her company fall during the real estate crash of 2009. While her health has changed over the years, friends all say that one thing that has remained steady is her unbounded spirit. I'm honored that today Lynn shares her story about her recent ALS diagnosis.
Apple Podcasts: https://apple.co/2zidDGw
Spotify: https://spoti.fi/3imO7An
Stitcher: https://bit.ly/2WOsaTl
Google Podcasts and more…
This episode is incredibly heartfelt and uplifting despite her terminal diagnosis. Even someone as positive and compassionate as Lynn had been before hearing her diagnosis; she still stepped up her game. She's laser focused on finding joy with her family and in her life. She's also diving into new healthy living practices and finding energy in the exploration. Lynn provides tremendous insight and inspiration for anyone that receives the news they have ALS. In fact, she can motivate us all to find joy in our lives as she radiates positivity and love.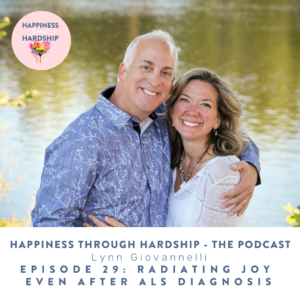 Ep. 29: Radiating Joy Even After ALS Diagnosis Show Notes – Lynn Giovannelli
Lynn Giovannelli – Groves Academy: https://www.grovesacademy.org/team/lynn-giovannelli/
For more information on ALS: https://www.als.org/
Mayo Clinic Neuromuscular Disease Group: https://www.mayoclinic.org/departments-centers/neuromuscular-disease-group/overview/ovc-20443670
Living Fully, Dying Well: https://amzn.to/2KaMGtf
Driving with ALS: https://www.als.org/navigating-als/resources/fyi-driving-challenges-als
For more information on the podcast episodes – HERE
For easily accessible cancer information – HERE
For daily wellness tips go to @PrettyWellness on Instagram
For more information on Pretty Wellness and Caryn Sullivan – CarynSullivan.com
For more information on "The Grateful Game" – https://www.instagram.com/tv/CCdduzuht2u/
Follow @PrettyWellness on social media on Instagram, Facebook and Twitter
Happiness through Hardship – The Book and Journal: BUY HERE or donate a book to a cancer center: DONATE HERE
To get a free copy of our smoothies and snacks ebook: sign up HERE