Do your clothes feel tighter this holiday season? Are the holidays your excuse to over-consume in all the festivities? This week on "Happiness through Hardship" – The Podcast – I'm dropping a mini-episode about healthy holiday substitutions. Living plant-based the past seven years, I've stumbled upon a few healthy and hearty holiday foods that are fun and festive. Many traditions involve lots of comfort foods that cause us to overeat and feel blah. Making simple healthy substitutions to your holiday can improve how you feel, both mind and body throughout the season and beyond.
Mini-Episode: Healthy Holiday Substitutions
Apple Podcasts: https://apple.co/2zidDGw
Spotify: https://spoti.fi/3imO7An
Stitcher: https://bit.ly/2WOsaTl
Google Podcasts and more…
Happy Holidays. I'm incredibly grateful to all of the guests, listeners, supporters, family and friends that have helped make this podcast full of inspirational and meaningful stories. Wishing you, your friends and family members quality time to enjoy each other this season. Hopefully we will jump into 2021 with better health and happiness on the horizon.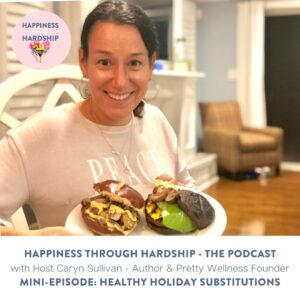 Show Notes
My favorite – Good Earth Tea: https://amzn.to/3rqVA7p
Feature on Healthy Holiday Substitutions:  https://prettywellness.com/holiday-substitutions/
Pretty Wellness Digital Cookbook including cacao fudge, peppermint smoothies and more: https://page.co/1oGzj
---
Episode 7: Talia Pollock – Party in My Plants: https://prettywellness.com/party-in-my-plants/
Episode. 27: Meghan Roberts – Holiday Episode – Safe Celebrations – Holidays from Afar: https://prettywellness.com/virtual-holidays/
---
Connect with Us
For easily accessible cancer information – HERE
For daily wellness tips go to @PrettyWellness on Instagram
For more information on Pretty Wellness and Caryn Sullivan – CarynSullivan.com
Follow @PrettyWellness on social media on Instagram, Facebook and Twitter
Happiness through Hardship – The Book and Journal: BUY HERE or donate a book to a cancer center: DONATE HERE