Festivities and a gazillion gifts, whatever holiday you celebrate, this time of year tends to be filled with them: cheerful music, yummy foods, big gifts, small gifts, healthy gifts, experience-related gifts and more. Whether you're focused on health all year round or want to ignite a little extra wellness into your family life, we've got you covered with this year's Healthy Holiday Gift Guide 2021. We believe in thoughtful gifts that bring a little happiness and good health into your life. This is our seventh year curating wellness gift lists, so while we have a ton we love (see our past lists), we also look for what's new, trending and easy to add to our lives. Here's to taking small steps toward better health and happiness.
Check out this month's WTNH-TV wellness segment – where we share a few ideas from our Healthy Holiday Gift Guide
FOR THE ONE WHO LIKES TO EAT CLEAN – PRETTY WELLNESS HEALTHY HOLIDAY GIFT GUIDE 2021
$$$ Ninja NCM CREAMi Maker ─ This fun, new gadget is for the dessert lover who wants to enjoy a sweet treat, while also being health conscious. You no longer have to dream about making your own ice cream, milk shakes, smoothies, sorbets and more…because this gift makes it easy. 
$ Aquasana Water Bottle ─ This sleek water bottle will help you stay hydrated all day. With the help of this bottle's built-in filter, there will be no more worrying about what could be in your water! 
$$ Daily Harvest ─ Give the gift of healthy eating made easy with Daily Harvest. They ship whole food, plant-based harvest bowls, smoothies, flatbreads, soups and even sweets to your door. For those who value clean eating but just can't seem to find the time to cook, this is the gift for them – send them a custom box or a gift card AND use the code PRETTYWELLNESS at checkout for $25 off your first order.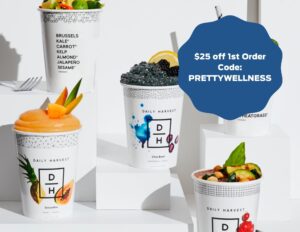 $$ Beast Blender ─ Hot off Oprah's holiday gift list – this blender has countertop appeal while also functional for the family that loves smoothies, soups and all things in the blender.
$$ Scout and Cellar Wines ─ For those who love wine, this is the perfect gift. Choose from a wide selection of wines from canned rosé, to a deep red and more. This brand had endless options that are healthy-ish aka clean-crafted. Scout and Cellar is dedicated to working with only the cleanest products, making sure not to add any synthetics. Look for a local vendor or check out mine: Jill P or Marnie M. 
FOR THE ONE WHO WANTS TO BE MORE MINDFUL – PRETTY WELLNESS HEALTHY HOLIDAY GIFT GUIDE 2021
$$ Bretherapy Tabs ─ With aromatherapy being a part of people's calming practices, it can be hard to maintain this practice for someone always on the go. These tabs filled with organic essential oils would make a unique gift to someone who still wants to practice mindfulness during their busy day.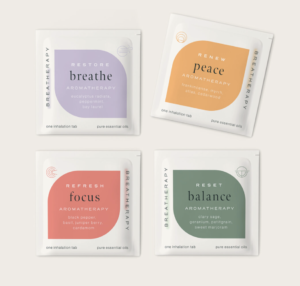 $ Self-Love Workbook ─ For anyone who loves to journal and practice mindfulness through writing and self-expression, this workbook will put a smile on their face. This guide takes a new approach on a wellness journey and is fitting for anyone looking to go on a self-love adventure this holiday season. 
$$$ VR Meditation ─  Gamer meets meditator with creative and relaxing games. Check out the system that works for you from Playstation VR to Oculus Quest. Most systems have games that are not only good for the mind, but also the soul. Whether it's your kid into gaming or YOU…know there's something for everyone especially when it comes to virtual reality.
$$ 
Maloka
─
Coming soon to
Oculus Quest,
Maloka is a platform designed to help users build and maintain a daily meditation practice. In this game, you cultivate and grow your very own private island alongside a spirit guide that evolves with you on your journey. Maloka uses visual and sonic elements that have been extensively researched to get your brain's meditative flow going.
​$ Perfect─This is virtual reality escapism at its purest on Playstation and beyond. Leave behind the daily grind and slip away to beautiful and relaxing locations, made possible through VR. Visit several stunning and interactive destinations, from sun-drenched beaches and peaceful mountains to the spectacular northern lights. Instantly accessible yet endlessly captivating, Perfect is the ideal companion to show off your VR headset.
$ Mindfulness Card Set ─ For anyone who wishes to be more self-reflective this holiday season, let this be the deck of cards you share with friends and family. This colorful deck has over 50 exercises to help you fit a little bit of wellness into your day and gift to others.
FOR THE ONE WHO WANTS CLEAN BEAUTY – PRETTY WELLNESS HEALTHY HOLIDAY GIFT GUIDE 2021
$$ Summer Hours – Clean Fragrances ─ If you want to feel beautiful, the fresh scents of Summer Hours will soothe your soul and put you into a vacation mindset. Summer Hours are environmentally friendly fragrances inspired by nature, using clean ingredients that are vegan, cruelty free and safe. Give the gift of clean beauty with the Summer Hours sample set…and get 15% off when you use the code PRETTY15 at checkout. I LOVE this brand…their mission and products. You can also feel good about this gift because it's a small business and woman-owned company.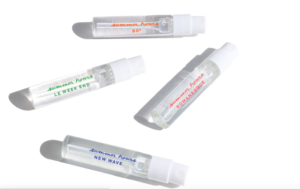 $$ Digital Detox Bath ─ We all know how stressful the holidays can be. Help your loved ones wind down with the gift of this bath treatment. Made from only pure and raw ingredients, this will ensure nothing but peace and relaxation. 
$$$ Beautycounter Holiday Sets ─ With this brand's wide range of products, you can give both clean makeup and skincare in a holiday set. Let your loved one try out tons of new items this season, so they can find the clean beauty product that is right for them. Or, go with my favorite – the Vitamin C Serum, it brightens my skin and lightens the sun spots, too.
FOR THE ONE WHO WANTS TO BE EXTRA THOUGHTFUL – PRETTY WELLNESS HEALTHY HOLIDAY GIFT GUIDE 2021
$ Stylish Graphic Tee's/PJs and Comfies – Say it with style and a smile – whether it's a comfy tee, cropped sweatshirts, PJs and even organic baby onesees. Looking for last minute gifts for the holidays? – These are thoughtful and AWESOME! Check out the link for the collection: https://bit.ly/3EzDjL9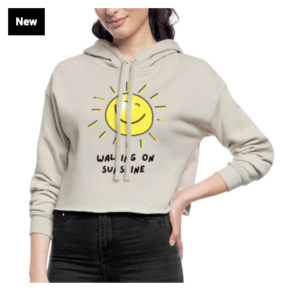 $$ Storyworth ─ For a truly meaningful gift this year, give the gift of storytelling. Every week your family member will be sent an email prompt about an important time or topic in their life. At the end of the year, all of their responses are compiled into a beautiful book for you and your family to admire the words of each other. 
$$ Homesick Candles ─ If anyone you know can't be home during the holidays this year, send them a reminder of home with these candles. Choose from cities, states, countries, and even tropical escapes, to make them feel connected.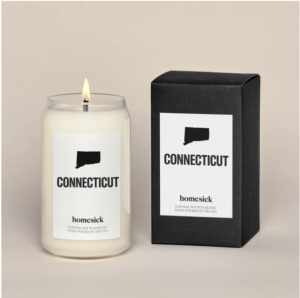 $$$ Personalized Charcuterie Boards ─ With meat and cheese boards becoming oh-so popular, we'll surely be seeing a lot of them at holiday parties this year. Make this charcuterie experience even more meaningful with a custom board from shops like Etsy that are full of artists and designs to choose from.
$ – Smiley Slippers ─ Who doesn't grin when seeing the big yellow smiley face staring back at them. Give the gift of happy with these smiley slippers.
FOR THE ONE WHO LOVES DIY – PRETTY WELLNESS HEALTHY HOLIDAY GIFT GUIDE 2021
$ DIY Gifts ─ Time, energy and effort make do-it-yourself gifts incredibly special.
Consider grabbing a glue gun and your favorite small items to create a personalized wreath (use sea shells from the beach, pennies or other trinkets and glue to a craft store wreath form. Here are the items you may need: glue gun, wreath forms: foam, wood, grapevine wreaths, twine and filler sea shells. )
If crafts aren't your forte, consider writing out family recipes and including them in a beautiful recipe box.
Do you (or a loved one) hold onto keepsakes? Consider framing them – old T-shirts, jerseys and game tickets work well.
FOR THE ONE WHO WHO WORKS OUT AT HOME – PRETTY WELLNESS HEALTHY HOLIDAY GIFT GUIDE 2021
Home gyms are hotter than ever now…here are some items to upgrade your friend or loved one's fitness palace or exercise corner:
$$ Adjustable Kettle Bells ─ all you need for muscle building and weight lifting!
$$ Resistance Bands ─ to tone, build muscle and strength for the athlete of every shape and size.
$$ Hand Weights ─ Even with just a few hand weights and a few minutes – a solid strength training workout can be created.
$$ Floating Shelf ─ Spice up your at home gym while storing your tools with this floating shelf. For anyone who wants to keep their work out gear organized yet decorative, this is the perfect gift. 
$$ Air Purifier Bags ─ These organic bags filled with charcoal can freshen up an exercise room, corner or even gym bag and come in multi-colors.
$$ Interlocking Foam Tiles ─ Make at home workouts easier on your body with these foam floor tiles. Setting up and cleaning up will become a breeze, too.
FOR THE ONE WHO LIKES TO READ – PRETTY WELLNESS HEALTHY HOLIDAY GIFT GUIDE 2021
$ Your Time to Thrive by Marina Khidekel ─ For the reader who wants to move from awareness to action, and embracing wisdom while also considering science. ​​
$ Happy Not Perfect by Poppy Jamie ─ After a hectic past year, this comforting book shows us how to deal with mental health and rewire our brain into thinking more positively. Give the gift of overcoming perfectionism with this mindful read. 
$ I'm So Effing Tired by Dr. Amy Shah ─ In this book, double-board certified doctor Amy Shah shows us how we can reclaim our life, and get back our energy, all while focusing on our gut, immunity, and hormones. This is an insightful read for the one who wants to figure out their health and make improvements.
$ You are More than You Think You Are by Kimberly Snyder ─ If you're interested in fulfilling your deepest dreams and desires, Wellness Wonder Woman, Solluna founder and 3x New York Times bestselling author, Kimberly Snyder, shares how it's already within you. She writes about how to unlock your fullest potential everyday…give this gift to a loved one – her book is on pre-sale now.

$ Happiness through Hardship – A Guide and Journal for Cancer Patients, Their Caregivers and Friends by ME, Caryn Sullivan ─ While it feels a little self-serving to put my book on this holiday list…IF YOU KNOW SOMEONE touched by cancer, this book will bring them joy. I promise. I wrote it not as a money maker but as a help to others…and as a fundraiser – half the net profits are donated to metastatic breast cancer research through The Cancer Couch Foundation.
FOR THE ONE WHO SHOPS LOCAL – PRETTY WELLNESS HEALTHY HOLIDAY GIFT GUIDE 2021
$$ Shop Local Boutiques ─ In our neighborhood we have shops for the laid-back and luxurious fashionista,  Penfield Collective, as well as artfully inspired clothing, accessories and decor at Coco and Company. Up the shoreline there's Sophie Claire's with not only gifts for the home and her, but also custom furniture painting and design services. In your neighborhood or nearby, there's bound to be other small businesses and boutiques that create a festive environment filled with unique gifts with a local flair. Supporting local businesses is not only a gift for your love ones, it's a gift for the entire neighborhood. Just go inside, whether you window shop or buy out the store, it will surely bring a holiday smile to your face.
$ Local Products / Small Businesses with Lots of Love – Check your town or state to see what local businesses sell unique products. Our neighborhood restaurants and gourmet grocery stores are now selling local entrepreneur and foodie Aya Forster's famous hot sauce, Tasty AF. This is surely a great gift for anyone that enjoys a little spice in their life. You can order here to support this small business.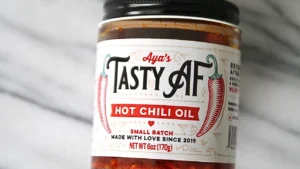 $$ Gift Cards to Local Health Shops and Food Companies ─ Around town, there are plenty of organic markets, juice bars and eclectic restaurants that can provide gift cards with a healthy spin. Give the gift of acai bowls, juice cleanses or a few days of healthy food to kick-off the new year. These small businesses educate the community and share their passion for healthy living from their family to yours. My local favorites include The Stand Vegan Cafe (salad bowls, vegan tacos and jackfruit grilled cheese,) Catch a Healthy Habit Cafe (Green juices, kale chips and raw desserts) Organika Kitchen (buffalo collard wrap) and Gruel Britannia (matcha latte.)
$$$ Trip to A Local Brewery or Winery ─ Support your local breweries and enjoy a refreshing drink with a fun day trip or a gift certificate for this experience. Gather some friends and head over to one of the breweries or cider mills that your community has to offer! For some popular locations in CT, check out Two Roads, or Clyde's Cider Mill.
If you're looking for a printable list, check out last season's healthy holiday gift guide ebook it's easy to print and filled with over 10-pages of ideas. Click HERE to get the full list.
While we know that the holidays are the season for gift giving, if you're looking for ways to give of service, check out our feature on how to virtually volunteer – HERE. Or if you're looking to stay connected with loved ones, while you are apart – listen to episode 27 of "Happiness through Hardship" – The Podcast with me and my college BFF last year talking about the holiday season – HERE.
Have a wonderful holiday season and please let us know if you have any questions – reach out to us @PrettyWellness on Instagram.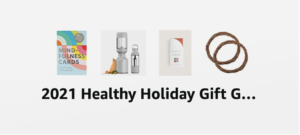 This post may contain affiliate links meaning I may receive a commission with no cost to you.