Walk into a brightly decorated mall or turn on a TV-connected device and you will hear sounds of holiday songs reminding us that the season is here. I love all the Christmas, Hanukkah and New Year's festivities bringing people together. In theory, it's the most wonderful time of the year. However, it can be stressful to shop for thoughtful gifts when you have an already busy schedule. That's why I LOVE sharing with you my favorite healthy gift ideas that help promote wellness. This year, we continue to highlight presents that will wow the healthy living enthusiast and motivate those that want to take small steps toward better health.
Our December wellness segment on WTNH's Good Morning CT Weekend highlighted some of our favorites from the Pretty Wellness Healthy Holiday gift guide below.
FOR THE ONE WHO EATS CLEAN
$$$ – The NutraMilk is a high-end kitchen appliance that creates alternative milks and butters, as well as fancy spreads and raw cookies in just minutes. There's no need for overnight soaking or numerous tedious steps to create your own nut/seed butter or milk. It's incredibly easy to use, versatile, and produces zero waste/no pulp with its technology. This is a perfect gift for the paleo, vegan, plant-based or general health conscious consumer. Check out our Instagram highlights – Healthy Tools to see how much we love the NutraMilk.

$$ – Yonanas 902 Classic Original Healthy Dessert Fruit Soft Serve Maker – Getting kids and families to eat healthy is easy and fun with the Yonanas machine. This device helps to compact bananas and other delicious fruits into a frozen ice cream texture. Add a few healthy (or not) toppings for an instant ice cream sundae alternative all made from the comfort of your kitchen. Our household LOVES this healthy ice cream maker and uses it several times a week. Check out our Instagram highlights – Healthy Tools to see how we use our Yonanas machine.
$$$ – Vitamix S50 S-Series Blender
– One of my all-time favorite clean eating tools is the high speed blender. While the Vitamix is one of the priciest on the market, I've been incredibly happy with mine.
For the kids…
$$  –AeroGarden Herbie Kid's Garden with Pizza Party Activity Kit
 – Entice kids to eat clean by creating their own indoor herb garden. The AeroGarden package includes a 32-page engaging activity guide with all the indoor gardening tools necessary to keep kids of all ages entertained as they watch their herbs grow.
$ – Emoji Universe: 2 Slice Emoji Waffle Maker, Waffle Iron – Let kids takeover breakfast and create healthy waffles their way with this emoji waffle maker. LOL.
FOR THE ONE WHO WANTS AN ACTIVE BODY
$$$ – Hyperice Vyper 2.0 High-Intensity Vibrating Fitness Roller – Black
 – Many athletes and weekend warriors use foam rollers to help increase flexibility, circulation and reduce soreness. This vibrating roller is 2x more effective than regular foam rolling and has three settings for increased physiological benefits.
$$$ – Diamond Dallas Page Yoga subscription – Big-time wrestler, Diamond Dallas Page, left the ring to become a well-known yogi. He created several programs that "Ain't Your Mama's Yoga," combining the best of traditional yoga with calisthenics, sports rehab and resistance. You don't have to be a wrestling fan to enjoy the fitness benefits of being a subscriber.
$$- Ducalm Skincare – This award-winning green beauty skincare line is naturally sourced with non-toxic ingredients that lock moisture in while keeping out pollutants. Ducalm was created to be multifunctional aka "multitastic" as they say, to fit into a busy lifestyle. Their products are perfect for the fitness aficionado or the traveler on the go. If pressed for time, their Walkout Clean Shower Wipes or Multitastic Cleanser are a must-have for your travel or gym bag.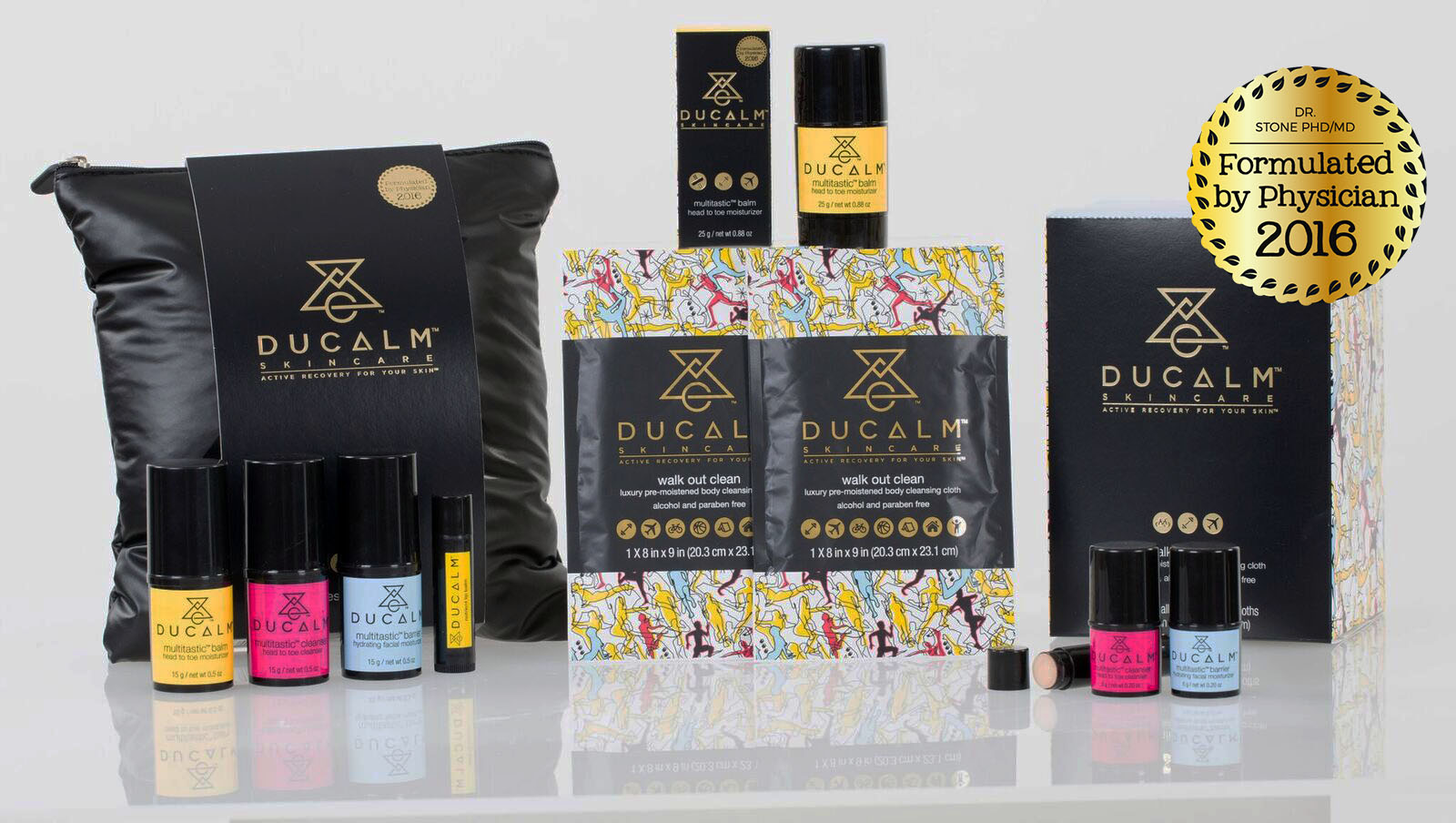 $$ – Night Runner Shoe Headlights – These sturdy clip-on shoe lamps light provide 270-degrees of visibility in front, plus the two rear-facing tail lights makes the runner instantly visible to traffic from all sides. This gift is an amazing option for the avid runner.
For the kids…
$ – Yoga Pretzels (Yoga Cards)
– A simple and fun card game that encourages kids to perform yoga poses.
$ – Capture the Flag REDUX a Nighttime Outdoor Game  – While kids love their devices and video games, it's hard to find a healthy one that keeps them active, so we've gone old-school by selecting this great outdoor game with flashy colors.
$ – GoSports Slammo Game Set (Includes 3 Balls, Carrying Case and Rules)
– Slammo is a 2-on-2 volleyball style outdoor game where teams have three hits to bounce/spike to the net. It's action packed fun for the backyard or easy to pack in a car for beach and BBQs.
FOR THE ONE WHO WANTS A CALMING MIND
$$ – Nayoya Acupressure Mat and Pillow Set
– This yoga style "bed of nails" mat provides a safe and natural acupuncture-like therapy in the comforts of your home. Lying on the mat for as little as ten minutes a day can stimulate the body's ability to heal physically, while providing some mindful relaxation benefits.
$$ – Headspace app subscription – The Headspace app is our very favorite tool to introduce meditation and mindfulness practices to the non-believer. In just a few minutes a day, this app introduces simple tools for stress reduction and better sleep. "Headspace is meditation made simple."
$ – Neat Little Planner – Organization and Design expert, Michele Vig of Neat Little Nest, created a comprehensive tool to help improve time management, reach aspirations and organize life beautifully.
$ – Watercolor Calligraphy for Beginners
 – When looking to destress many practitioners suggest single tasks. Give the gift of creating a new zenful hobby. For those that loved adult coloring books, try watercolor calligraphy.
For the kids…
$ – The Five Minute Journal for Kids – Develop Positive Thinking
– A mindful gift to help kids connect to their own positivity
$ – Galaxy Clock – Relaxing Night Light With Nature Sounds – Give the kids a calming sleep experience with the Galaxy Clock. This device projects the nighttime sky and includes nature sound effects to help kids settle into bed and enjoy a calming night.
$ – Mindful Kids: 50 Activities for Calm, Focus and Peace
 – This boxed set includes 50 unique mindfulness games and exercises to help kids find their calm and embrace loving-kindness.
FOR THE ONE WHO IS INTERESTED IN NON-TOXIC LIVING
$$ – Infrared Sauna Experiences / Inner Light luxury day spa – Give the gift of detoxification this year with a gift certificate to a wellness spa. My favorite wellness boutiques include infrared saunas, which differ from conventional saunas in that they use light to create heat. These special saunas detoxify heavy metals, radiation and environmental toxins from our body. In addition, studies have shown that not only can you burn excess calories in one sitting, but the infrared also stimulates collagen production to reduce wrinkles. If you are in Connecticut, check out Inner Light in Darien and Fairfield.
$$ – PhoneSoap 3 UV Cell Phone Sanitizer and Dual Universal Cell Phone Charger – For all germ and health conscious beings, this trending device is the perfect gift for the holiday season. The phone soap case uses UV lights to kill all the bacteria on the phone, while charging it at the same time.
$$ – HydraCoach Plus (v2.0) – Smart Water Bottle – One of the best ways to rid toxins from the body is to drink water. This BPA-free smart water bottle electronically calculates and tracks water consumption so that you will drink more throughout the day. This bottle is unique in that you don't need an app for the data.
$$ –  Jade Crystal Facial Roller – One of the hottest trends in self-care this year included using crystals in skin care regimens. This jade facial roller helps massage the lymphatic system removing toxins in the body. It's also constructed for daily use to decrease facial puffiness.
For the kids…
$ – Lil' Glam Girl Kit
– Give the gift of a glamour without worrying about the harsh chemicals. This kiddie makeup kit has face shimmers, fruity scents and no parabens/harsh chemicals.
FOR THE ONE WHO LOVES TO READ
I love gifting books because they provide such inspiration. My favorite over-all healthy lifestyle book this holiday season is Samantha Harris' Your Healthiest Healthy: 8 Easy Ways to Take Control, Help Prevent and Fight Cancer, and Live a Longer, Cleaner, Happier Life
. Below are some others that are sitting on my night-table now.
Looking for other hot holiday gifts that we love, check out the 2017 Healthy Holiday Gift Guide, 2016 Healthy Holiday Gift Guide, 2015 Healthy Holiday Guide, the 2015 Kids: Healthy Holiday Guide, the 2014 Healthy Holiday Guide and the 2014 Kids: Healthy Holiday Guide.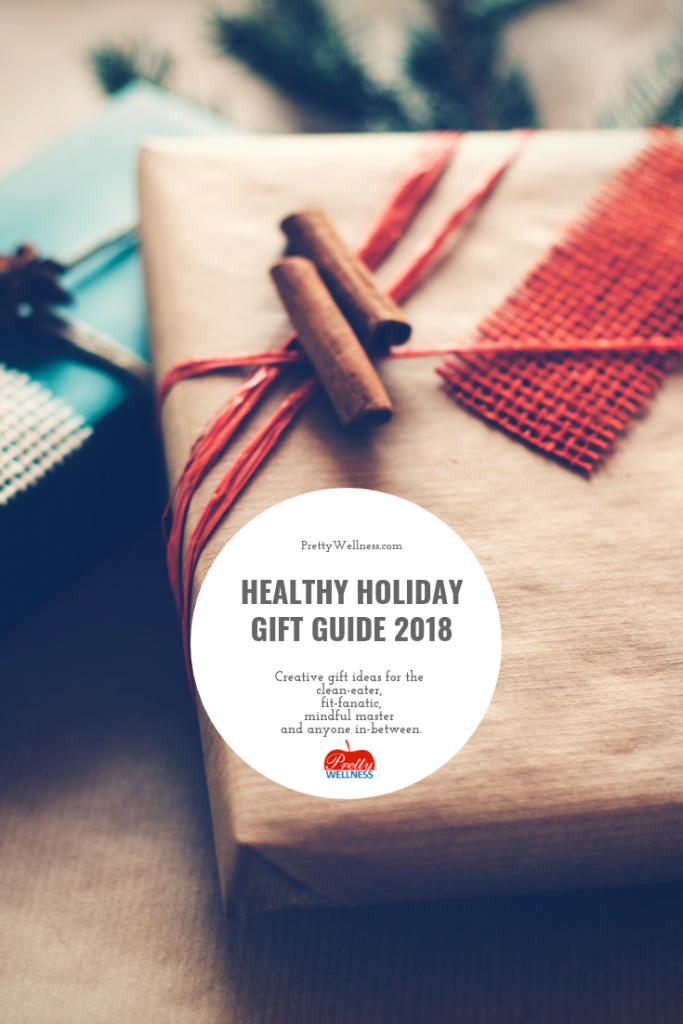 For daily tips and inspirational ideas on healthy living, clean eating and a non-toxic lifestyle, please follow us on Twitter, Instagram and Facebook.
OR meet us in person – Hire Caryn Sullivan to inspire your organization or team to embrace positivity, resiliency or wellness in the workplace. Visit CarynSullivan.com for more information.
This post may contain affiliate links through the Amazon Associates program, meaning I may receive a commission with no cost to you.