I love bright lights and shimmery glitter. I love finding reasons to celebrate. And I love to be LOVED, which is why I absolutely cherish the holiday season. Beyond the parties, presents and dressed up people, what truly makes the holiday season special is the positivity that radiates. People come together to celebrate the season and enjoy each other. For all those celebrations and gift-giving events, we're back with our fourth edition of the Pretty Wellness Healthy Holiday Gift Guide. Truly thoughtful gifts warm the hearts of both the giver and receiver. This is why I love sharing my favorite holiday gift ideas that promote wellness.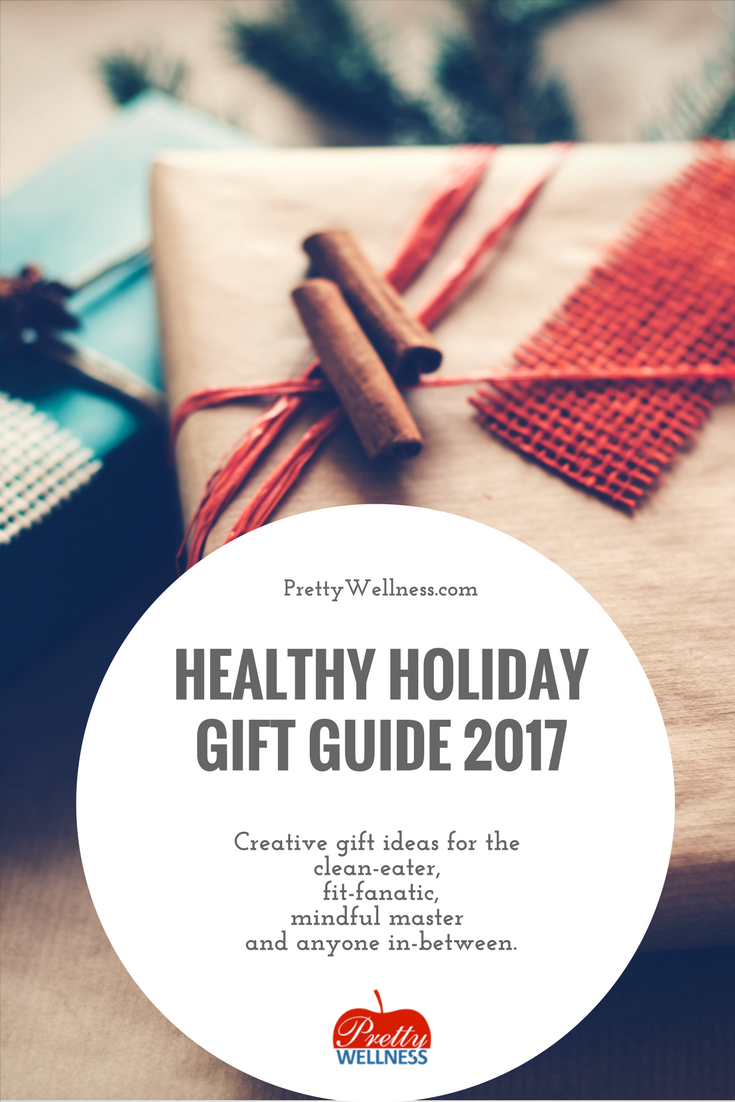 FOR THE ONE WHO LOVES TO EAT CLEAN
$$ – CSA Membership – Some people LOVE cool soil in their hands and organizing a prosperous veggie garden. Others shy away from the time and energy it takes to grow their own food. For those who embrace a clean lifestyle, yet don't have green thumb, consider a CSA (Community Supported Agriculture) membership so they can enjoy an abundance of produce grown locally. For local CSA information, check here.
$$ – Instant Pot LUX60 V3 6 Qt 6-in-1 Muti-Use Programmable Pressure Cooker, Slow Cooker, Rice Cooker, Sauté, Steamer, and Warmer
: A single cooking device with seven different functions from slow and rice cooker to steamer and sauté gadget. This multi-cooker continues to receive rave reviews and is on the top of my list for 2017.
$$ – Kombucha Brew Kit – The kombucha craze has gone mainstream. Many healthy living fans understand that fermented food and drinks keeps the gut healthy. For the crafty and DIY lover, a kombucha home brewing kit may be a creative gift to keep them happy AND healthy post holiday season.
$ –
Avocado Tree Starter
– When I went vegan, I still craved creamy dishes. Then I started using avocados and found every dish more satisfying than I remembered. Over the past few years, avocados have become increasingly more expensive. So, for the Tex-Mex cuisine lover or the vegan-inspired chef, an avocado tree starter is the perfect gift.
FOR THE ONE WHO HAS AN ACTIVE BODY OR MIND
$$$ – Apple Watch Series 3 – Activity trackers have been the rage for the past several years, but for Apple lovers, one truly outshines them all…the Apple Watch. Like many of its kind, this device tracks movement and exercise with a user-friendly interface including more metrics than before. But for those who love to engage in fitness without our phones, the Series 3 now has LTE so you can be connected without having to carry around your cell. It even can go underwater, too.
$$ – Fasciablaster – Created by Ashley Black, this transformative tool reduces the appearance of scars, smooths skin including wrinkles as well as fights cellulite and scar tissue. The Fascia blaster targets unhealthy fascia, the connective tissue that covers most of our body. It loosens fascial adhesions and restores it, which lessens the appearance of cellulite and other skin issues.
$$ – ArmourBox – Under Armour recently released their own subscription box service. For the workout buff that enjoys updated fitness gear, it's a simple shopping process. A UA representative customizes exercise gear based on your interests and goals. The items are then delivered for you to try on and pay for whichever ones you keep.
$$ – Headspace App subscription – Still one of my favorite meditation apps, Headspace educates beginners and draws in the experienced for an easy and relaxing experience. The animated mini-lessons and multi-themed meditation packages makes it a thoughtful gift for the person who wants to reconnect with themselves in 2018.
$$$ – Infrared Saunas: This is still on my wish list so I had to include it again in this year's guide because I find sweating out toxins to be cathartic. Infrared saunas differ from the conventional kind in that they use light to create heat. These special saunas detoxify heavy metals, radiation and environmental toxins from our body. In addition, studies have shown that not only can you burn excess calories in one sitting, but the infrared also stimulates collagen production to reduce wrinkles. If you are in a metropolitan area, check out local spas services that offer infrared sauna sessions, in NYC there are two locations for HigherDOSE . You can even buy your own Sunlighten infrared sauna for your home, if you are looking for a high end gift.
FOR THE ONE WHO IS INTERESTED IN NON-TOXIC LIVING
$ – Books about a Calming Home – The next big thing in wellness beyond mindfulness is creating beautiful and calming organizational spaces to promote well-being. For the wellness lover who wants to learn how to organize their life, try a hardcover book about decluttering, The Life-Changing Magic of Tidying Up: The Japanese Art of Decluttering and Organizing
or focus on creating joy and coziness the everyday moment, try embracing the Danish practice of Hygge with The Little Book of Hygge: Danish Secrets to Happy Living
.
$$ – alara by BRINK CASE Radiation Reflection Cell Phone Case – Reduce exposure for cell phone radiation with an alara cell phone case. alara's patented antenna technology is unique in that it reduced the amount of radiation absorbed by your head and body while not limiting your signal.
$$ – Au Naturale Cosmetics – I'm always about finding green beauty cosmetics that look incredible and are sensitive to the skin. Au Naturale Cosmetics company was a hit at the Indie Beauty show this fall 2017. Their lip stain, Au Naturale su/Stain Lip Stain in Marsala | Vegan | Organic, receives rave reviews.
OTHER CLEAN LIVING CONTENDERS
We would love to hear your favorite healthy holiday gift ideas. Please share below so our gift list can grow. Happy Holidays and enjoy our holiday giveaway below!
Looking for other hot holiday gifts that we love, check out the 2016 Healthy Holiday Gift Guide, 2015 Healthy Holiday Guide, the 2015 Kids: Healthy Holiday Guide, the 2014 Healthy Holiday Guide and the 2014 Kids: Healthy Holiday Guide.
For wellness daily tips and inspirational ideas on healthy living, clean eating and a non-toxic lifestyle, please follow us on Twitter, Instagram and Facebook.
Looking for a speaker to inspire your organization or business team? Hire me to present or facilitate a seminar on resiliency, positivity and wellness in the workplace. Check out my business website and demo reel at CarynSullivan.com. I can be reached at [email protected].
This post may contain affiliate links meaning I may receive a commission with no costs to you. I pro-actively try many of these products and then affiliate myself with these items that I already use and love.