I love to shop. When walking through grocery stores, clothing boutiques, and even The Home Depot, I always come up with excuses for why I need that new product or household tool. While these new additions to my life make me smile, I truly find more joy in shopping for others. Now that I'm living an organic, low-toxin lifestyle, I've sought new gift ideas that focus on health, wellness, and being beautiful organically. I've attended holiday events, scoured the web, and read through some of the 2014 Hottest Toy lists. So whether you write to Santa, the Holiday Armadillo or just need to give a gift, here are some of my favorite thoughtful healthy holiday gifts focused on wellness.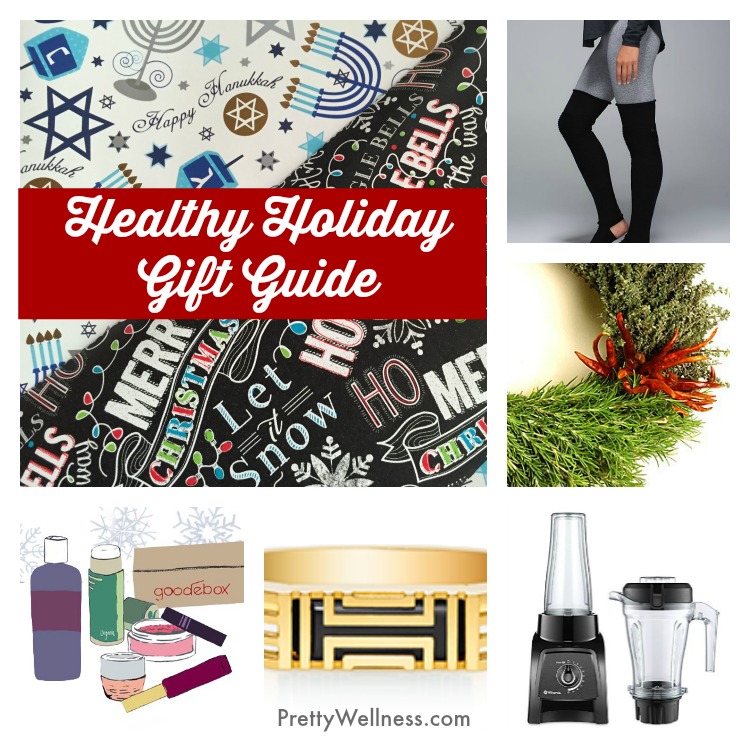 Contigo Pitcher with Infuser
For years, I knew there were many health benefits from drinking water, but I convinced myself I was well (enough) hydrated drinking diet soda and Crystal Light. Frankly, I just didn't like the lack of taste of water. It wasn't until I was introduced to fruit and mint infused water that I started really enjoying it. So when I stumbled upon this pitcher by Contigo that infuses and chills water in its core, I knew it would be on my holiday gift list.
Organic & Natural Beauty Box Subscription
Introduce a friend or loved one to an organic/non-toxic beauty box subscription. Both Vegan Cuts and Goodebox offer trial memberships for fewer than $20 and provide samples and travel sizes of natural cosmetics and personal care products. It's the perfect gift for someone who wants to embrace a healthier lifestyle, but hasn't yet figured out how to revamp their beauty regimen.
Lululemon Legwarmers
Yes, I'm a kid of the 80's and remember exercising to Jane Fonda, watching Flashdance over and over, and wearing my own purple neon leg warmers. Seeing legwarmers come back into high fashion brings back all these memories. I was especially excited to see Lululemon's Blissed Out legwarmers perfect for traveling to yoga class. Or if you are like me, worn to bundle up when winter power walking.
Fitness Trackers for the Whole Family
If you missed out on this trend the past few holiday seasons, jump on board now because the market has exploded with several different shapes, sizes, and features. Fitness trackers provide tons of personal information, ranging from sleep and fitness activity to heart rate and caloric monitoring. I did the research last year and found the UpBand worked for me. I wanted a sleek bracelet with sleep monitoring. The Nike FuelBand and FitBit are also popular and receive solid reviews. For swimmers, the Misfit tracker provides similar benefits, but also tracks in water. If you are interested for young kids, what has me jumping up and down is the LeapBand Kid's Fitness & Activity Tracker. It's on our wish list for my son. This device encourages kids to perform activity challenges to earn points and unlock levels of game play. For more information and details on the hottest adult trackers this season, check out PC Magazine.
Tory Burch FitBit
Had the Tory Burch FitBit locket been available last year, I would have surely bought it right away. I love the sophisticated design both for the locket and bracelet. It's stylish for night out yet also casual enough to wear with sweats.
Personal High Speed Blender: Vitamix S30
The Vitamix is my absolute favorite kitchen tool because it's easy to use and simple to clean. More importantly it has the ability to make a variety of staples from soups and smoothies to dough and ice cream. Because it's so easy, I use it daily. It was well worth the pretty penny I paid for this device. Now the company has released a personal-sized blender, The S30, with both a 20 ounce personal travel container and a medium sized 40-ounce one.  
Organic Bouquet
OrganicBouquet.com has a collection of unique sustainably grown flowers, herbs, and natural plants that are not only stylish, but also good for the environment. The site sells all-natural products ranging from oregano wreathes to ivy grown baskets and also offers a large assortment of organic snack baskets and wines. I love the Culinary Herb Three Herb Wreath.
What healthy tool would help motivate you to eat better, workout more or create a new beauty regimen?
Images courtesy of Organic Bouquet, Tory Burch, Vitamix, Lululemon and Goodebox.