I'm delighted to share this fun and festive holiday episode of "Happiness through Hardship" – The Podcast. While this season will look different than before, more virtual and less big gatherings, on this episode I have a very special guest who loves to celebrate and shares with us how. We chat about finding happiness and creating joy together, even though many of us are apart. I'm thrilled to introduce you to Meghan Buchanan Roberts – a secondary education school counselor, a former manager for Hershey Corporate, a wife, a Mom and my fabulous and full of fun – college roommate. She's always been someone who has commemorated the big and little in life, so she seemed like the perfect person to have this conversation – and hopefully help us all make the holidays special.
Apple Podcasts: https://apple.co/2zidDGw
Spotify: https://spoti.fi/3imO7An
Stitcher: https://bit.ly/2WOsaTl
Google Podcasts and more…
Meghan and I had a blast sharing how we will be encouraging our families to take on new traditions. We laugh at our food competitions, contemplate how our kids can virtually volunteer and showcase a fun list of quarantine aka holiday-at-home activities that YOU – the listeners shared with us. We want to help you find happiness, create joy, stay healthy at home and even though many of us are apart – find ways to celebrate together.
Meg and I had a ton of laughs, and hopefully you will too, so please listen and if you like it…rate, review and subscribe. You leaving a review helps us with our podcast ranking. The higher we are ranked, the more people can discover our show….and the more inspirational content we can bring to you and others.
And in the spirit of the holiday season, we have TONS of healthy holiday resources for you on PrettyWellness.com or @PrettyWellness on Instagram. We recently released our list of virtual volunteering opportunities as well as our 7th Annual Healthy Holiday Gift Guide. So head on over. We're excited to help you have a healthy and happy holiday season.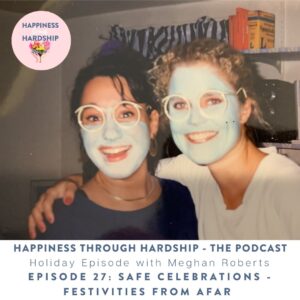 Episode 27. Safe Celebrations – Festivities from Afar Show Notes
Chocolate canola (cacao granola) recipe: https://sunwarrior.com/blogs/health-hub/proteinpacked-cacao-granola
Daily Harvest – Favorite Harvest Bowls & Vegan Ice Cream Scoops: https://www.daily-harvest.com/ (Take $25 off at check-out using PRETTYWELLNESS code for your first order.)
Kahoot Trivia: https://kahoot.com/ – this and many more apps / game ideas included in this episode
Aya's Table Virtual Cooking Classes: https://www.ayastable.com/
Virtual Volunteering List of Ideas: https://prettywellness.com/volunteering/
Second and Seven Foundation: https://www.secondandseven.com
Happiness Through Hardship – The Podcast Episode 3: Katie Smith: Resilience On and Off the Court: https://prettywellness.com/wnba-katie-smith/
2020 Healthy Holiday Gift Guide: https://prettywellness.com/2020-healthy-holiday-gift-guide-2/
For more information on the podcast episodes – HERE
For easily accessible cancer information – HERE
For daily wellness tips go to @PrettyWellness on Instagram
For more information on Pretty Wellness and Caryn Sullivan – CarynSullivan.com
For more information on "The Grateful Game" – https://www.instagram.com/tv/CCdduzuht2u/
Follow @PrettyWellness on social media on Instagram, Facebook and Twitter
Happiness through Hardship – The Book and Journal: BUY HERE or donate a book to a cancer center: DONATE HERE
To get a free copy of our smoothies and snacks ebook: sign up HERE