Are you nervous about finances and not sure where to begin? Do you wish you could travel more – with or without COVID? Today's guest on "Happiness through Hardship" – The Podcast, Danielle Desir, talks personal finance and pandemic travel. Danielle is an author, personal finance writer, travel aficionado and host of The Thought Card podcast. Her passion is to travel…and shares how she's done this while paying off over 60,000 dollars in student loans, saving for a house and working full-time.
Apple Podcasts: https://apple.co/2zidDGw
Spotify: https://spoti.fi/3imO7An
Stitcher: https://bit.ly/2WOsaTl
In today's episode Danielle takes us down two paths. She provides workable strategies for personal finances whether you're a newbie or someone who has been saving for awhile. She also gives direction for those who need a break or want to travel during hard times, especially now with the pandemic. You can hear her smiling when she talks about spreadsheets or her sweetheart. Danielle has tons of valuable information to offer so, please listen and if you like it…rate, review and subscribe. You leaving a review helps us with our podcast ranking. The higher we are ranked, the more people can discover our show….and the more inspirational content we can bring to you and others.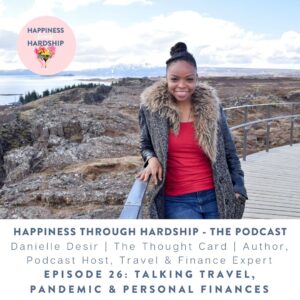 Ep. 26 – Talking Travel, Pandemic & Personal Finances Show Notes
Books We Discussed by Danielle Desir: Affording Travel: https://amzn.to/2IJmXYI , Planning Local Adventures: https://amzn.to/3kFlZtl and for more information go to https://danielledesir.com/books/.
CDC Travel Guidelines: https://www.cdc.gov/coronavirus/2019-ncov/travelers/index.html
YNAB /You Need a Budget Resource: https://www.youneedabudget.com/
Mint: https://www.mint.com/
Tiller Money: https://www.tillerhq.com/
National Writing Month: https://nanowrimo.org/
Flexispot Standing Desk: https://amzn.to/3pw8boG
Connect with Danielle Desir: Ep. 26 – Talking Travel, Pandemic & Personal Finances:

The Thought Card Podcast: https://podcast.thoughtcard.com/
Blog: https://thoughtcard.com/
Website: https://danielledesir.com/
Facebook: https://www.facebook.com/thethoughtcard
Instagram: https://www.instagram.com/thethoughtcard/
Twitter: https://twitter.com/thethoughtcard
For more information on the podcast episodes – HERE
For easily accessible cancer information – HERE
For daily wellness tips go to @PrettyWellness on Instagram
For more information on Pretty Wellness and Caryn Sullivan – CarynSullivan.com
For more information on "The Grateful Game" – https://www.instagram.com/tv/CCdduzuht2u/
Follow @PrettyWellness on social media on Instagram, Facebook and Twitter
Happiness through Hardship – The Book and Journal: BUY HERE or donate a book to a cancer center: DONATE HERE
To get a free copy of our smoothies and snacks ebook: sign up HERE
Tools for Travel, Personal Finances and Making Both a Little Easier
This post may contain affiliate links through the Amazon Associates program, meaning I may receive a commission with no cost to you.