I've always loved eating out. I have such fond memories devouring meatballs and spaghetti off the children's menu at east coast diners. As I grew older, my family celebrated honorable report cards, choir concerts, dance recitals and mini-milestones at what I thought were fine-dining establishments: Mandarin Yen or Shakey's Pizza. Even in high school, after football games, we congregated at Davanni's, Carbonni's, Perkins or my all-time favorite, Taco Bell. Whatever happy (often made up) non-traditional holiday we celebrated was at a restaurant. Truth be told, my mom was a fine cook, we just enjoyed the hassle free, family or friend focused meal. My mother also cooked healthy dinners, so dining out included gorging on cheesy pizzas, fried rice dishes and creamy pastas. I know better now that eating out doesn't mean I have to let go of all inhibitions and start "my diet tomorrow." While it's tempting to overdo it, I've learned a few tips to keep my diet clean while enjoying a night out for travel, on business or just for fun.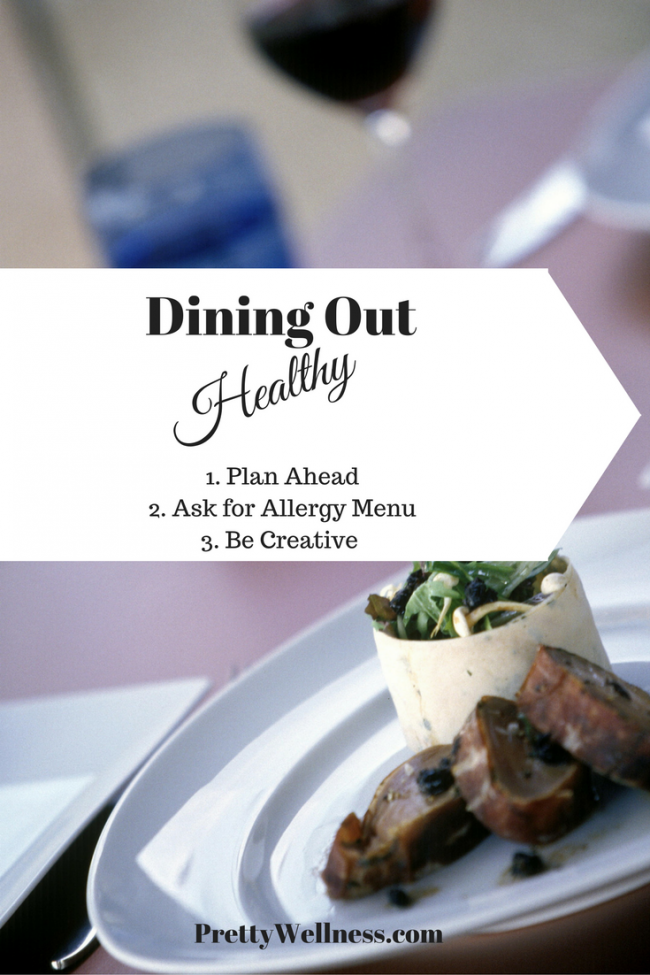 If you're like me and love dining out on vacation, business trips or with the family, here are a few quick tips to make your experience easier.
Plan Ahead
If you have a chance to select the restaurant, check out the Happy Cow app to find healthy restaurants in the area. Yelp and Open Table also have filters that can assist in finding farm-to-table or restaurants with healthy options.
Ask for Allergy Menu
If you're already at a restaurant, ask the server for an allergy menu. As a vegan, I don't eat dairy and often gluten, so menus catering to allergies often list good choices.
Be Creative
Check out the fruits and vegetables on the menu included with other dishes. The restaurant obviously has those items in the kitchen and the chef may be willing to accommodate. I love to combine quinoa, whole wheat pastas or couscous with salads or hot vegetables. Many times I create a meal that combines two different vegetable or potato side dishes. My favorite substitution of all time is to order a mozzarella caprese salad and swap the cheese for avocado. It's creamy and delicious.
We'd love to hear from you. What do you find most challenging when eating out?
For wellness daily tips and inspirational ideas on healthy living, clean eating and a non-toxic lifestyle, please follow us on Twitter, Instagram, Facebook and Pinterest. Please remember to talk with a doctor or natural practitioner when making lifestyle changes.
Items to Keep in Your Purse – Helpful When Dining Out or Traveling
Not every travel destination is filled with healthy options, so I often bring a little something in my purse so I can still eat healthy even with few choices. Typically, breakfast cafes have dry oatmeal and I will add Himalayan sea salt, coconut oil and cinnamon. I also add the sea salt to steamed veggies or the coconut oil and cinnamon to toasted dry sourdough bread. When there is no juice bar in site, I will use these Amazing Green tablets in the morning.
Looking for a speaker to inspire your organization or business team? Hire me to present or facilitate a seminar on resiliency, positivity and wellness in the workplace. Check out my business website and demo reel at CarynSullivan.com. I can be reached at [email protected].
This post may contain affiliate links meaning I may receive a commission with no costs to you. I pro-actively try various products and then affiliate myself with these items that I already use and love.
If you want to get nostalgic with us – check out our Wellness Wednesday episode from a few years ago where we discuss these recommendations for making healthy choices while dining out.