The holiday season is well under way. If you haven't started shopping, there's still time to buy online or run to the mall to beat the crowds and out-of-stock shelves. Knowing many parents start shopping first with kids in mind, we premiered our 2015 Healthy Holiday Gift Guide for Kids last week. Now, we're releasing the grown-up version, the 2015 Healthy Holiday Gift Guide. As I mentioned in last year's feature, since I've embraced an organic, low-toxin lifestyle, I always investigate and experiment with new products and services that focus on health and wellness. I've attended seminars, events, and researched the latest guides in search of unique gift ideas that won't break the bank. Here are some of my favorite items that focus on wellness.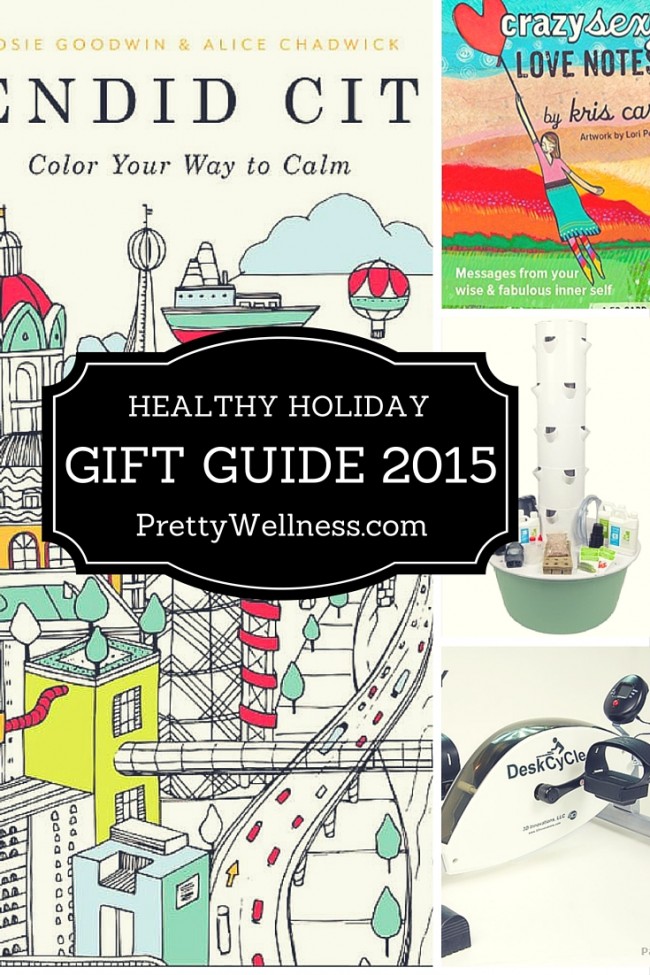 Activity Tracking Jewelry – $$$
Activity trackers continue to be big this season. If you can't afford the data-driven Apple Watch with an activity tracker, information and much much more or just want a dainty wristband, there are plenty of pretty jeweled trackers that are half the price. I love the Swarovski Shine bracelet. I'm also a huge fan of Tory Birch for FitBit. Even Jawbone has a fancy UP3 that looks like a slinky night-out bracelet.
Desk Cycle – $$$
All the latest research is claiming that "sitting is the new smoking." So, many work places now promote sittings/standing work stations or encourage employees to walk for ten minutes every hour. However, if you want to buy a gift for someone who works from home or has to sit at a desk all day, check out the DeskCycle Desk Exercise Bike Pedal Exerciser.
Tower Garden – $$
If you want to give a gift to promote healthy eating, helping someone start their own garden could be a creative gift. However, this could be complicated if they live up north, don't have the space, or frankly don't want to spend the effort. So, when I saw the Tower Garden Growing system, I jumped to learn more. This 5-foot tall vertical garden comes with everything needed to start an in-home garden.
Wireless Ear Muffs/Hats – $$
Do you love listening to music or a podcast during your outdoor hike, run or commute to the train? Bluetooth technology has captured the eyes of many outer-gear companies. This year continues to be a big one for gadget gifts, some of my outdoor favorites include the 180s Mens & Womens Unisex Bluetooth Ear Warmer and Qshell Winter Comfy Bluetooth Beanie Washable Hat w/Basic Knit Music Cap with Speakers & Mic.
Magazine Subscription – $
Many of us have gone fully digital with movies and magazines solely on smartphones and computers.  The art of magazine reading has changed, though I still truly enjoy reading hard copies without the distraction of emails and texts coming onto the screen. Some of my favorite mags that promote health, happiness and beauty include: Clean Eating Magazine
 and Rodale's Organic Life All Access
. There's still a ton of genres out there in magazine format so if you have a friend who follows a Paleo diet, check out a magazine subscription gift for him/her to: Paleo Magazine
.
Specialized Playing Cards Decks – $
Another token-gift that provides small steps towards better wellness is a deck of specialized playing cards. If you have a friend or family member that loves to work out, FitDeck (FitDeck Stretch Exercise Playing Cards
) sells a number of playing cards for kids, adults and exercise enthusiasts of all levels. For more mindful exercise, Kris Carr recently released her Crazy Sexy Love Notes: A 52-Card Deck
, filled with inspirational thoughts and mantras to use throughout the year.
Adult Coloring Books – $
Adult coloring books are all the rage right now. Images of boastful shapes, romantic flowers and full landscapes are everywhere. I love the concept, so found a few cityscape coloring books including Splendid Cities: Color Your Way to Calm
 for the wellness enthusiast that loves traveling.
My other latest favorites include essential oil kits, salt lamps, and green beauty subscription kits…and this list could go on and on. So, please help us add to the list and comment below. Let us know what healthy holiday gift you want or love to give.
This post may contain affiliate links, meaning I may receive a commission with no cost to you.