This episode on Happiness through Hardship – The Podcast gives us to a reason to celebrate with guest, Talia Pollock, a well-known author of "Party in Your Plants – 100+ Plant-Based Recipes and Problem Solving Strategies to Help You Eat Healthier Without Hating Your Life." She's also a certified plant-based chef, a writer, motivational speaker, TV personality and dynamic health and empowerment coach. She started her career as a comedian and now keeps us laughing and informed with her internationally celebrated Party in My Plants brand.
Though full of positive energy, on this episode Talia talks about how she spent years silently struggling with unknown health issues, which led to depression and low confidence. She TRULY took a journey figuring out how to navigate her own health without being a burden to herself or others. She shares her story and then how she went from health nut hermit to hosting a kombucha fest at a Steeler's Tailgate. She speaks about being bold and having courage to make changes in our lives to better our health and our selves.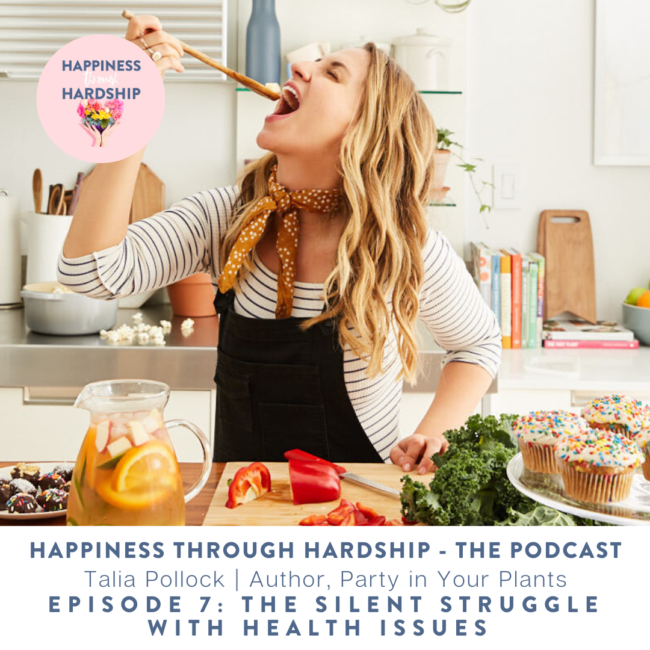 She's incredibly authentic, enlightening and so very funny…So be sure to listen to the end where we play, "The Grateful Game." We have a heart-to-heart about how our hardships have brought goodness into our lives. We also laugh about Legos and the love of trees.
Check out the episode on:
ITunes: https://apple.co/2zidDGw
Spotify: https://spoti.fi/2WNFc3k
Stitcher: https://bit.ly/2WOsaTl
Show notes links:
Talia Pollock – Learn more about her speaking engagements and coaching: www.taliapollock.com/
Party in Your Plants – 100+ Plant-Based Recipes and Problem-Solving Strategies to Help You Eat Healthier (Without Hating Your Life): https://amzn.to/2O9wh7q
Party in My Plants Podcast: partyinmyplants.com/the-podcast/
Caryn on Party in My Plants Podcast: partyinmyplants.com/podcast/96/
Talia's Fool'd Ya Brownies Recipe: partyinmyplants.com/fooled-ya-brownies/
You can follow Talia on social media at:
Instagram – www.instagram.com/imtaliapollock
Facebook – www.facebook.com/partyinmyplants
YouTube – www.youtube.com/partyinmyplants
Pinterest – www.pinterest.com/partyinmyplants
Connect with us at: 
For more information on the podcast episodes – HERE
For easily accessible cancer information – HERE
For daily wellness tips go to @PrettyWellness on Instagram
For more information on Pretty Wellness and Caryn Sullivan – CarynSullivan.com
Follow @PrettyWellness on social media on Instagram, Facebook and Twitter
Happiness through Hardship – The Book: BUY HERE or donate a book to a cancer center: DONATE HERE
To get a free copy of our smoothies and snacks ebook: sign up HERE