Today's guest seemed to have it all yet looks were deceiving. This former professional hockey player and distinguished coach skated toward huge transformation to live a more authentic life. Trent Eigner is an engaged father of six and loving husband, a past collegiate and professional hockey player, soon to be author, and highly acclaimed hockey coach. Trent led his Lakeville North hockey team to the first undefeated season in over 30 years while also compiling the greatest single season record of high school hockey in the state of Minnesota. On paper he was the IT GUY…but the reality was he was incredibly unhealthy, overweight, broke, depressed and fearful in life. On this episode of "Happiness through Hardship" – The Podcast Trent shares his experience with deep mental and physical changes. His is a story of a broken person who found a way to bring about transformation, even in a perfection-driven society.
Apple Podcasts: https://apple.co/2zidDGw
Spotify: https://spoti.fi/3imO7An
Stitcher: https://bit.ly/2WOsaTl
Google Podcasts: http://bit.ly/35cuG9O
IHeartRadio: https://ihr.fm/3cTrLXH
Amazon Music: https://amzn.to/3fKqowq
I met Trent when we were both in college at Miami University. Not only was he a talented, hockey player – he was always the life of the party – I remember him cheering me to on to sing the national anthem from a roof top at "24 by 12," a Miami hockey tradition or telling making us laugh in the back of the classroom. Believe it or not, he did go the classes, though as he says himself – he seldom took a note, which is why he's so proud to be a first time author, Assault on Average, coming out this fall.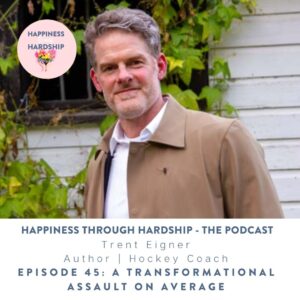 If you like this episode, please share with your friends and rate, review and subscribe. You leaving a review helps us with our podcast ranking; the higher we are ranked, the more people can find our show.
Ep. 45 – His Transformational Assault on Average with Trent Eigner Show Notes
Assault on Average / Hire Trent for Motivational Speaking Events: https://www.assaultaverage.com/
Assault on Average – Pre-order the Book: https://www.hhbookorders.com/
As a Man Thinketh by James Allen: https://amzn.to/2RQSCf3
Connect with Trent Eigner
Instagram: https://www.instagram.com/assault_average/
Facebook: https://www.facebook.com/
Twitter: https://twitter.com/assault_average
Connect with US
Happiness through Hardship – The Book and Journal: BUY HERE or donate a book to a cancer center: DONATE HERE
For easily accessible cancer information – HERE
For daily wellness tips go to @PrettyWellness on Instagram
For more information on Pretty Wellness and Caryn Sullivan – CarynSullivan.com
Follow @PrettyWellness on social media on Instagram, Facebook and Twitter.
This post may contain affiliate links meaning I may receive a commission with no costs to you.