Chronic illness, poor mental health and other disorders are topics trending throughout our daily feeds and today's guest on "Happiness through Hardship" – The Podcast, Dr. Kenneth Bock, helps clarify hidden causes of these. Dr. Bock is a leader in integrative medicine with over 35 years of experience diagnosing the root causes of chronic illnesses and restoring balance to his patient's immune systems. He's a sought after medical leader; many of his patients travel throughout the world to experience his expertise at tackling medical problems that have been difficult to diagnose. On today's episode we talk about his new book, Brain Inflamed and take a deep dive discussing inflammation, balancing our systems and eating for optimal living.
Apple Podcasts: https://apple.co/2zidDGw
Spotify: https://spoti.fi/3imO7An
Stitcher: https://bit.ly/2WOsaTl
Google Podcasts: http://bit.ly/35cuG9O
IHeartRadio: https://ihr.fm/3cTrLXH
Dr. Bock is the author of several successful books on healing and chronic diseases as well as founder of Bock Integrative. I learned a tremendous amount from this episode filled with advice and hope for better health and happiness. Not only is he a wealth of knowledge, he's kind, charismatic and has an amazing bedside manner – a gentle voice combined with skill and wisdom. AND we have a little fun, too, talking about my role-model, Kris Carr, laughing about "mighty mitochondria" and professing our love for veggies, veggies and more veggies.
If you like this episode, please rate, review and subscribe. You leaving a review helps us with our podcast ranking. The higher we are ranked, the more people can discover our show…and the more people we can inspire.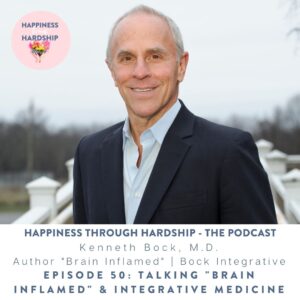 Ep.  50: Talking "Brain Inflamed" and Integrative Medicine" Show Notes
4:13 – What is integrative medicine?
6:30 – How Dr. Bock got into integrative medicine.
10:33 – Importance of going to a specialist when wellness help is needed.
13:37 – Seeing a practitioner if curious about nutrients/supplements
15:47 – Approaches discovered with autistic kids and those born with anxiety, depression, OCD, mood disorders and more
20:10 – "Brain Inflamed" Uncovering the Hidden Causes of Anxiety, Depression, and Other Mood Disorders in Adolescents and Teens
21:05 – Integrative medicine as proactive care
29:50 – Advice for people with teens when it comes to food and their mood
35:17 – Thoughts on supplements
37:21 – All about the blood-brain barrier
39:03 – Importance of sleep for wellness
Bock Integrative: https://www.bockintegrative.com/
Brain Inflamed: https://amzn.to/3yXgpe6
Sleep Revolution by Arianna Huffington: https://amzn.to/3fGW2uo
Kris Carr: https://kriscarr.com/
CONNECT with Dr.  Bock
Contact: https://www.bockintegrative.com/contact/
Facebook: https://www.facebook.com/kennethbockmd/
Instagram: https://www.instagram.com/braininflamed_/
Connect with US
Happiness through Hardship – The Book and Journal: BUY HERE or donate a book to a cancer center: DONATE HERE
For easily accessible cancer information – HERE
For daily wellness tips go to @PrettyWellness on Instagram
For more information on Pretty Wellness and Caryn Sullivan – CarynSullivan.com
Follow @PrettyWellness on social media on Instagram, Facebook and Twitter.