Lauren Chiarello Mika, founder of ChiChiLife and true positivity champion shares her story of cancer then high-risk pregnancy on this episode of "Happiness through Hardship" – The Podcast. As a two-time Hodgkin's Lymphoma survivor who knew she would likely have challenges getting pregnant, today she is blessed with identical twins. Although, her road wasn't easy.
Apple Podcasts:
https://apple.co/2zidDGw
Spotify:
https://spoti.fi/2WNFc3k
Stitcher:
https://bit.ly/2WOsaTl
Google Podcasts and more…
As you will hear in today's episode, both Lauren and I talk a lot about how life is precious. Overcoming cancer twice was incredibly tough. However, navigating four hospitals and numerous surgeries in just a few weeks after birth for one of the boys, while also tending to his twin brother at another hospital, (then home) was unthinkable. Lauren shares what got her through. It's amazing to hear how she kept herself moving forward and still found tiny moments of joy both with her cancer journey and the rocky entrance her twins made into this world.
She's such a light and always serving others. I can't wait for you to hear her story. Please listen to this episode and if you like rate, review and subscribe. You leaving a review helps us with our podcast ranking. The higher we are ranked, the more people can discover our show.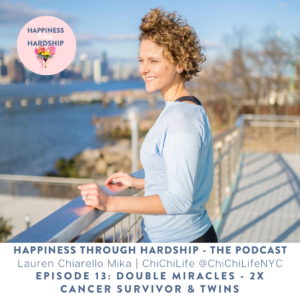 Lauren Chiarello Mika – Talking Double Miracles – 2x Cancer Survivor and Twins Show Notes:
ChiChiLife – Fitness, Fun, Fundraising, Cancer Advocacy: http://www.chichilifenyc.com/
Join her Pilates Fusion Classes – http://www.chichilifenyc.com/bookaclass
Free for the cancer community (email [email protected]) 
First class free for everyone – code: FRIENDSOFCHICHI
Rustic Pathways – Student Travel: https://rusticpathways.com/
Exercise & Mind-body Classes at MSKCC: https://www.mskcc.org/cancer-care/diagnosis-treatment/symptom-management/integrative-medicine/therapies/classes#3
Cancer Resources: http://www.chichilifenyc.com/blog/2018/6/15/young-adult-cancer-survivor-resources
Connect with Lauren Chiarello Mika – Double Miracles – 2x Cancer Survivor and Twins
Instagram: https://www.instagram.com/chichilifenyc/
Facebook: https://www.facebook.com/chichilifeNYC?ref=hl
LinkedIn: https://www.linkedin.com/in/laurenchiarello/
For more information on the podcast episodes – HERE
For easily accessible cancer information – HERE
For daily wellness tips go to @PrettyWellness on Instagram
For more information on Pretty Wellness and Caryn Sullivan – CarynSullivan.com
For more information on "The Grateful Game" – https://www.instagram.com/tv/CCdduzuht2u/
Follow @PrettyWellness on social media on Instagram, Facebook and Twitter
Happiness through Hardship – The Book and Journal: BUY HERE or donate a book to a cancer center: DONATE HERE
To get a free copy of our smoothies and snacks ebook: sign up HERE