Have you heard of toxic relationships? This week's guest on "Happiness through Hardship" – The Podcast, Crystal Williams, shares her divorce story and relationship advice that led her to be crowned, "The Relationship Chick." Whether you're recently out of a relationship, curious about your current one or just want to hear some wholesome advice on how to connect better with yourself – Crys has plenty of good stories and suggestions to share.
Apple Podcasts: https://apple.co/2zidDGw
Spotify: https://spoti.fi/3imO7An
Stitcher: https://bit.ly/2WOsaTl
Google Podcasts: http://bit.ly/35cuG9O
Even if your relationships are rock solid – this interview is filled with tips on how to be better to yourself. Crys talks about how she rids the "mean girl in her head." She shares healthy living tips that keep her sane as well as talks about the long list of things for which she is grateful. Crys is full of positive energy and enthusiasm, which is one of the reasons why Instagram has fallen in love with her!
If you like this episode, please rate, review and subscribe. You leaving a review helps us with our podcast ranking. The higher we are ranked, the more people can discover our show and the more inspirational content we can bring to you and others.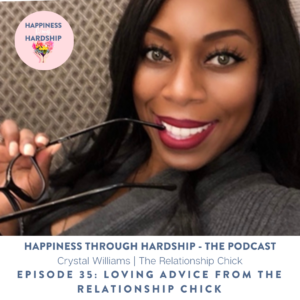 Show Notes – Loving Advice from The Relationship Chick
Learn more about The Relationship Chick: https://www.therelationshipchick.com/
Learn to meditate: https://www.headspace.com/
Journaling: The Artist's Way: https://amzn.to/2MUUMri
How to Find a Therapist: https://www.webmd.com/mental-health/features/how-to-find-therapist#1
Connect with The Relationship Chick:
Instagram: https://www.instagram.com/
Facebook: https://www.facebook.com/
Twitter: https://twitter.com/jennamilan
Connect with US
Happiness through Hardship – The Book and Journal: BUY HERE or donate a book to a cancer center: DONATE HERE
For easily accessible cancer information – HERE
For daily wellness tips go to @PrettyWellness on Instagram
For more information on Pretty Wellness and Caryn Sullivan – CarynSullivan.com
Follow @PrettyWellness on social media on Instagram, Facebook and Twitter.
Whether you're feeling down on yourself or a relationship, helping others can promote positive feelings within ourselves. Here's to finding a way to spread more love…or even treat yourself or someone else to something small and smiley. (Click HERE or image below.)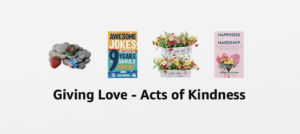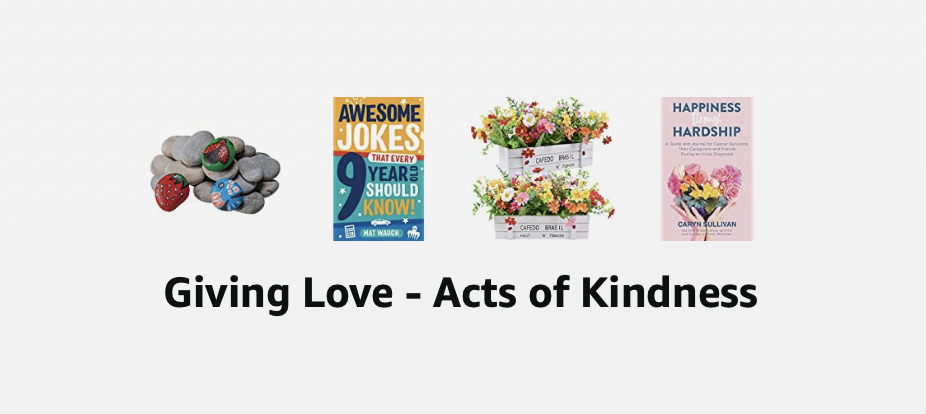 This post may contain affiliate links meaning I may receive a commission with no costs to you. I pro-actively try various products and then affiliate myself with these items that I already use and love.