"Triggers are a gift," according to mom, wife and entrepreneur Beth Miller. She dives into this tricky topic and how we can work through them on this episode of "Happiness through Hardship" – The Podcast. Beth she shares her story of having a brain bleed at the young age of 39. As a mom and wife she found herself feeling a loss of identity and wanted to learn how she could cope with her harrowing healthy journey, including identifying triggers and working through them.
Apple Podcasts: https://apple.co/2zidDGw
Spotify: https://spoti.fi/3imO7An
Stitcher: https://bit.ly/2WOsaTl
Google Podcasts: http://bit.ly/35cuG9O
IHeartRadio: https://ihr.fm/3cTrLXHno
Beth talks about how she was able to reflect on past moments in her life as well as step into her subconscious mind in order to look at her situation in a more positive light. She shares with us the beauty of knowing our triggers and helps us to find ways to make positive changes in our own attitudes. This can help us feel better and improve relationships with others.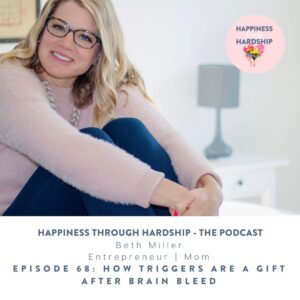 Show Notes – Ep. 68: How Triggers are a Gift after Brain Bleed
5:09 – Beth talks about her brain bleed and how she started helping people w/ relationships
7:32 – Beth shares how this journey started full of tears
10:28 – Beth shares her trouble adapting to her new health journey
12:13 – Beth talks about the overwhelming emotions she experienced
13:41 – Beth goes from feeling alone, to finding a community to help her through
18:05 – Beth explains a trigger and shares the beauty of it
19:32 – Beth describes what a hypno journey is and explains our different brain states
22:15 – Beth helps to share why we might have triggers
25:06 – Beth talks about the importance of looking into the past to fix the present
29:21 – Beth says making a change in ourselves will strengthen our relationships
31:12 – Beth gives tips to help better our relationships
33:46 – Beth shares how to find joy in a relationship
40:02 – Beth and Caryn play The Grateful Game
Connect with Beth – Ep. 68: How Triggers are a Gift after Brain Bleed

Beth's Free Guide- 3-Ways To Save Your Marriage: www.freemarriageguide.com
Beth's Website – Soulify Wellness: http://soulifywellness.com/
Facebook: https://www.facebook.com/soulifywellness/
Instagram: https://www.instagram.com/soulifywellness/?hl=en
Connect with US
Happiness through Hardship – The Book and Journal: BUY HERE or donate a book to a cancer center: DONATE HERE
For easily accessible cancer information – HERE
For daily wellness tips go to @PrettyWellness on Instagram
For more information on Pretty Wellness and Caryn Sullivan – CarynSullivan.com
Follow @PrettyWellness on social media on Instagram, Facebook and Twitter.